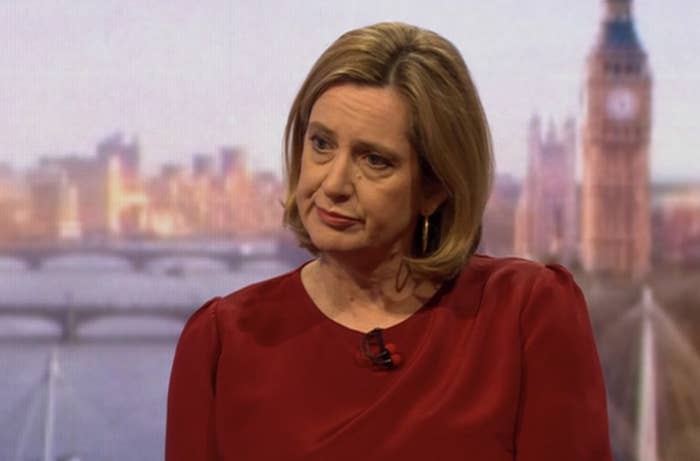 Conservative Party grandees should unite behind the government's aim of negotiating a good Brexit deal and stop in-fighting, according to the home secretary, Amber Rudd.
Amid complaints from several pro-Brexit figures within the party that the chancellor, Phillip Hammond, as well as some civil servants, may not fully support Theresa May's current negotiating position, Rudd called for patience and pragmatism to achieve shared goals.
She told the Andrew Marr Show: "I have a surprise for the Brexiteers: which is the committee that meets in order to make these decisions... is more united than they think. We meet privately for discussions [and] I think we will arrive at something that suits us all.
"We all want the same thing, which is to arrive at a deal that works for the UK, that looks ahead, it's not just about protecting trade behind, but what sort of country we want to be afterward. We all have those interests at heart and I think we can work closely together to deliver it."
Conservative MP and prominent Brexiteer Bernard Jenkin wrote in the Sunday Telegraph that he believed the Treasury had its own "house view" when it comes to Brexit.
His comments come 48 hours after Brexit minister Steve Baker apologised for misleading the House of Commons for appearing to endorse a question from pro-Brexit Tory back-bencher Jacob Rees-Mogg on Thursday, which implied there was an anti-Brexit conspiracy within the civil service.
The Sunday Times reported that if the prime minister was to opt for the UK to remains in a customs union with the European Union – which would allow for the "frictionless trade" agreement she has called for – it could trigger resignations of cabinet ministers and a possible coup.
Some pro-Brexit figures are opposed to any form of customs union as it would prevent the UK from signing global free trade agreements.
"We do not wish to be in 'a' customs union, 'the' customs union or 'an' customs union," said Rees-Mogg.
Referring to the Sunday Times' report, Marr asked Rudd whether she would serve in a cabinet led by Boris Johnson. "That is such a difficult question on so many different levels – I'm going to pass," she said.