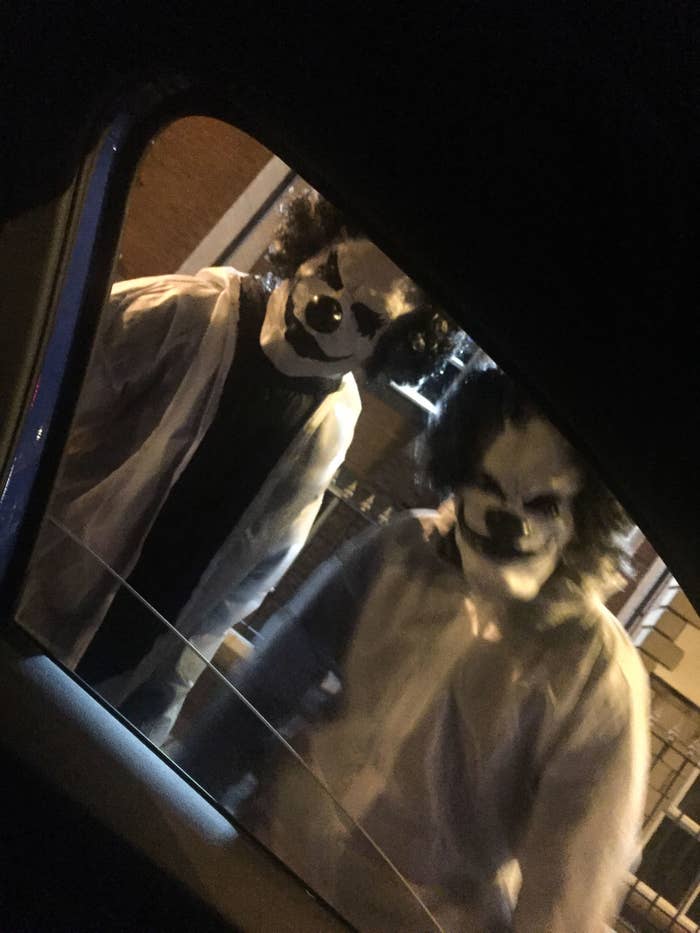 It reads like a storyline from ultra-dark drama Black Mirror crossed with a headline from spoof TV news show The Day Today: The UK is gripped by an internet-inspired "killer clown" craze.

But in the last five days, that's exactly what's been playing out on the streets of countless towns and cities. What started as a curiosity has become a concerning trend that has left people at first amused, then scared, and in at least one case seriously injured.
Scores of people are dressing up as clowns in order to scare others. Some have been warned by police, some fined, and others involved in alleged violent incidents.
BuzzFeed News can reveal there have been at least 50 separate claimed sightings of clowns up and down Britain since Friday, a figure that may be well short of the total so far.

Here's an interactive map that shows where the recent clown sightings have been – click to find your nearest sighting, or to see every one in the UK.

Paul Curry / BuzzFeed News
It's hard to pinpoint the origins of this month's craze to a single event. But, in short, it started in the US and it came here via the internet.
In August, residents of a town in South Carolina said that people dressed as clowns had been spotted trying to lure children into the woods. Police said a witness reported seeing a man wearing "a scary clown mask, red curly wig, yellow dotted shirt, and blue pants and shoes".
One woman called the police to say her son had "seen clowns in the woods whispering and making strange noises".
This story captured the public imagination – driven in no small part by a common fear of clowns – and it was widely shared online. Soon there were copycat clown sightings in Virginia, Ohio, Pennsylvania, New York, New Jersey, Texas, Massachusetts, New Hampshire, California, and so on, and so on.
Fast-forward almost two months and there have been creepy clown sightings in 20 states, as well as 30 arrests, while four schools have been put on lockdown as a result of clown-related threats and one teenager was stabbed to death, allegedly in a dispute over a clown mask.
On 5 October it became clear that the craze was headed to the UK, after a 13-year-old boy received a warning from Northumbria police for scaring people while wearing a clown costume and waving a fancy-dress knife. The same day, two schoolgirls were approached by clowns in a black van in Clacton-On-Sea, Essex.
Then on 6 October one appeared in Ashton-Under-Lyne in Greater Manchester. Another popped up in Caernarfon, North Wales, hanging around a children's play area at night.
On Friday 9 October, a woman filmed a man in a clown mask trying to get into her car.

On Saturday 10 October, a clown was spotted wandering the campus of Brunel University in Uxbridge brandishing a chainsaw (a man was later arrested over the incident). The craze had arrived.

On the Sunday, while waiting at a set of traffic lights in Manchester, Kurtis Mulvaney, 29, had two masked men wielding machetes jump out of some bushes and intimidate him.
Another driver, Alice Slattery, 28, who had her two small children in the back of the car, said one of the men jumped on to bonnet of her car at the same junction, causing her children to scream in fear.
Some people saw the funny side of such incidents, such as this family in Chorley, Lancashire, who spotted a clown on Sunday night outside their house. Grandma Margaret Quinn, 51, told the clown to "piss off".
While many of the initial incidents involved pranksters, there have now been far more serious crimes committed by people in clown outfits.
Merseyside police are appealing for witnesses to an assault on the Beechwood estate in Birkenhead on Sunday night, in which a 37-year-old man received a serious head injury after being set upon by a group of between eight and 10 young men, all of whom were aged between 14 and 18 and had covered their faces, some with clown masks.
Detective Inspector Paul Lamp from Wirral CID told BuzzFeed News: "Merseyside Police wants to make it perfectly clear that people engaging in intimidating or violent behaviour with their faces covered or wearing clown masks will not be treated as a joke or prank."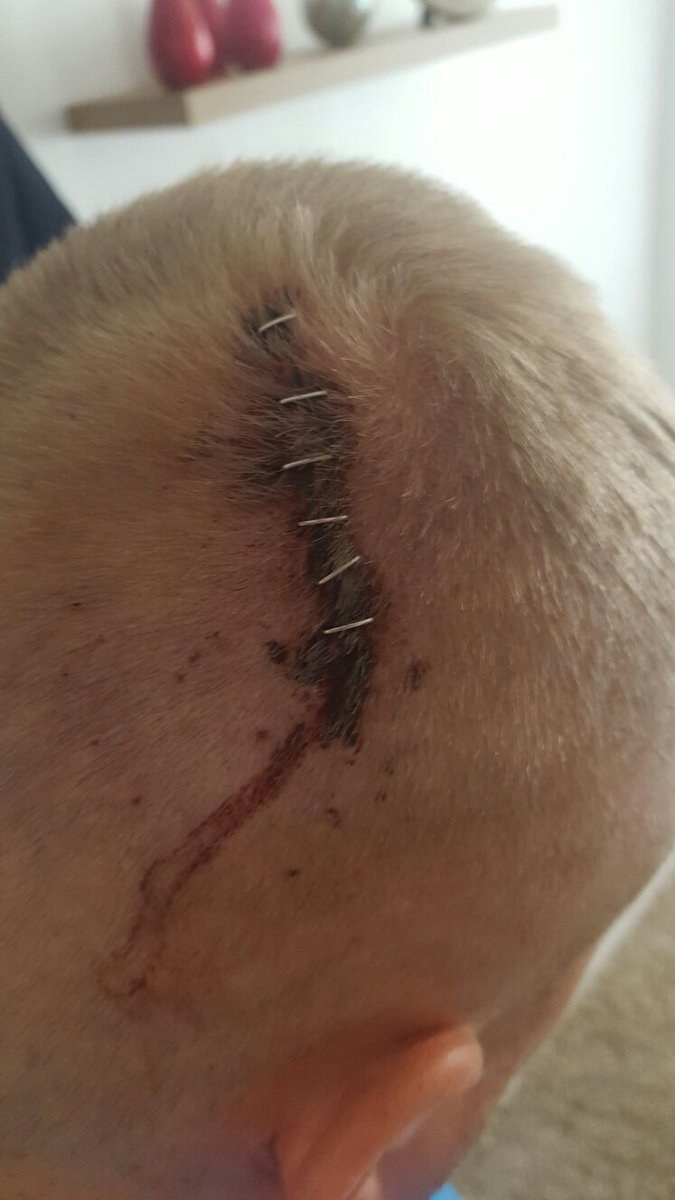 Incidents such as this prompted police to issue stern warnings and by Monday almost every large force had released a statement warning would-be masked pranksters that scaring people could be considered a public order offence.

Commander Julian Bennett of the Metropolitan police said the force was investigating three potential clown-related criminal offences. "Anti-social behaviour can leave people feeling scared, anxious, and intimidated and I would urge those who are causing fear and alarm to carefully consider the impact their actions have on others," he said.
An 18-year-old man has been fined £90 for scaring children outside a school in Caerphilly. Chief Inspector Paul Staniforth of Gwent police said: "I hope this result sends a strong message to anyone thinking about taking part in this craze, that their five minutes of what they may think is fun really isn't worth it."
As with the craze in the US, schools and schoolchildren are playing a key role in spreading the killer clown meme in the UK.

Several Instagram pages have sprung up threatening to send clowns to different schools. Followers then ask for their school to be targeted.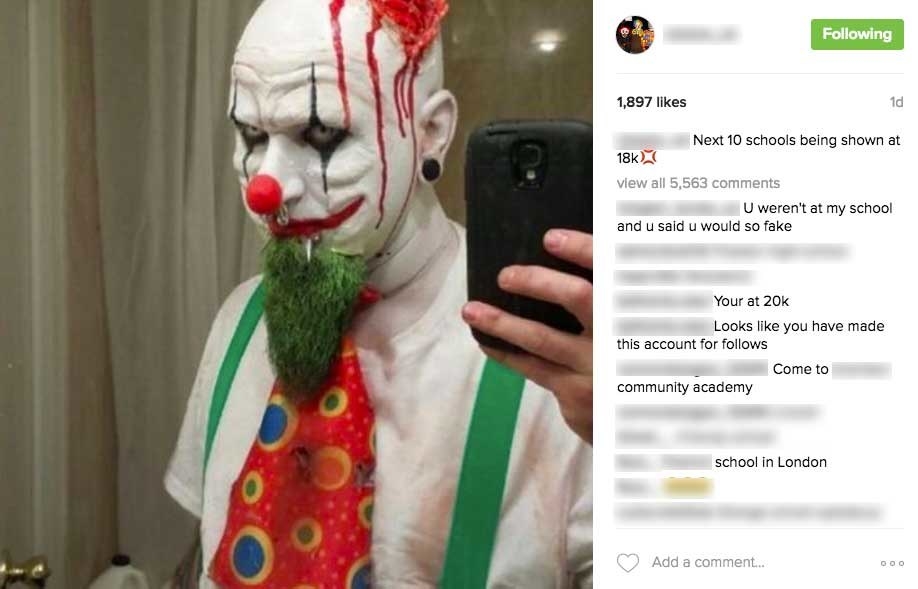 One page claimed that 15 clowns armed with machetes would appear at a high school in east London on Wednesday. The school in question has informed the police.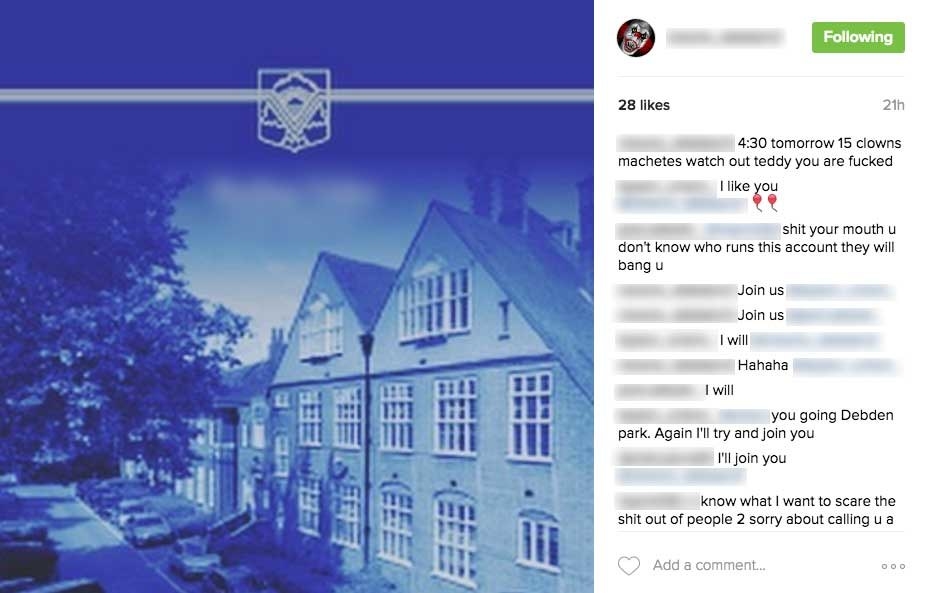 On Tuesday, six armed police officers were stationed at the Dalriada school in Ballymoney, Northern Ireland, after a clown appeared following a similar warning made on social media.
The school's headteacher, Tom Skelton, told UTV: "It was quite bizarre coming into start a normal Monday morning and two police officers came in to see me to make me aware that, according to social media, they had reasons to believe we were going to receive a visit from the so-called clowns.

"At 2:45pm there was at least six fully armed officers on the school grounds as parents arrived to collect their children. To their immense credit, they chatted to the parents and reassured the parents but we were under no illusion that they were taking it very seriously."
Where did the craze really begin? It has echoes of another story that appeared in the weeks before Halloween: the black-eyed ghost children of 2014, when there was allegedly a spate of sightings of ghostly figures in fields around England.

The black-eyed child myth is an early internet meme from around 1998 and its re-appearance in October 2014 can be traced to a single paranormal investigator in the Midlands, the local press, and the Daily Star newspaper.
The whole thing was loosely inspired by Slender Man, the bogeyman created by internet forums that then spread through social media.
But unlike scary apparitions that appear in woods, which can only be reported, the clown craze is something anyone can take part in – all you need is a mask. Several Facebook pages, Twitter, and Instagram accounts boast of the clown activity they are arranging.
And if you're not the clown, you can be a clown-spotter. As one clown Facebook page puts it, "This is like a human game of Pokémon Go."
This is not just a new media story. Newspapers have splashed it over their front pages and broadcast news channels have spoken about little else so far this week.

Jeremy Vine introduced the phone-in to his popular daytime Radio 2 show on Tuesday by saying: "Parents are worried because there's no way of knowing if someone dressed as a clown is a teenage prankster or a paedophile."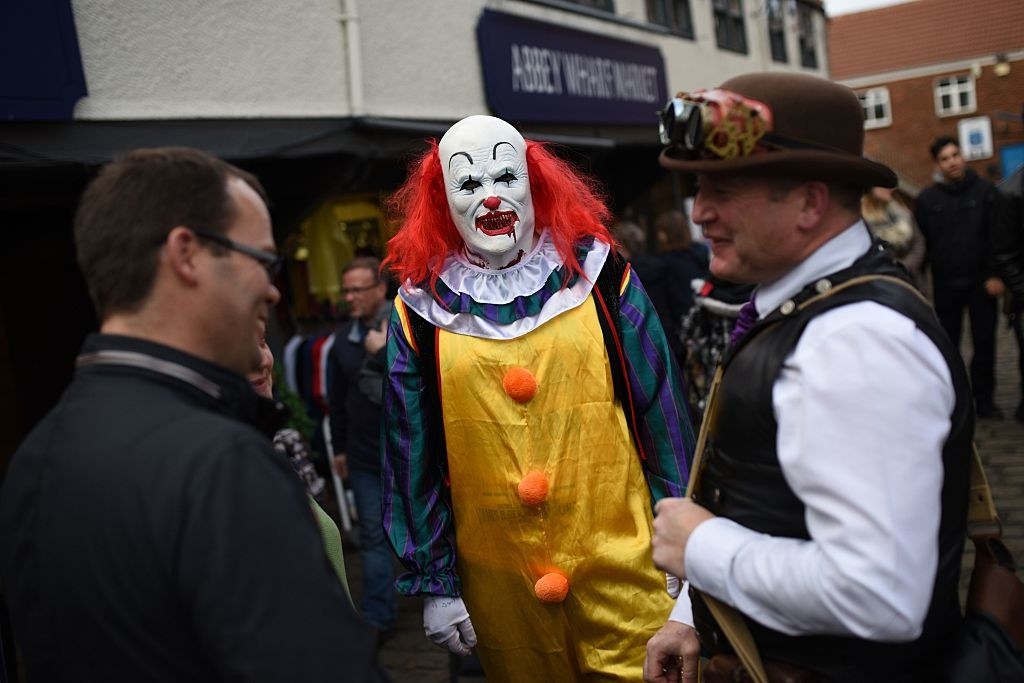 Jon Davison, a professional clown of 30 years' standing and also a clown teacher, told BuzzFeed News that there has always been an element of clowning that has contained menace and mischief, but the current "killer clown" craze shouldn't be confused with the real thing.
"I think professionals are mostly annoyed, worried, and upset about this and they think it will spoil their image, which I understand and share, but I think people can tell the difference between professionals and some teenagers in masks. I generally let it pass me by," he said.
The scary clown concept is commonly thought to have originated in the 1970s and 1980s thanks to the two most notorious clowns in modern popular culture: Pennywise, from Stephen King's novel and subsequent film It, and serial killer John Wayne Gacy, who dressed up as "Pogo the clown" to entertain local children.

As the American clown craze escalated, King said it was time for everyone to calm down, while the makers of the forthcoming remake of It deny any involvement in encouraging the clowns as part of a viral marketing campaign. However, Davison is calling on people to boycott the remake upon its cinematic release.
But creepy clowns go back much further: Clowns feature in cultures across the world and jesters may have existed for thousands of years, all the way up to the circus clown of the modern era.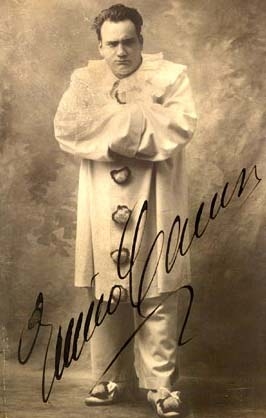 Evil clowns appear in literature, such as in Catulle Mendès' La Femme de Taburin in 1874. Charles Dickens wrote of a beastly off-duty clown in The Pickwick Papers in 1836, whose shattered, inebriated body contrasted harshly with his facepaint and costume. One writer even credits Dickens with creating the scary clown myth.
There were references to morally corrupt or just downright evil pranksters appearing throughout the 20th century, such as the Joker from the Batman comics and movies, and schlocky horror movies such as Killer Klowns From Outer Space in 1988.

The internet seized on this mythology: The public creepy clown meme has a relatively long history in internet terms. A forlorn-looking clown was spotted in Northampton in 2013 (and after the image went around the world was unmasked as a 22-year-old film student).
Then another was seen in Portsmouth in 2014 (who was described by one local as a "lovely boy" who meant no harm – he just liked dressing up as a clown).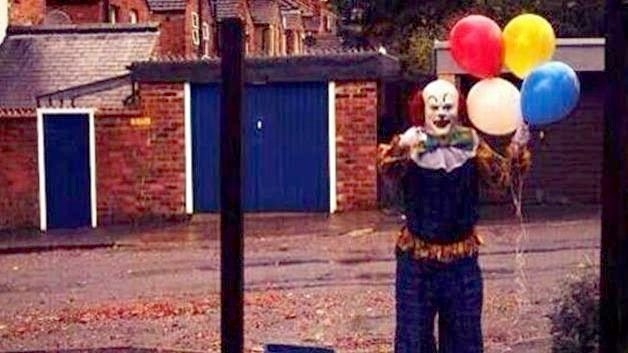 In an age where teens obsess over Instagram feeds and Snapchat, there is less psychological distance between the UK and the US and much more of culture is shared than it ever was.
Someone in Ohio might be just as likely as someone in Leicester to see if they can be part of a meme that's spilling over into real life and on to the streets.
Jon Davison said: "It's in the last 30 years the scary clown has become a thing, but there are lots of clown traditions that are slightly scary, but in fun – you can have great fun with kids pretending to be monsters and chase each other, but it's all fun.
"I think comedy and being afraid, there are some links there. You can't stop people playing with that idea. But in the end [for professionals] it's about having fun."
Some of the sightings may be invented, some of the disorder could be exaggerated. But the speed with which a shared joke can spread – and get out of hand – is beyond doubt.