GP Surgery In Essex Tells Patients They're Not Allowed To Post Complaints On Social Media
If you have a problem with St Lawrence Medical Practice in Braintree, then please don't tweet about it.
If you're a patient at St Lawrence Medical Practice in Braintree, you may have seen this sign asking you not to post negative reviews on Facebook and Twitter.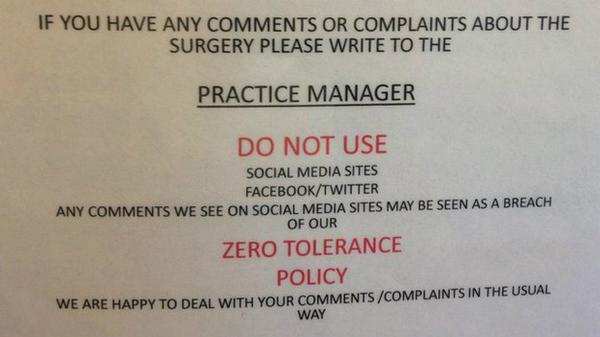 The BBC reports that the sign went up after practice manager Alison Rudkin read some Facebook comments about the practice that used "appalling language".
She told the BBC: "I admit it wasn't worded well originally, so we have amended it and added another line at the bottom. ... It now says: 'This ensures we can respond to people's concerns with patient confidentiality in mind."
Rudkin said that negative comments on social media were a "form of bullying".
"We would much rather people come and see us in person if they have something they want to say," she said.
"We can't respond to people properly if they choose to make their comments on Facebook or Twitter."