The UK government will start bringing home an estimated 20,000 British tourists stranded in Sharm el-Sheikh from Friday, after flights to and from the Egyptian resort were stopped following Saturday's Russian plane crash.
Empty passenger jets are expected to arrive in Sharm tomorrow to start bringing people home. Foreign secretary Philip Hammond said the UK would work with Egyptian authorities, commercial airlines, and travel agents to rescue all Brits there.
The prime minister's spokesman said on Thursday that 16 flights were due to fly back to the UK but were grounded because of the flight ban, leaving 3,200 people stranded.
Hammond said on Thursday morning that there was a "significant possibility" that the Russian jet, which was bound for St Petersburg and crashed on the Sinai peninsula on Saturday morning, was downed by a bomb planted by ISIS militants. All 224 people on board died.
Prime minister David Cameron chaired a meeting of COBRA, the UK's crisis response committee, on Wednesday night, and again on Thursday morning.
Transport secretary Patrick McLoughlin underlined that he hoped flights would start bringing people home on Friday.
Hammond told Sky News that bringing all British tourists back could take a week to 10 days.
"We're working with the airlines and Egyptian authorities now to put in place emergency short-term measures to safely bring back the British tourists who are there in Sharm," he said.
"We expect those to be in operation tomorrow, so people whose flights were due out today or yesterday should start to move out tomorrow. And those emergency measures will remain in place as we bring out the British tourists who are currently in Sharm over the next week or 10 days."
He said he hoped normal flight links between the UK and Sharm would resume before the Christmas period, when many Britons travel to Sharm on winter sun package deals.
"We need to work with the Egyptians and airlines to put in place sustainable routine measures that will allow us to resume normal flying," he said.
"Now I can't tell you if that will be days, weeks or months, that depends on what we find on the ground when the detailed work is carried out; on what the Egyptian authorities are willing to do and what demands the airlines make.
"We very much hope that it will be possible hopefully before the Christmas and New Year rush to declare Sharm el-Sheikh safe and resume normal flight operations."
The prime minister's spokesperson said in a briefing with journalists on Thursday afternoon:
"Moving forward we will be taking this in two stages. The first stage will be focused on how can we get flights up and running from Sharm to the UK so that those people who are in Sharm can come home.
"The second stage will be focusing and working with the Egyptians on how we can get back to a normal service. On that first stage we are working round the clock with the Egyptians and the airlines on this. There were meetings with the airlines this morning to see what measures we can put in place so that we can be confident of the security arrangements there so we can get flights up and running.
"The prime minister will be talking to the [Egyptian] president later about about how we can work together to get back to normal service. Our priority has been the safety of British nationals, there were several flights due to leave yesterday, many more due to come home today, that's thousands of British tourists that would have been returning."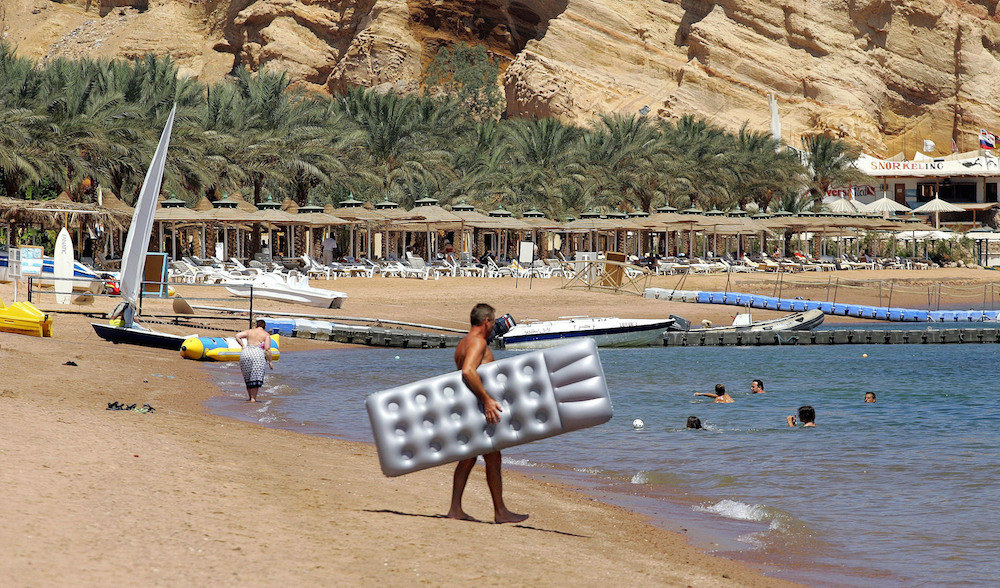 Kerry Lawrence, from north Wales, is stranded in Sharm and told BuzzFeed News that tourists are being given very little information.
"We are due to leave on Saturday and have no idea how we're getting home," she said. "You can tell people know more than they're saying, and the news media over here is conflicting [with] what is being said in the UK."
Asked whether she'd been given any information from the Foreign Office or her travel company, she said: "No, nothing.
"Neither have the Brits at the airport. We don't even have a travel rep because we bought flights only. It's frustrating because they know what's happening but won't disclose it.
"We're like sitting ducks. Should we go the airport or carry on with our holiday until Saturday? It's ruined what was until now ... a brilliant holiday. I feel sorry for the staff in the resorts – the lack of tourism over the next few weeks will affect their wages."
Tour operator Thomson has cancelled all flights until at least next Thursday with customers being offered a full refund on booked holidays.
Thomas Cook also cancelled all flights until 12 November. Anyone due to fly out on 5 November is being offered free accommodation.
Monarch said on Thursday afternoon that in addition to two scheduled flights to the UK tomorrow, there will be three additional "rescue flights".
EasyJet said on Thursday evening that it would resume flights between Sharm and the UK on Friday, lncluding six extra flights bound for the UK.
UPDATE
In a statement on Thursday evening, Downing Street announced that flights from Sharm to the UK will resume on Friday. Passengers will need to leave their hold luggage behind and that will be transported separately. Flights from the UK to Sharm remain suspended.
A Number 10 spokesperson said: "We have been working on the situation in Sharm el Sheikh throughout the day and there was a cross-Whitehall meeting of senior officials late this afternoon to review our response. Our utmost priority is to make sure we have all the right measures in place to ensure that British citizens can return safely to the UK.
"The prime minister held talks on the situation with President Sisi earlier today and, following further discussions with the airlines and the Egyptians we have agreed on a package of additional security measures that is being put in place rapidly. Consequently the government has decided, in consultation with the airlines, that flights from Sharm to the UK will resume tomorrow.
"We advise British nationals in Sharm to check with their airline or tour operator on their travel plans. The additional security measures will include permitting passengers to carry hand baggage only and transporting hold luggage separately. We are working with the airlines to ensure there are suitable arrangements in place to reunite passengers with their belongings as soon as possible.
"Outbound flights from the UK to Sharm el Sheikh remain suspended and the Foreign Office continues to advise against all but essential travel by air to or from Sharm el Sheikh airport but we are continuing to work with the Egyptians to get back to normal service as soon as possible."
Looks like there are no comments yet.
Be the first to comment!