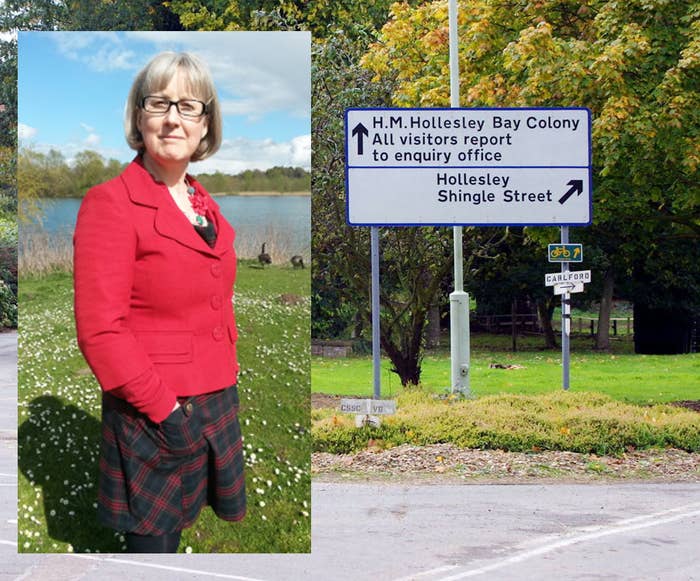 A former chair of a prison monitoring board who was sacked last week for writing an article about prisons reform under a pseudonym, says the government didn't like her criticisms of the system and "shot the messenger".
Faith Spear – the former chair of the independent monitoring board (IMB) at category D Hollesley Bay prison and young offenders' institute in Suffolk – was told by the Ministry of Justice last week that her role had been terminated, after a nine-month investigation. She is also barred from joining any IMB for five years.
IMBs are made up of unpaid volunteers who typically give up two to three hours a month to observe prison life. They are given unrestricted access and can make recommendations based on what they see. Spear had been on the Hollesley Bay board for four years and served as chair for one.

Spear wrote a chapter in the 2016 edition of The Prisons Handbook – which includes a foreword from former justice secretary Michael Gove – under the pseudonym "Daisy Mallet".

In her article, she wrote that members of IMBs were effectively "gagged" from raising concerns about what they had seen. And she told BuzzFeed News that she had previously spoken up about boredom and lack of purposeful activity at Hollesley leading to a rise in the use of drugs but was told the issue would be dealt with "in-house" and not revealed to the public.
"What they did to me, sacking me, was a prejudicial character assassination," she said. "All I did was write an article about reform – it was well-grounded, and based on what I'd seen and heard and based on the reaction that I've had since it was in the public interest.

"When you hear the term 'independent monitoring board' you think that must be independent, but actually it's not at all, it's part of the Ministry of Justice.
"They are shooting the messenger. Why? Because they have got something to hide. How serious are they actually about prisons reform? If the IMB isn't saying, 'Look, this is happening, watch out for this,' then what is the point of having a monitoring board?
"Why is someone like myself who is speaking out for reform and what is needed, why are they trying to shut me up? I don't understand that."
After a heated showdown with other members of the IMB in which she admitted she wrote the chapter, she was suspended pending an investigation.
And on 5 January, Sam Gyimah, the prisons minister, wrote to Spears to say she was sacked because she had "repeatedly disclosed official, classified and other information, often in an inaccurate manner".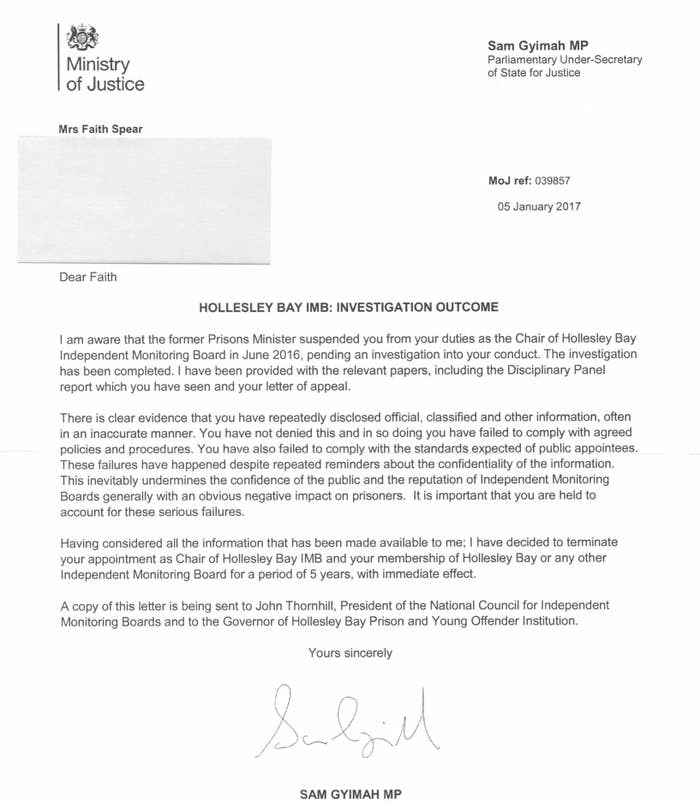 In her reply, Spear denied leaking any classified information and said the secretariat of IMBs was failing and "not fit for purpose" in its current form.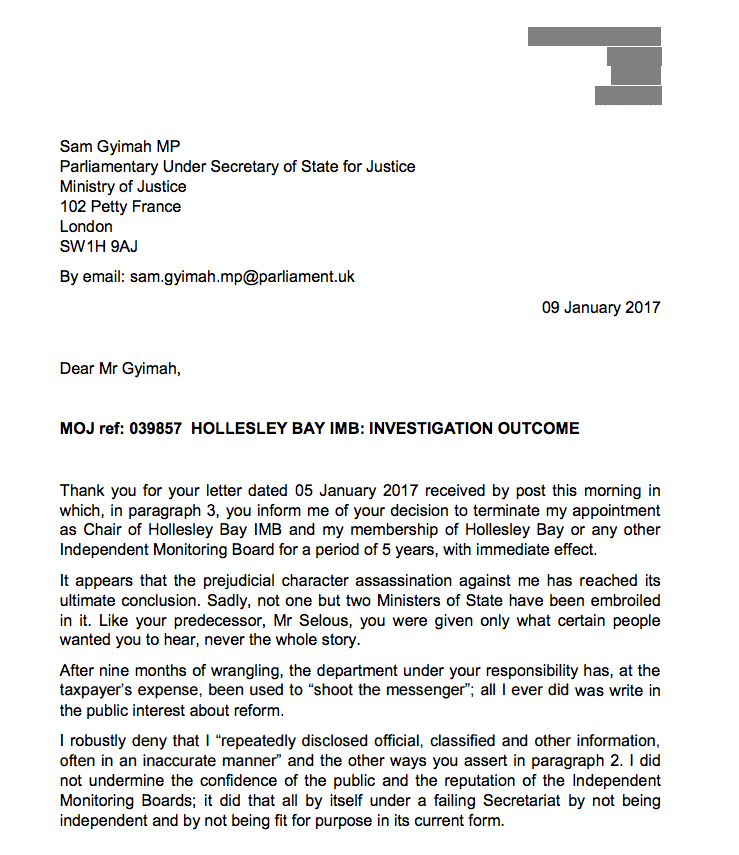 Spear's article, "Whistleblower Without a Whistle", also warned that prison reforms were not going far enough to alleviate the boredom and hopelessness at the heart of the ongoing prisons crisis in England and Wales, which has seen rises in riots, violence, and drug use.
She wrote: "Everyone wants a slice of the action for profit, but too little is ploughed back into the prison to be spent on prisoners and to reduce reoffending."
Speaking about the prisons crisis more generally, Spear told BuzzFeed News: "The issues I raised nine months ago, well, we've seen what's happened recently. In the last couple of months it's been tragedy after tragedy. Deaths in prison are at an all-time high, suicides, self-harm, and we've had all these riots.
"They're talking about new prisons and extra staff, but it's so few staff I don't think it will make any difference. The one thing that the government doesn't seem to mention at all – what about reducing the prison population? Why won't they tackle that?"
Spear said loneliness, boredom, and listlessness in prisons was a problem across the prison estate, including "open" category D prisons such as Hollesley Bay.
"It's sold to them as 'once you get to a cat D you'll be able to do this and that', but it's not the case," she said.
"If you have a bit of a brain, if you've got an IQ higher than what people reckon prisoners have – many are very intelligent – there's nothing for them to do. They can't even share the skills they have with each other. I've written reports about this, I've spoke to governors. But it's just not happening.
"You can't say 'there's all these people in work' when their job is to wash the floor of their unit."
The IMB secretariat had not responded to a request for comment at the time of publication.
A spokesperson for the Ministry of Justice said: "We value the work of Independent Monitoring Boards which play a vital role in ensuring prisons are places of safety and reform.
"We have taken the decision to terminate the appointment of Faith Spear, as chairwoman of Hollesley Bay IMB, following an investigation into allegations of misconduct. Monitoring arrangements are in place and we will begin the process of recruiting a new chair in due course."