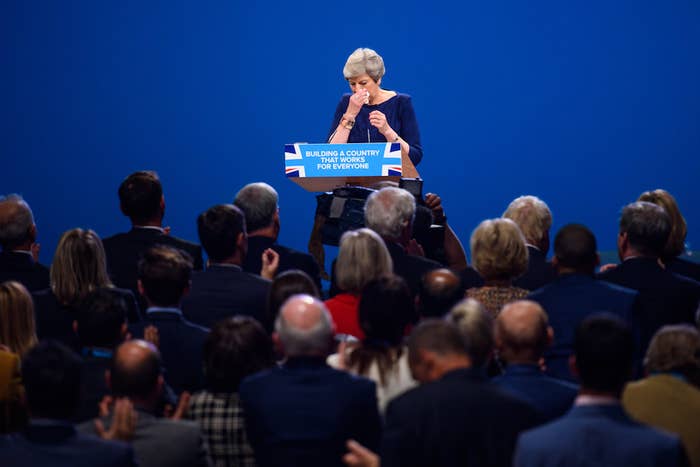 Theresa May's pledge to "fix the broken housing market" by investing an extra £2 billion in affordable housing was met with scepticism by experts today.
In her much anticipated speech at the Conservative Party conference on Wednesday – which will be best remembered for its shaky delivery – May said the government's affordable housing budget would increase to £9 billion, with £5 billion reserved for housebuilding. That could mean an extra 25,000 new homes over the next five years, built by private companies, housing associations, or councils that bid for the money.
Most housing experts agree England alone needs around 250,000 new homes to be built every year, while an influential House of Lords report in 2016 called for 300,000 a year to be built in the country. The government promised to fix the housing market in its housing white paper in February.
May said in her speech: "The boom in the housing market means that while some have done very well, for many the chance of getting on to the housing ladder has become a distant dream.
"And it's that fact, perhaps more than any other, that means for too many the British Dream is increasingly out of reach."
The prime minister disappointed some in the social housing industry by not specifically pledging to build more social housing, which is typically run by councils or housing associations and is reserved for people on low incomes. Instead, social housing providers will be invited to bid for the right to manage the new homes as social rented property.
And the announcement comes just days after the Tories announced the extension of the controversial Help to Buy equity loan scheme by an extra £10 billion. While the scheme has helped thousands of first-time buyers, less a fifth were on low- or middle- range incomes.
Charities and industry groups backed Wednesday's announcement, but housing professionals were less impressed.
As one city housing manager put it on Twitter, paying £10 billion towards Help to Buy, while investing £2 billion in affordable housing created something of a muddled picture:

Another accused the government of not wanting to solve the crisis at all:
And some council leaders were left confused over what the new money would actually be used for:
Dan Wilson Craw, the director of Generation Rent, a pressure group that campaigns for better rights for renters, said: "Under Theresa May, the Conservatives have made a welcome shift towards more state support for affordable housing and private renters, including today's pledge on social rents.
"But this trickle of incremental announcements does little to address the urgent need that renters have for lower rents and stronger protections.
"Compared with the £10 billion being ploughed into the wasteful Help to Buy scheme, only £2 billion for social housing suggests the government is still focusing too much on the symptoms of the housing crisis rather than its causes."
Adam Lent, director of the New Local Government Network think tank, said: "The prime minister's commitment to support councils to build more houses was underwhelming. An extra £2 billion for affordable housing is a start, but the scale of the crisis requires much deeper commitment.
"The borrowing cap for local authorities needs to be lifted so that they can get on and invest in building new homes for social rent immediately. Instead a new funding pot which councils and housing associations must bid for creates bureaucracy and will mean some areas win out over others.
"Today's announcement was a missed opportunity to genuinely commit to a 'rebirth' of council housebuilding that our country really needs."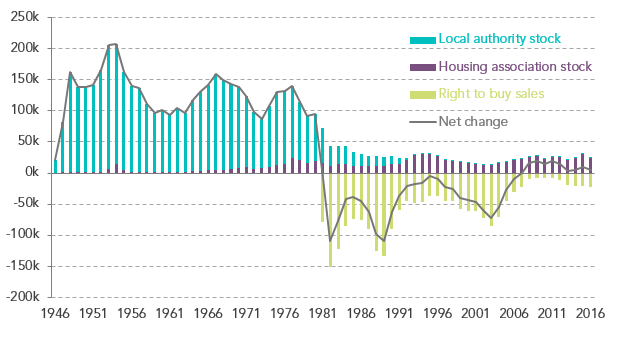 Lindsay Judge, senior policy analyst at the Resolution Foundation, a left-leaning think tank, said: "The size of the challenge is huge. During the Macmillan years, more than 100,000 council homes were built each year.

"Last year there were just 1,840 new council homes built by local authorities, with housing associations adding another 25,000 affordable homes. Today's announcement could mean a further 5,000 homes a year. That is welcome but it's equally clear more action will be needed.
"If Theresa May wants to lead the way on facing up to our housing challenge, she will need to ensure building happens on a scale we haven't seen for a generation, with councils backed all the way to do so. And in the meantime, families in the private rented sector should get the greater security they deserve."
Some other institutions were more upbeat, however. Terrie Alafat, CEO of the Chartered Institute of Housing, welcomed May's pledge, but asked how much of the new housing stock would be reserved for social rent.
"The details of exactly how these new homes will be funded and just how many will be for the lowest social rents will be crucial," Alafat said. "The number of homes for social rent funded by the government collapsed from 36,000 to just over 1,000 between 2010/11 and 2016/17. Reversing this trend will be a significant task – how much of this new funding will be dedicated to building these kinds of homes?"
The National Housing Federation's CEO, David Orr, said: "Today's announcement is a watershed moment for the nation. In the aftermath of the tragic fire at Grenfell Tower, the prime minister said that we as a nation have not paid enough attention to social housing.

"Today, she is right to make a bold break with the past and commit to building the homes we need most – genuinely affordable homes for those on the lowest incomes.
"The additional £2 billion will make a real difference to those let down by a broken housing market. Building homes for social rent will make work pay and help bring down the housing benefit bill in the long run by moving people out of costly private lets."
Polly Neate, CEO of housing charity Shelter, was among those calling on the government to address the scale of the housing crisis: "All new money is welcome, but the reality is that with over 1.2 million households on waiting lists already, this is only a fraction of the long-term investment required. It will need to be the start, rather than the end.
"We hope the government will be matching the size of their ambition to the sheer scale of the problem, with far more funding and the new powers for councils promised by the prime minister. Turning around our housing crisis for ordinary families will take a real commitment and a bold long term strategy."
Jon Sparkes, chief executive of homelessness charity Crisis, said: "This announcement from the government can't come soon enough, particularly for the hundreds of thousands of people facing homelessness right across the country."