The government needs to ensure that at least 300,000 new homes are built each year and make sweeping changes to planning laws to meet England's housing shortage, according to a new report from a House of Lords committee.

The Lords select committee on economic affairs said in a report published on Friday titled Building More Homes that action was needed to tackle the housing crisis, which sees first-time buyers locked out of ownership by high and rising prices.
The peers said the Cameron government's target of building 1 million new homes by 2020 – which has now effectively been scrapped following the EU referendum – was not enough and "not based on robust analysis".
The report, which draws on a wide range of expert witnesses, including academics, economists, politicians, and business leaders, calls on the government to:
– Make far more public land available for housing and make a single cabinet minister responsible for this process.

– Penalise companies that buy up land but don't build within a certain time with increased council tax penalties.

– Relax the limits on how much local authorities can borrow to build housing.
– Provide financial support to councils to enter into partnerships with institutional investors and housing associations to build new stock.
Moving targets?
A central assumption about the housing market is that the only way to tame rampant price rises is to increase housing supply, thus reducing demand – but the Lords' report said that even if 1 million homes were built by 2020, they would not materially affect prices, which could still rise by 5% or 6% in that period.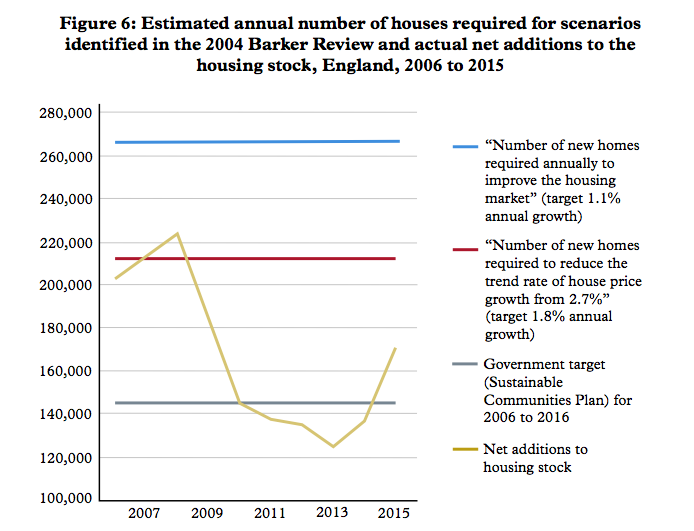 The report said the housing sector is too reliant on private housebuilding companies, which are not properly incentivised to build the number of homes needed. The eight largest housebuilders build more than half the country's new homes, the report said, making it hard for smaller firms to compete.

For example, Barratt, a major homebuilder, completed 16,447 homes in 2015 but owns more than 140,000 short-term and long-term plots.
The report criticised the Cameron government's reliance on home ownership as a policy objective. Measures were brought in to help first-time buyers, such as the Help to Buy Scheme and subsidised starter homes, but these have been criticised by housing campaigners for either being unaffordable for low-paid workers or too small-scale to make a dent in the chronic housing shortage.
"The government's focus on home ownership neglects other tenures; those on the cusp of ownership are helped and those who need secure, low cost rental accommodation are not," the report said.
The report said that to meet the demand for housing and to counter the ongoing rise of house prices in England, there need to be another 300,000 new homes built each year. "Otherwise," it said, "the average age of a first-time buyer will rise."
The report laid bare how the numbers of house-buyers in the low and middle income brackets have consistently fallen since the start of this century, even as house prices have risen dramatically.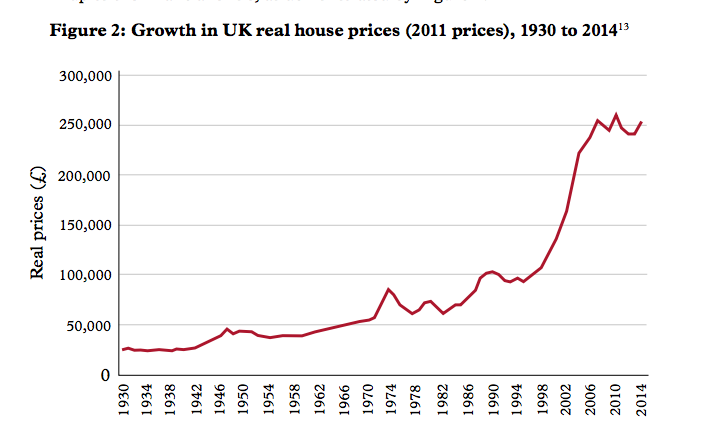 The report also pointed out that local authority housing has steadily declined since council house tenants were given the right to buy their homes in the 1980s, while the private sector has not replaced the houses lost during that process.

All of which means that renters are paying more for housing: In 2013–14 renters spent an average of 43% of their gross income (including housing benefit) on rent, while owner-occupiers spent 19% of gross income on mortgage repayments.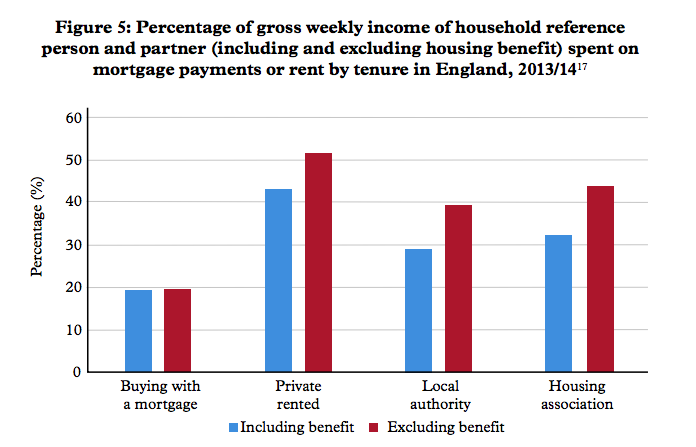 In London this problem is even more marked, with renters spending 60% of their gross income on rent on average, the report said.