50 Batshit Moments In UK Politics Since The Brexit Vote
The ultimate guide to a month where stuff just kept happening.
1.
So basically, a month ago we voted to leave the European Union by 52% to 48%. It is quite a big deal. And what followed was the most extraordinary series of political events and shenanigans that anyone can remember.
2.
The pound plunged to depths not seen for more than 30 years.
3.
And the UK had to consider what the future might hold.
4.
Prime minister David Cameron immediately resigned, but we weren't worried because Vote Leave would surely have a plan for what happens now. Surely?
5.
Oh.
6.
Someone uploaded Boris Johnson's post-referendum speech to PornHub.
7.
Tom Watson, deputy leader of the Labour party, spent the referendum and its aftermath at Glastonbury.
8.
But this was the state of Labour's frontbench team after MPs began resigning in protest over Jeremy Corbyn's leadership.
9.
So Watson had to try to get an early train back to London to sort out the deepening crisis (status update: crisis still ongoing).
10.
Some plotting MPs (and perhaps a few journalists) got confused about the difference between Whatsapp and Snapchat, to much mockery.
11.
Corbyn promised some positive action to fill the vacant shadow cabinet roles.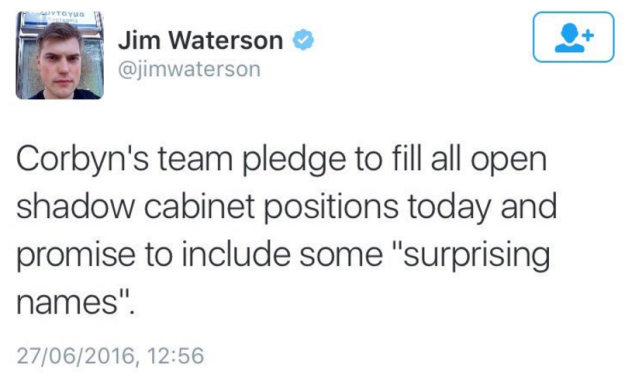 13.
Corbyn made a face like an EastEnders actor squaring up to someone in the Queen Vic, after someone asked him whether he would step down.
14.
Some Brexit voters were regretting their choice in the days following the referendum – a sense of "Bregret", you might say.
15.
Many people in Britain pretended to be experts on the EU constitution and whether/how we would trigger Article 50. Others wondered whether the people in charge knew much about it either.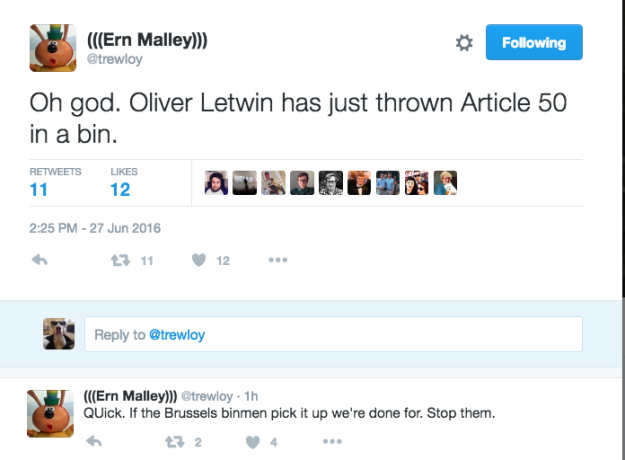 16.
Nigel Farage gave a speech to the European parliament about his victory – and Facepalm Man became a thing.
17.
Meanwhile there was – obviously – still time for the MP for Kettering to complain in the House of Commons about Lindsay Lohan's referendum night tweets, in which she was a bit mean about the town.
18.
She replied that she would be happy to turn on the Christmas lights in Kettering. And this is one of the less weird things that have happened in politics since 23 June.
19.
Politics break: Spare a thought for this dog.
20.
Labour's internal crisis was deepening as more shadow cabinet members resigned, with multiple frontbench roles having to be taken by those who remained.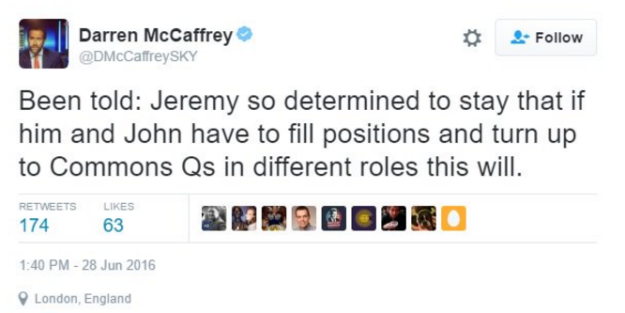 21.
Labour's press chief thought it would be a good idea to let Sky News' cameras into a shadow cabinet meeting to see how unified it was. But those cameras picked up Corbyn telling him that in fact it wasn't a good idea.
This, of course, became a meme.
22.
To make matters worse for Corbyn, 80% of his MPs backed a motion of no confidence in him. Undeterred, he ploughed on regardless.
23.
BUT THEN! In the Tory leadership race, Brexiteer Michael Gove, previously a supporter of Johnson's bid to be prime minister, turned on him and announced his own bid instead. Which went down well.
24.
The race to become the UK's most shambolic political party was hotting up.
25.
But Johnson briefly put the Tories in the lead by inviting the country's political press to his campaign launch, only to get to the end of his speech and declare he WAS NOT STANDING for PM.
26.
TWITTER WENT INTO ALL-CAPS MODE.
27.
THIS REPORTER MADE THAT FACE.
28.
This was not in the script.
29.
Boris's team had cannily covered up the "EXIT" sign, robbing photographers of the perfect photo.
30.
Given speculation that Johnson wasn't actually that committed to the Leave cause and may have joined the campaign for career reasons, it was all a bit of a shock.
31.
MPs didn't know who to support. Some hedged their bets.
32.
This 2012 clip started doing the rounds, of Gove saying he would sign a parchment in his own blood making clear he never wants to be prime minister. Which was awkward.
33.
And eventually Gove pulled out too, along with other challengers – leaving just the favourite, Theresa May, and Andrea Leadsom, whose supporters led this quite remarkable march across Westminster.
34.
Questions were also starting to emerge about Leadsom's background and her pedigree as an "investment banker". There were a LOT of jokes on Twitter.
35.
But Leadsom's leadership hopes disappeared in a puff of media smoke when this Times front page dropped, featuring an interview in which she suggested she might be a better candidate because she has children and Theresa May doesn't.
36.
Then Leadsom stood down and everyone made the SAME joke.
37.
But when Leadsom dropped out of the race, May was in Birmingham making the launch speech for her (now redundant) leadership campaign – leading journalists to immediately check train timetables.
38.
AND! While all this was happening, Labour MP Angela Eagle launched her bid for her party's leadership. A new prime minister being confirmed DURING YOUR SPEECH is no doubt the best way to kill any interest in it.
39.
Incidentally, Eagle's campaign featured a signature that looked like "ARGH" and the branding of an own-brand Boots perfume.
40.
All this was too much for Larry the Downing Street cat, who incidentally is staying at No. 10 and not following the Camerons out the door.
41.
Meanwhile, Labour's National Executive Committee decided that Corbyn should automatically be on the ballot in the forthcoming leadership election. But at one point he had to be ejected from a meeting on the issue.
Reportedly, he refused to go.
42.
In his last speech as PM, Cameron unknowingly gave the world a premiere of a little tune. Of the many remixes, this may be the best.
43.
No. 10 also released this picture of Cameron with Larry the cat to prove that he "loves it" as he put it during his last Prime Minister's Questions, because apparently that's a thing politicians do now.
44.
But anyway, it was official: We were getting a new PM.
45.
It was all too much.
46.
There was a bad omen when May failed to find her car in Downing Street.
47.
But once she'd been officially given the job, May showed no such indecision by sacking key ministers, including chancellor George Osborne, and appointing...Boris Johnson as a foreign secretary.
48.
And sacking Gove.
49.
This journalist had to help David Cameron find his way into parliament because he's not used to using the same entrance as everyone else.
50.
He now sits on the back benches.