Columnist Katie Hopkins Must Pay £24,000 For Libellous Tweets
The case centered on two tweets Hopkins sent to the food writer Jack Monroe in May 2015.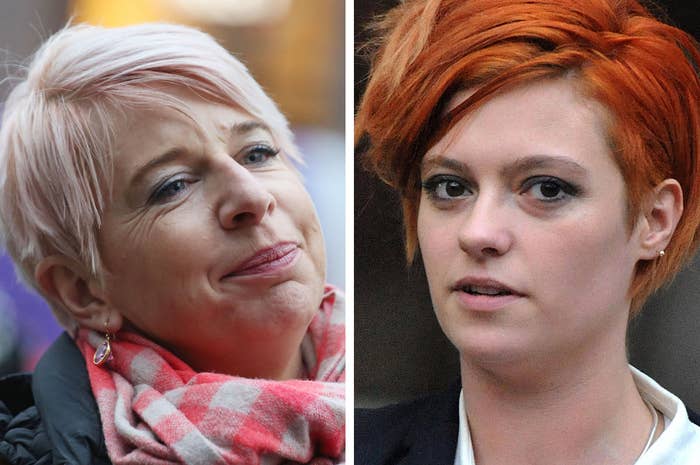 The controversial MailOnline columnist Katie Hopkins has been ordered to pay £24,000 in damages and £107,000 of costs because of two tweets that implied food writer Jack Monroe had defaced a war memorial, or condoned the damage.

Speaking to BuzzFeed News, Monroe said: "I'm shocked. It was a sense of palpable relief when the judgment was handed down – I've been living in this storm for the last two years. All the clouds just shifted and I could relax and move on. I was fully prepared for the judgment to not go my way."
After a four-day hearing at the High Court in London which concluded on Friday, Mr Justice Warby ruled that the tweets had "not only caused Monroe real and substantial stress, but also harm, to her reputation which was serious".
In his ruling the judge accepted that the reputational harm was not "very serious" but said it met the threshold for a successful libel claim.
The case centred on two tweets Hopkins sent to Monroe on in May 2015 following the news that a memorial to women in the second world war was defaced during an anti-austerity demonstration with the phrase "Fuck Tory Scum".

On 9 May Laurie Penny, a left-leaning journalist, tweeted in response to an image of the graffiti saying "actually I think that's fine", followed by a second tweet saying, "I don't have a problem with this."
Hopkins, who typically has a stridently right-wing worldview, responded to Penny by saying: "@PennyRed thinks this is OK. Burn her passport, bulk buy her lube & make her a woman of ISIS."
One week later on 18 May, in what appears to have been a case of mistaken identity, Hopkins tweeted the first of two defamatory tweets, which was later deleted:
@MsJackMonroe scrawled on any memorials recently?
Vandalised the memory of those who fought for your freedom.
Grandma got any more medals?

Monroe responded by saying she had never "scrawled on a memorial", adding "you're a piece of shit". She said she would refrain from suing if Hopkins paid £5,000 to charity and apologised.
But instead, Hopkins tweeted:
Can someone explain to me - in 10 words or less - the
difference between irritant @PennyRed and social anthrax
@Jack Monroe.

The judge awarded £16,000 in damages for the first tweet and £8,000 for the second.
"It sets a precedent for people being held accountable for their actions and I think that can only be a good thing going forward," Monroe told BuzzFeed News. "It's a case of 'sorry seems to be the hardest word': early on I made an offer to her to just settle with a payment to Migrant Rescue and I said at the time it would be cheaper for her and it turns out I was right."
Monroe added: "All I ever wanted was for her to say, 'I was wrong and I'm sorry'."
Immediately after the verdict Monroe celebrated on Twitter:
Hopkins, who did not give evidence in person, argued through her legal team that her role as a columnist was to be "confrontational, outspoken, forthright, often outrageous and frequently flippant in her journalism and social media activity, and very well known as such."

Jonathan Price, representing her, told the court that "this relatively trivial dispute arose and was resolved on Twitter in a matter of hours". He argued that the tweets only suggested that Monroe politically supported those who did the act of vandalism, not that she actually carried it out or condoned it.
Warby said in an observation at the end of this ruling that the case could have easily been resolved had Hopkins accepted Monroe's offer of a £5,000 settlement.
Monroe rose to fame thanks to her food blog, A Girl Called Jack, and for campaigning on a range of issues, including food poverty.
Hopkins first found fame as a contestant on The Apprentice before using a series of daytime TV appearances to carve out a career as a controversialist and self-professed "rentagob".
In December 2016, the publisher of MailOnline apologised and paid £150,000 in damages to a Muslim family who were stopped from travelling to America by US Homeland Security, after a Hopkins column branded them liars.