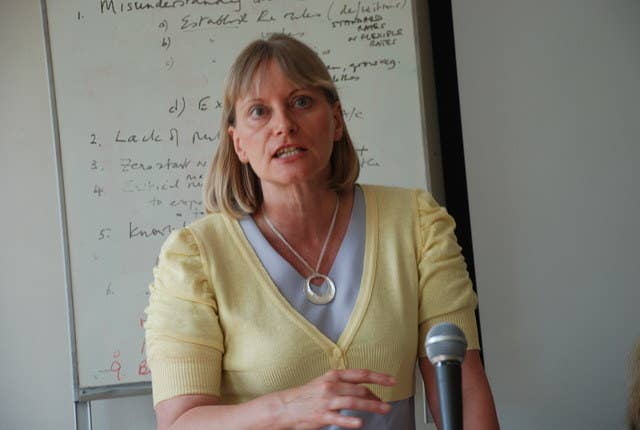 Christine Shawcroft, the Labour party official at the centre of a bitter public row over anti-Semitism among members, has quit the party's ruling body with immediate effect.
Shawcroft's place on the National Executive Committee (NEC) will now be taken by the comedian and activist Eddie Izzard, who unsuccessfully campaigned for a place on the committee in January.
She said in a statement: "It is clear that my continued membership of the NEC has become a distraction for the party and an excuse for endless intrusive media harassment of myself, my family and friends.
"I reaffirm my complete opposition to antisemitism and my abhorrence of Holocaust denial, and support all measures to tackle this within the Party. I pledge my full energy to securing for our country the Labour government under Jeremy Corbyn that it needs."
Shawcroft came under intense scrutiny after it emerged that while the head of the party's internal disputes committee she argued for reinstating a party member who referred in a Facebook post to a report which he claimed showed that the murder of 6 million Jews in the Holocaust was "a hoax".
The member, Alan Bull, from the party's Peterborough branch, told the BBC that he shared the post to spark debate and did not agree with the content.

In another post, Bull said that Labour politicians Robin Cook and John Smith had been killed by Mossad, the Israeli national intelligence agency. Bull has now been suspended from the party.
Shawcroft wrote, in a now notorious email, that she was concerned that Bull had been suspended over "a Facebook post taken completely out of context and alleged to show anti-Semitism" and said he was being targeted by fellow activists for political reasons. Shawcroft admitted this week that she wrote that defence of Bull without having seen the offending post. She stood down from the disputes committee, but appeared to face down calls for her to leave the NEC.
The story intensified after Jewish protestors and sympathisers – including several Labour MPs – took to Parliament Square to condemn anti-Semitism within the party.
Corbyn said in a statement as the row mounted earlier this week: "We recognise that anti-Semitism has occurred in pockets within the Labour Party."

Shawcroft may then have sealed her fate on Facebook on Friday by writing in a Facebook post that the row was "being stirred up to attack Jeremy, as we all know," echoing the sentiment of other Corbyn loyalists.
Shawcroft said she would remain a staunch Labour activist, but questions may be raised in the days ahead over her future as a director of the Corbyn-supporting campaign group, Momentum.
Richard Angell, director of Progress, Labour's centre-left movement, said:
"It is welcome that Christine Shawcroft has come to the conclusion that her actions mean she can no longer sit at Labour's top table. Her continued presence prevented Labour having any credibility that it has a 'zero-tolerance' attitude to anti-Semitism.
"But this issue is not about individuals or party groups; it is about a rotten culture that is growing in Labour that must be rooted out. A special meeting of the NEC is urgently required to come up with a raft of measures that can turn the dial on Labour's relationship with Britain's Jewish community and make clear to the Jew-haters and Holocaust deniers that they are not welcome in Labour."