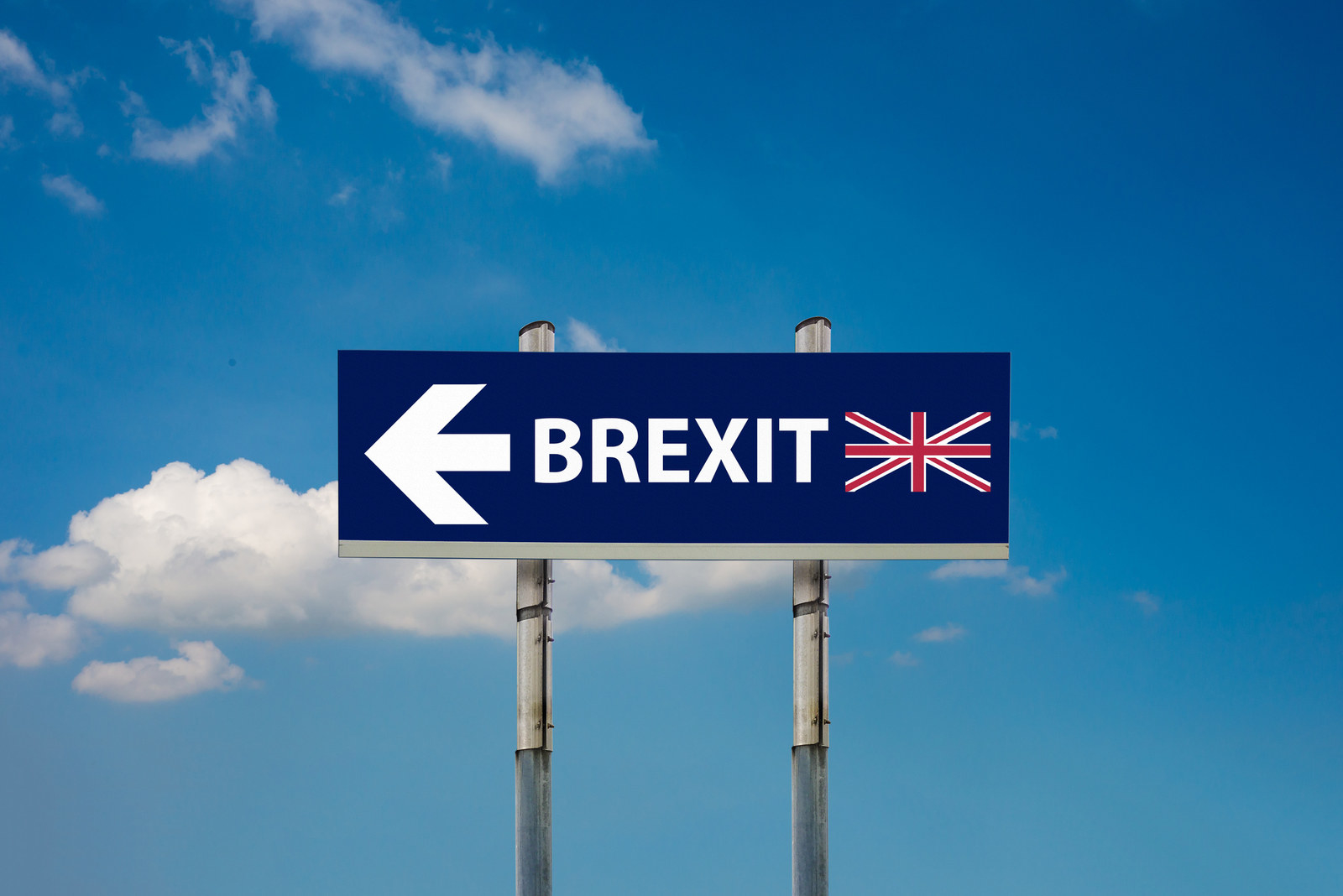 UK workers should not expect a boost to their pay packets as a result of plans to curb immigration after the country leaves the EU – and a lack of fit young workers could cause serious economic problems.

That's the warning from a report from the left-leaning think tank the Resolution Foundation, which on Tuesday published a new report on the economic effects of migration, and the unintended consequences of reducing it.
The government is committed to bringing net migration down to tens of thousands of people a year, although there is debate over whether this is achievable by 2020, and Brexit will undoubtedly mean changes to the rules governing EU citizens coming to work and live in the UK.
But what will that mean for the country? According to the Resolution Foundation, it could have some adverse effects, as these charts illustrate:
1. What is not in doubt is that immigration rose sharply in the last decade.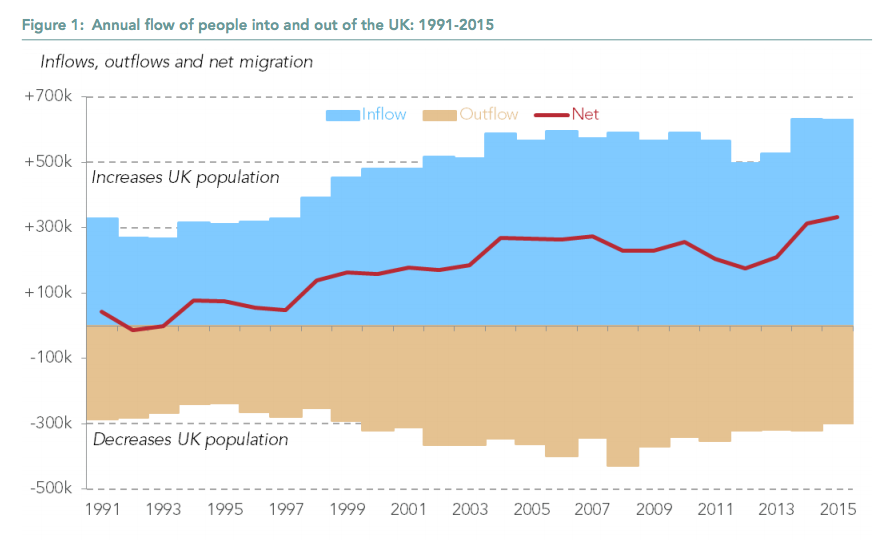 Net migration reached a peak of 330,00 last year. There are an estimated 8.1 million migrants in the UK, comprising 16% of the country's workforce, although the majority of them are from outside the EU.

2. But EU migrants are more likely to be of working age and in employment than native Britons.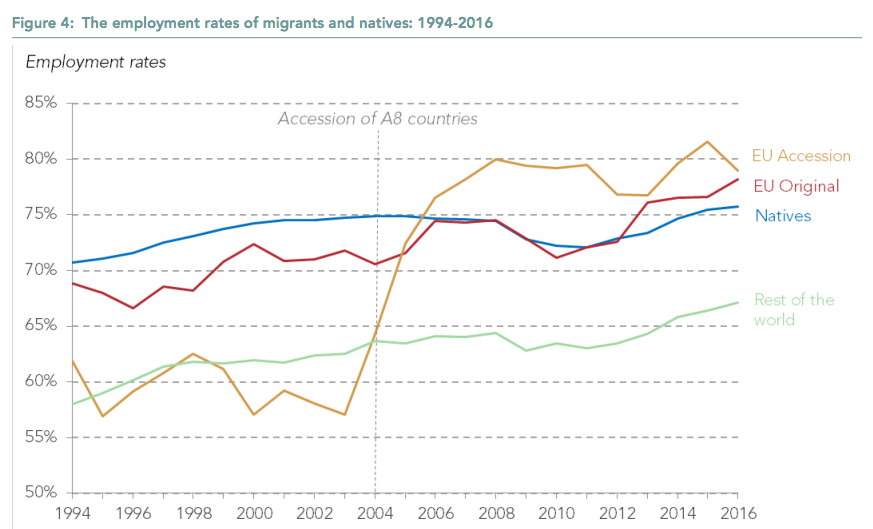 This is a recent trend. Until 2006, native Britons were more likely to be in work than all migrant groups, but this changed with the 2004 enlargement of the EU and the influx of young people who travelled across the continent looking for work.
3. The effect EU migrants have on wages is limited because of the difference between the earnings of people from "original" and new EU states.
The Resolution Foundation argues this is essentially the difference between economic migrants – who tend to come from the 10 countries who joined in 2004, such as Poland, and are willing to accept lower wages – and people from countries such as France, who are more likely to move for family reasons.
4. Reducing migration wouldn't affect unemployment very much.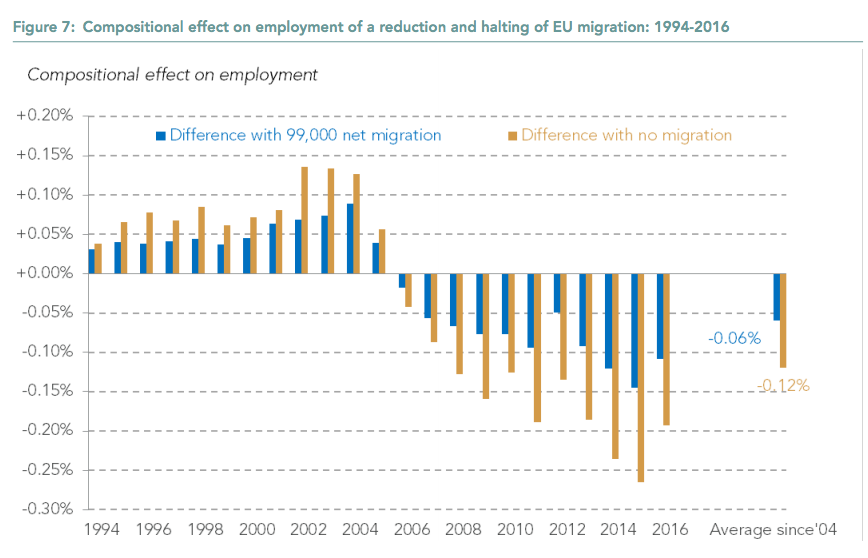 The above graph shows what might have happened to employment rates if we had net migration of just 99,000 (the blue line) or no migration at all in the last 22 years. If there had been no migration at all to the UK between 2004 and 2016 there would be 0.12% more unemployment, the report claims.
This would have a very small effect on the employment levels of native Britons, who are already less likely to be in work than EU migrants.
The report claims this shows that "even very big reductions in migration would have a relatively small negative compositional effect on the average rate of employment in the short term".
5. Native British people would not earn much more with no EU migration.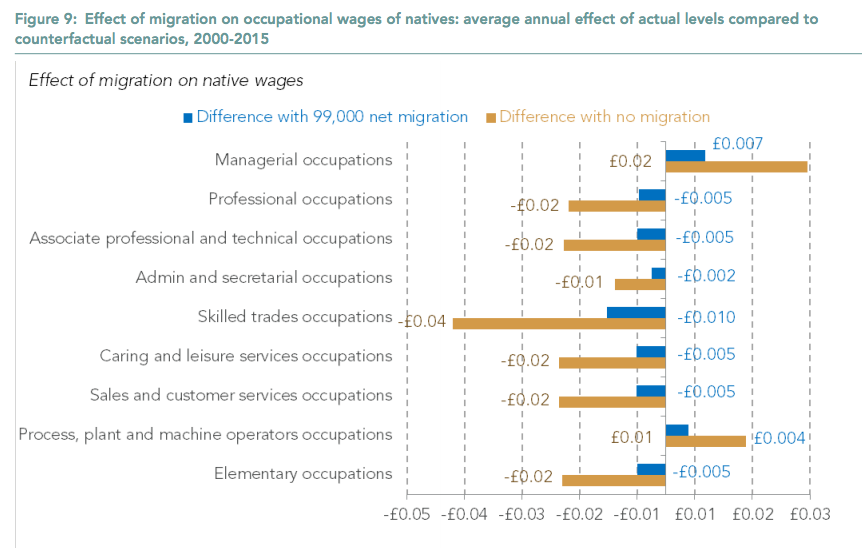 The report argues that between 2000 and 2015, migration contributed to a reduction in hourly wages for skilled trades occupations of £0.04 a year on average.

If migration had fallen to 99,000 in the same period, wages for the same group would have fallen by an average of £0.01 a year.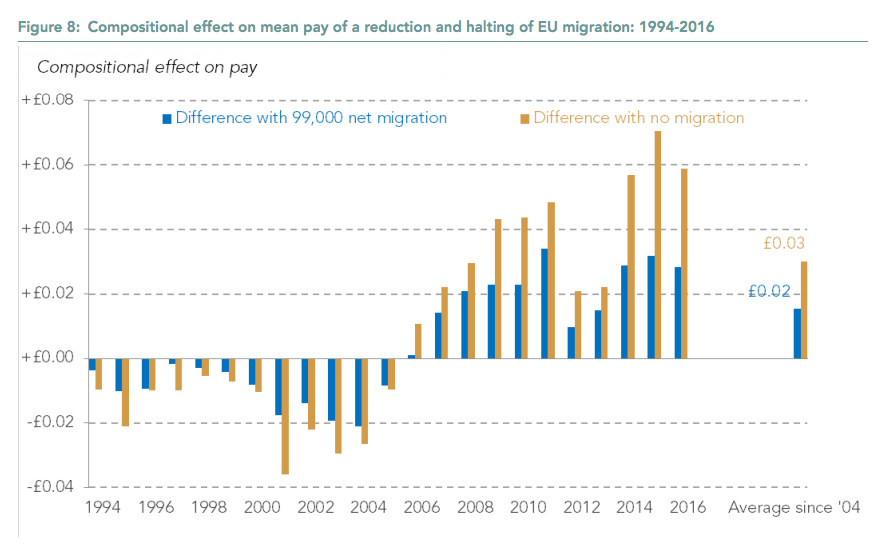 Overall, the report says that UK workers would have been £0.06 an hour better off if there was no EU migration in 2016.

6. People with little or no qualifications lose out the most from migration – for these people wages are shrinking £0.01 an hour each year.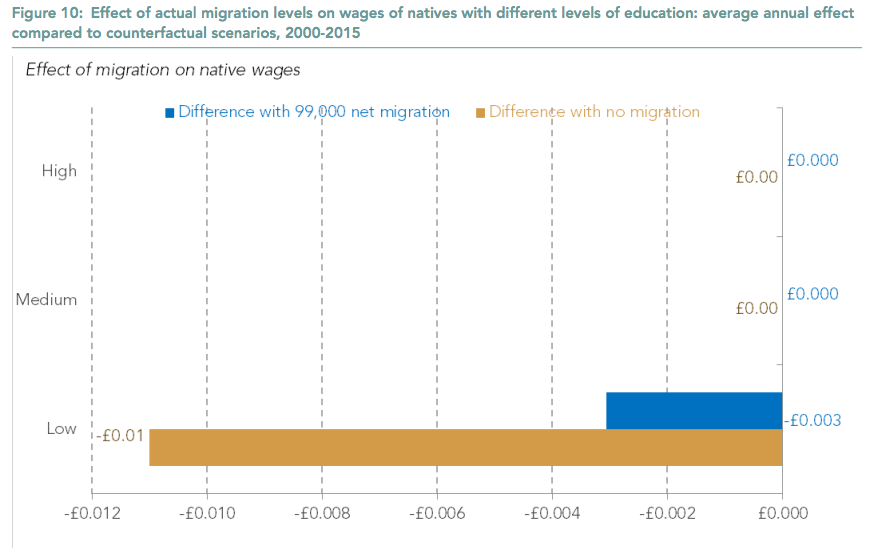 7. The predicted fall in wages as a result of Brexit will outweigh any gains from decreased competition from migrants.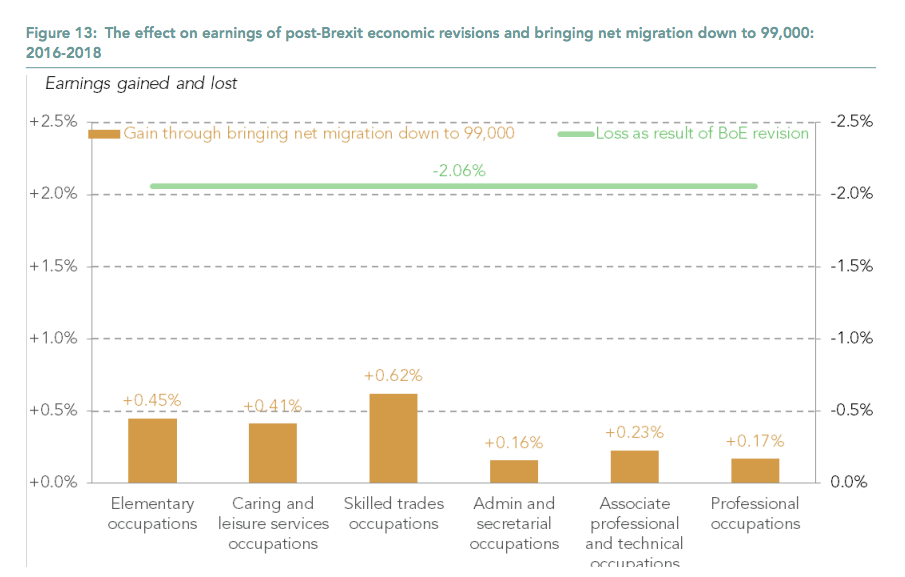 The Bank of England recently revised its earnings forecast down 2.06% between 2016 and 2018, compared with its previous forecast.
Bringing net migration down to 99,000 would increase wages for skilled trades by 0.16% in the same period, the Resolution Foundation claims, meaning a big shortfall.
8. All this is a bit worrying for industries that rely very heavily on EU migrants.
If new rules are introduced that require migrants from the EU to have qualifications and skills, that could mean a serious shortfall of labour in industries such as food manufacturing, where EU migrants make up 30% of the workforce.
The Resolution Foundation is calling for clarity on the residency rights of EU workers already in the UK, to avoid short-term damage to these industries.
Looks like there are no comments yet.
Be the first to comment!