Legal High Ban Will Send Users To The Digital Black Market, Charities Warn
BuzzFeed News has spoken to traders, illicit Dark Web drug sellers, and charities who warn that the government's Psychoactive Substances Act will drive the sale of legal highs underground.
A new era in the British state's war against drugs begins today as the government's Psychoactive Substances Act, which bans the sale and distribution of legal highs, comes into force.

As scores of online and high-street sellers shut down because of the ban, the law, which came into force at midnight, will give rise to a new class of criminal: the dealers of so-called new psychoactive substances (NPSs).
BuzzFeed News has traced dealers of NPSs on the Dark Web – a collection of untraceable, encrypted websites not viewable in normal web browsers – who say they will keep selling to UK buyers after the ban comes into place, confirming the fears of charities and drug campaigners that the trade will continue on the digital black market.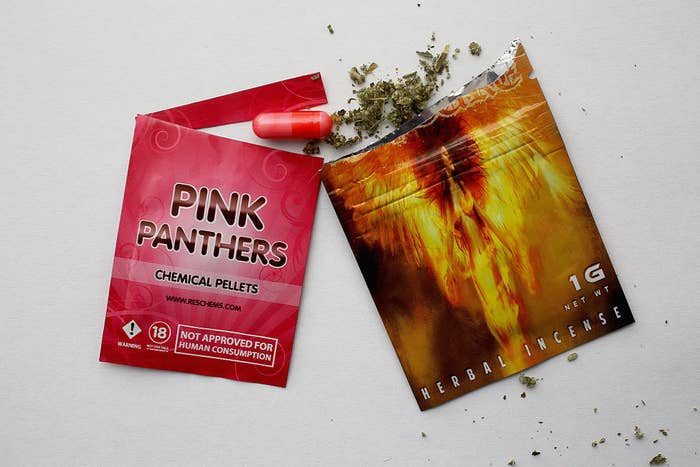 And drug charities, case workers, lawyers, and campaigners have warned that the new law will harm NPS users, who include many young and vulnerable people and will now be forced to buy from the black market.

The government's Psychoactive Substances Act was drafted in response to concerns from parents' groups, the police, and the prisons service, all of whom have noted an increase in the use of NPSs.
The effect on prisoners has been particularly influential – almost 40 prisoner deaths in the two years to June 2015 have been linked to NPSs and the drugs have been blamed for a breakdown of order and safety.

The act bans the distribution of many synthetic drugs designed to mimic the sensation of controlled drugs such as cannabis and ecstasy. Some of have been described as more dangerous and addictive than regular street drugs. Some 500 NPSs had already been added to list of substances controlled by the Misuse of Drugs Act – the new law is a blanket ban on the rest.
Anyone supplying, importing, or producing them could now face a jail term of up to seven years if convicted in a crown court, as well as a possible hefty fine (more on the technicalities of the law here)
Possession of the drugs remains legal, except in prison. But police have warned that anyone buying them from a foreign website could be found guilty of importing, which is illegal. And anyone buying them from a UK-based dealer could be guilty of aiding and abetting the distribution of NPSs.
The government said the law would "end the open sale on our high streets of these potentially harmful drugs".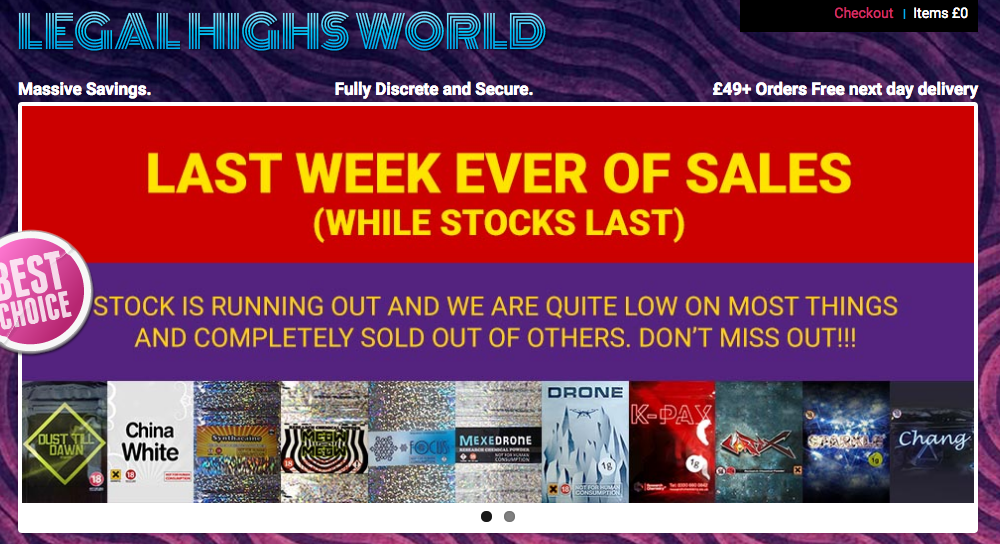 The safety fears surrounding new synthetic drugs were underlined this week as nine men in Rochdale, Greater Manchester, collapsed after taking legal highs. One man, in his thirties, is said to be in a life-threatening condition after taking a drug called Clockwork Orange. The owner of a local tobacconist and an employee have been arrested and the shop closed.
While the drugs have been perfectly legal and available in high street "head shops" and online for years, many NPS suppliers are now out of business.
Offline and online stores across the country have spent this week frantically selling the last of their supplies to loyal customers, some of whom were keen to get a stockpile while they still could.
But NPS users with enough internet savvy to find their way on to the Dark Web will easily find suppliers.
The Dark Web is how people access dark net markets (DNMs) where sellers offer all manner of illicit drugs, weapons, false identities, and financial scamming tools. All this is available only via secure internet browsers such as Tor.
Transactions are usually made in the digital currency bitcoins and sellers rank buyers by the quality of their goods and the subtlety of their packaging.

BuzzFeed News found several sellers offering synthetic cannabis, synthetic ecstasy, and a range of other NPSs which will be illegal to sell in the UK.
For $50.55 you can get a gram of mephedrone, sometimes called M-CAT, which is similar in effect to an amphetamine and has been linked to a number of deaths and hospitalisations.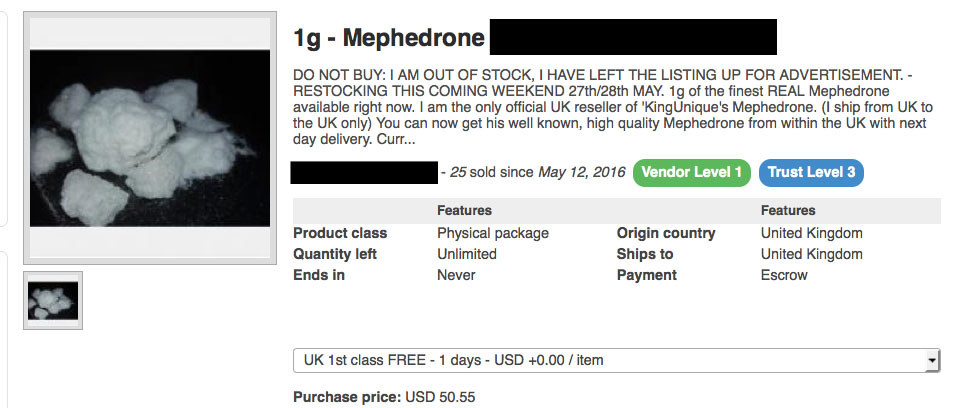 For $15 you can get two grams of spice, a "cannabinoid" that is smoked like cannabis and has been blamed for a breakdown in order and increased ambulance callouts in prisons.

One seller, who offers a range of NPSs and controlled substances via dark net markets, told BuzzFeed News he would consider increasing his supply after the UK law comes into force.
The seller, who is not based in the UK and spoke on the condition of anonymity, said: "First, and most important, this law is setting precedent – it is uniquely a law that sets forth the limits on how humans may behave.
"In other words, this law says basically you can consume only caffeine, nicotine, alcohol, and food, unless you have a prescription from a doctor – instead of defining specifically what behaviour should be refrained from.
"[The law] should expand the DNM, maybe I should stock up on chamomile [tea] so I can send it to Europe for $100 an ounce, LOL, FOR SURE. My European Brothers, if you need any psychoactive substances PM me for assistance, I will do what I can, LOL."
That could be the future of NPS trading, but what about the businesses that have been left behind?
BuzzFeed News spoke to several sellers who all said they would destroy any supplies left over after the ban came into force. Some were too busy taking orders to answer the phone.

Donal runs Herbalhighs.co.uk and has been selling legal highs since 1993. He began selling during the festival and "free party" scene of the early 1990s.
"It's the end of the business, it's over," he said. "We are honest, law-abiding citizens and whether we agree with the law of the land or not, we abide by it.
"Obviously from a moral and business point of view we believe the government's action is...foolish is one word but I would say reckless."
Donal predicts that the trade will go to the black market and make criminals of his regular clientèle, which he said includes "teachers, lawyers, doctors, members of parliament, celebrities". His oldest regular customer was 75.
"They're not criminals. But this legislation is forcing them to commit criminal activity by going to unscrupulous drug dealers who will sell any products without any [checks].
"This is isn't sensible legislation. This is a tax on fun without actually having any positive effect. It will only have negative effects, as it has done in Ireland where sales have gone underground and now they have no control over it."
David, aka Rastaboy, who runs Herbalheadshoponline.co.uk, told BuzzFeed News that his business and his competitors would stop selling NPSs, and he predicted the trade would go "deep underground". His last trading day for NPSs was Tuesday.
"We will not sell legal highs any more," he said. "Our website will sell CBD seeds [Cannabis seeds] and CBD oil in the future.
"I am sure that this business will go deeply underground, but it will be not us, not my suppliers, none of any of my competitors. It will be new people, they will not care about nothing, they will not care about the chemical percentage and quality at all, as they will do it illegally anyway."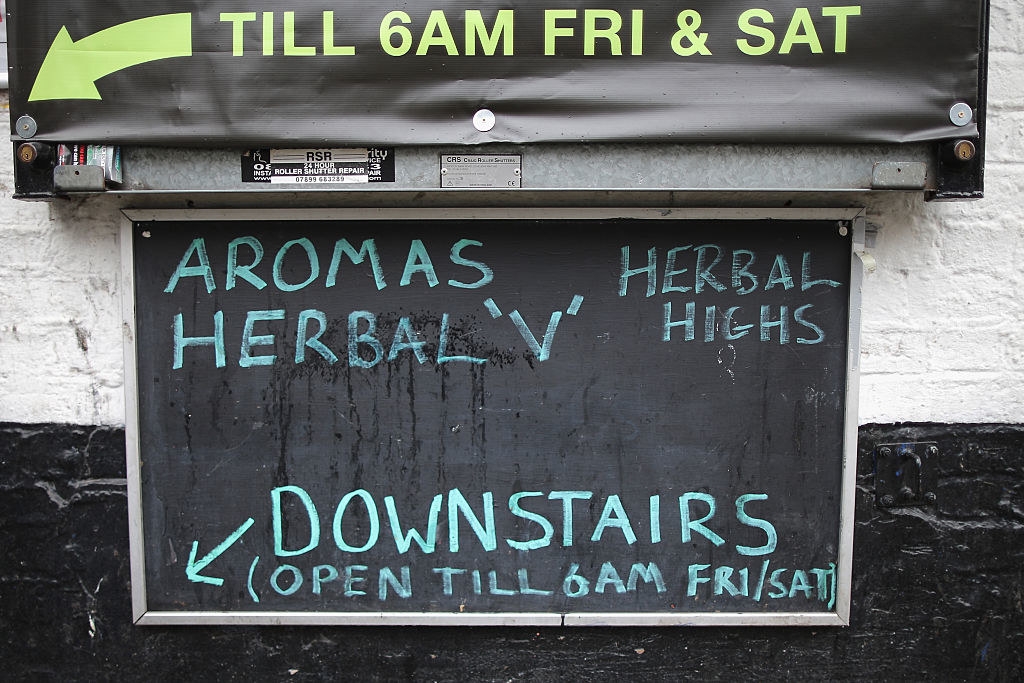 There was considerable controversy surrounding the law in its draft stage: It was described as "stupid and scientifically illiterate" for its vague definition of what constitutes a psychoactive substance, which could include all manner of everyday non-drug items.

Home Office guidance on how retailers should stay on the right side of the act said that shops should not serve someone who brings 25 cans of squirty cream to the checkout at 11pm, especially if they're slurring their words, because the cans contain nitrous oxide, or laughing gas, the sale of which is now banned.
Even while acknowledging the serious damage that NPSs are bringing to many communities, charities and drug campaigners have warned that the law could cause harm.
Kirstie Wood is a drug-and-alcohol support worker at the Wellspring, a charity that works with homeless and disadvantaged people in the Stockport area. On a daily basis she sees the effect of NPSs, particularly spice.
"Spice is supposed to mimic cannabis," she said, "but there's no way on God's earth that you have people sat there gouging and scratching themselves from smoking cannabis. It's more mirroring the effects of heroin.

"Whether it's withdrawals from not having it, or the physical problems that come with it – a lot of [users] are coughing up blood as a result of smoking spice."
But despite knowing all about the dangers, Wood is clear that the new law would have adverse side effects.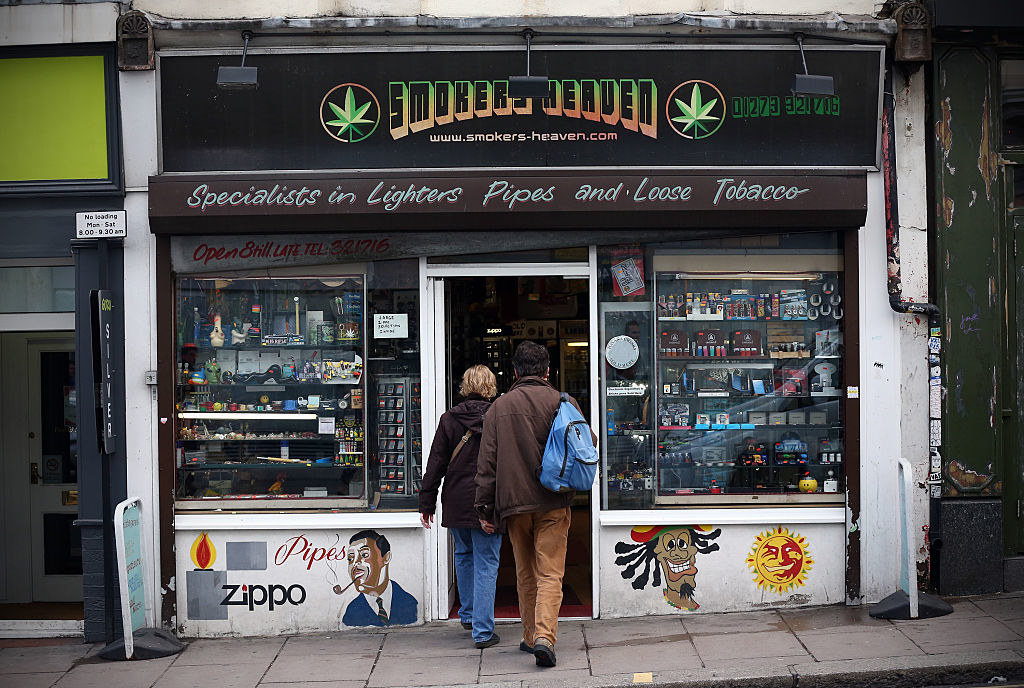 "I can't see anything positive happening from this," she said. "It's just going to be sold in a dodgier way and it's going to have a lot more consequences than it has already. At the moment it's a bit more exposed.

"People are casually smoking right now, but they're having fits and seizures – if they were to isolate themselves in order to smoke it, because it's illegal, the chances are they may have a seizure or a fit and not be found by anyone."
Kenny Malcolm, of Aberdeen-based Alcohol and Drugs Action, told the BBC: "We know of people who have thousands of pounds' worth of these drugs in their houses.
"People have been stockpiling for the last six months because the legislation has been going through since last year."
Edmund Smyth, a criminal lawyer for Kingsley Napley, warned that the act "gives the police extensive powers for search, seizure, forfeiture, and closure".
"This draconian legislation will catch teenagers and City types as well as professional street pushers, with all the consequences that has for living in limbo on bail and for potential career detriment arising from a criminal record," he said.
"Many have criticised this act in draft stages – it may prove to be a sledgehammer to crack a nut and have unintended consequences. But it is here and carries serious consequences for those who fall foul of the new law."
Even if the police's deterrent does work, will young people listen?
The national youth charity YMCA surveyed more than 1,000 people aged 16 to 24 and found that 64% of them would ignore the law.
Denise Hatton, CEO of YMCA England, said: "The ban is likely to have some success in reducing the numbers of young people taking these substances. However, we believe it will do little to address the hidden, darker side to legal highs.
"Unless the act is backed up with changes to the education and support currently available, our evidence says that these young people and more will continue to experience harm at the hands of legal highs for years to come."
The Transform Drug Policy Foundation, a think tank that campaigns for the regulation of drugs in the UK, argued that Ireland – which passed a similar law in 2010 – had the "highest use in the world [of NPSs]".
A spokesperson said: "This act will end head shop sales, so politicians will have their visible PR success, but the markets will simply shift to unregulated street and online sales, increasing health risks and crime."
Commander Simon Bray, the national policing lead for NPSs, defended the law and told BuzzFeed News its deterrent effect would have a strong impact.
"As we've seen in Rochdale in the last few days, we've seen something that looks harmless and you might have had it last week," he said, "but it might be something different in the packet. There never has been that quality control of these things.
"There will be some consequences of the act coming into force and some people will want to continue to use them. What the hope is, and we believe this will be the case, is that it will act as a significant deterrent to people. And a lot of people who might be attracted on the basis that it was legal and therefore probably safe – it might be edgy but it won't get you into trouble – they will be put off more readily."
He said that police forces were well aware of the threat posed by the Dark Web when it comes to the supply of drugs and said they were monitoring this. But he argued that serious digital criminals would have other preoccupations.
"Organised criminals are going to try and make money wherever they can make money," he said. "But I would suggest that quite a lot of the stuff around NPS and so-called legal highs is not as big business as some of the other things they get into. We hope to deter a lot of that."
Karen Bradley, minister for preventing abuse, exploitation, and crime, said in a statement: "Psychoactive substances ruin lives and we owe it to all those who have lost loved ones to do everything we can to eradicate this harmful trade.
"This act will bring to an end the open sale on our high streets of these potentially harmful drugs and deliver new powers for law enforcement to tackle this issue at every level in communities, at our borders, on UK websites, and in our prisons."
She added that legislation wasn't "the silver bullet" and said more "education, prevention, treatment, and recovery" was needed to reduce NPS use.