This is the moment gatecrashing fans barged their way into Wireless Festival over the weekend, according to Complex UK, which posted this video.
There were several flashpoints and reports of a "stampede" in which at least one person was injured at the three-day Wireless Festival in Finsbury Park, north London.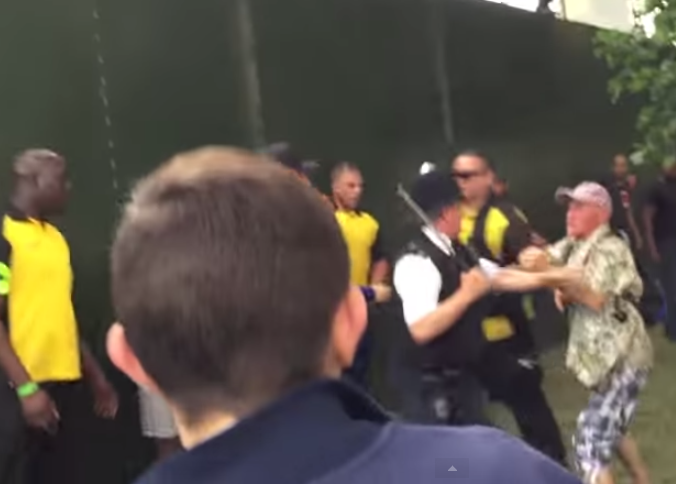 Footage from the weekend shows punches being thrown and an air of chaos as police and security guards struggled to hold back crowds of people trying to get in.
Mosallah told the Standard: "All the people you can see in the video didn't have tickets so they all gathered round and rushed through the gate."
"It was really loud from the concert and all the people shouting. They were all having a go at the security. People that paid to get into the concert couldn't go in – it was kind of unfair. It was really tense."
One person was injured in the stampede.
The woman was named as Alex, 27. "People were screaming and being trampled on," she told the Evening Standard. "I saw people bleeding after being injured from the riots. Gates were being used as weapons at one point."
This was the scene on Friday evening (via Metro) when scores of people rammed their way through a gate during Lethal Bizzle's set.
Here, police and security guards can be seen keeping the crowd at bay – at one point a single officer stepped in to ward off several angry would-be gatecrashers.
During the skuffle, a man in a blue vest appears to reach for a knife from his pocket, before he is dragged away.
Metropolitan police confirmed there were 30 arrests throughout the four-day event, which took place on 28 June and from Friday 3 July to Sunday 5 July.
Police made five arrests on Friday, including one for suspected actual bodily harm (ABH) and another for carrying a blade.
On Saturday police made five arrests, one for a suspected assault on police and one on suspicion of obstructing a search.
The biggest number of arrests came on Sunday, when 14 people were arrested for crimes ranging from drug possession to being drunk and disorderly to ABH.
There have been no charges so far.
Police had set up a dispersal zone so that if someone was ordered to leave they couldn't return for 48 hours.
A lot of people who'd forked out for tickets weren't pleased to see so many barge their way in.
Day tickets for the event, where the headliners included Drake and Kendrick Lamar, were on sale for between £75 and £80, and considerably more for VIP packages.
BuzzFeed News has contacted the festival's organisers for comment.
A spokesperson told the Standard: "There were a small number of incidents that were dealt with quickly where no-one was hurt, on an otherwise hugely successful Wireless weekend.
"Organisers of Wireless Festival take security very seriously and work closely with ShowSec Security, local police and other agencies to put procedures in place to ensure the event maintains an enjoyable and secure environment for all its customers."