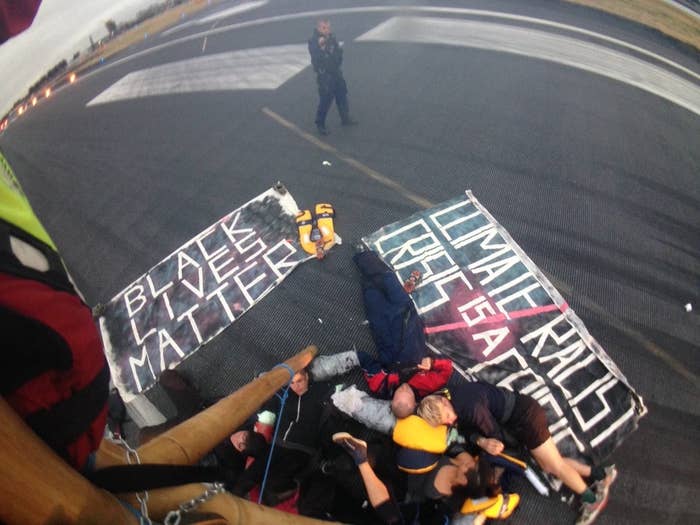 Police have arrested and charged nine protesters from the Black Lives Matter UK group, after they chained themselves together as part of a demonstration at London City Airport on Tuesday morning.

Police were called at 5.40am and eventually managed to unlock and arrest the activists who put up a tripod and chained themselves to each other on the runway.
Police began to arrest them after 9.30am, on suspicion of aggravated trespass, being unlawfully on a runway, and breaching the airport's bylaws. By 11.30am they had all been arrested and taken to police stations in east London.
The Met said on Wednesday that charges had been brought against all nine, who range in age from 23 to 32. Most are from London and the south-east while one lives at a farm near Bath.
Black Lives Matter, which describes itself as a network of anti-racist activists, said the protest was held to raise the issue of climate change, which it called a "racist crisis".

In an emailed statement, the group claimed responsibility for the protest and said it was taken to "highlight the UK's environmental impact on the lives of black people locally and globally".

The group criticised the airport – which is popular with business travellers for short-haul European trips – as being "designed for the wealthy" and said a recent decision to allow the airport to expand its capacity would harm people living locally.
"Black people are the first to die, not the first to fly, in this racist climate crisis," the statement said.
Black Lives Matter disrupted traffic outside Heathrow Airport on 5 August.

London City Airport experienced disruption to all its flights on Tuesday as a result of the protest.
The nine protesters have been bailed and will appear at Westminster magistrates' court on 14 September.