This London Artist Got Arrested For Charging His Phone On The London Overground
Robin Lee was arrested, handcuffed, and taken to a police station on suspicion of "abstracting electricity", only to be de-arrested minutes later.
An artist who was arrested and taken to a police station for plugging his phone into a train's electrical socket – only to be de-arrested later – told BuzzFeed News on Monday that the entire incident was "ridiculous".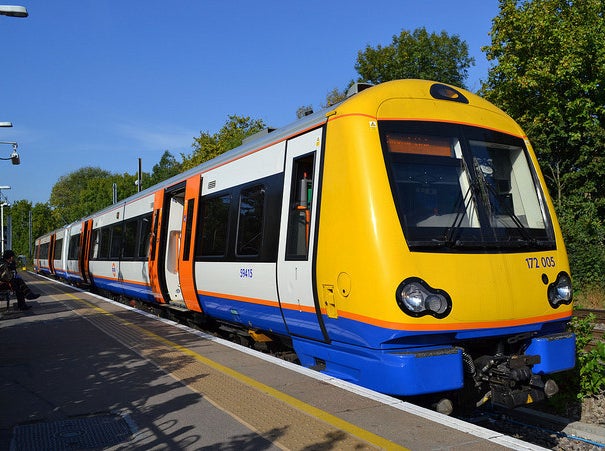 Robin Lee was approached by a police community support officer (PCSO) and arrested after plugging in his phone on the London Overground on Friday.
Lee, a 45-year-old who's originally from Hull, was travelling from Hackney Wick to Islington after visiting a friend.
He was taken to the police station at Caledonian Road, only to be de-arrested and sent on his way.
"They were very aggressive, very lairy, looking for trouble, and they got it really," Lee told BuzzFeed News. "There was a PCSO and about four police officers, actually about seven of them on the platform, and a couple of them were being lairy and were wanting to antagonise me.
"I just said, 'You're going to have to arrest me or you're you're going to have to let me go.' And they they arrested me for 'abstracting electricity', which is basically me plugging my phone in for all of five minutes on a train which didn't have a warning saying you couldn't plug it in."
As the arrest sheet (below) shows, Lee was arrested for the relatively obscure crime of "abstracting electricity".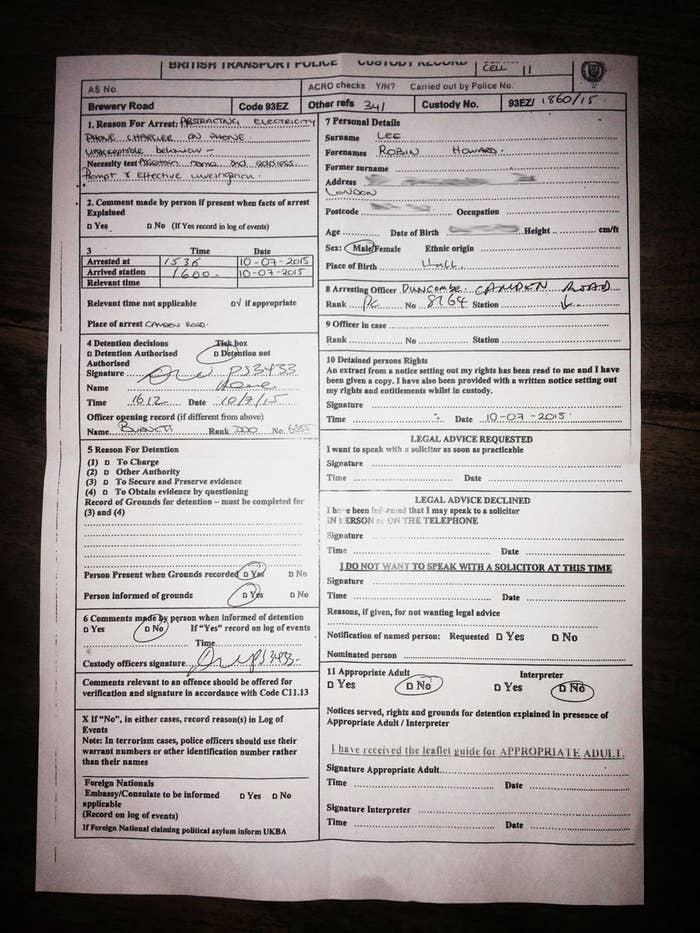 Abstracting electricity – essentially using power without permission – is an offence under the Theft Act 1968 and carries a maximum penalty of five years in prison.
While the trains have plug sockets, they are meant to be used by cleaners only.
However, Lee was also arrested for unspecified "unacceptable behaviour" under railway byelaws, an offence that carries a maximum £1,000 fine. The Crown Prosecution Service is yet to decide whether to bring charges.
Lee said he was arrested on the platform and then kept waiting 10 minutes outside Camden Road station before being put in the back of a van.
"They searched me, took all my possessions off my before I got in the van, took me to the police station, then they de-arrested me for abstracting electricity and re-arrested me for inappropriate behaviour on a train platform," he told BuzzFeed News.
"We then went into the nick, and the duty sergeant just went, 'We're not going to detain you for this.' He obviously realised it was ridiculous. Then they had to let me know.
"I said to them throughout: 'This is ridiculous, this isn't going any further, it's a waste of your time.'"
Police alleged that Lee himself was aggressive, which he denies. The police statement said:
"We were called to Camden Road London Overground station on Friday, 10 July to a report of a man becoming aggressive when challenged by a PCSO about his use of a plug socket onboard an Overground train.
"Shortly after 3.30pm, a 45-year-old man from Islington was arrested on suspicion of abstracting electricity, for which he was de-arrested shortly after.
"He was further arrested for unacceptable behaviour and has been reported for this offence."