A Police Officer Who Took The Place Of Hostages In A Supermarket Siege Has Died
French president Emmanuel Macron said Lieutenant Colonel Arnaud Beltrame died a "hero".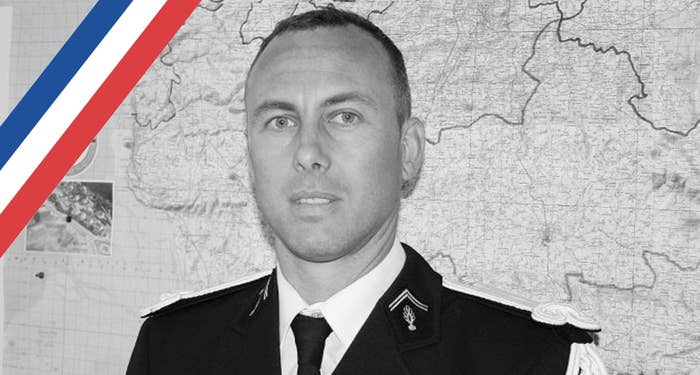 A police officer who was shot after he exchanged himself for at least one hostage who was being held by a gunman in a French supermarket has been hailed as a hero after dying from his injuries.
France's interior minister, Gérard Collomb, confirmed on Twitter early Saturday morning that Lieutenant Colonel Arnaud Beltrame, 45, had died. "France will never forget his bravery, his sacrifice, his heroism," he said.

Three other people died on Friday and 15 were injured – at least one critically –after the gunman, named as 25-year-old Redouane Lakdim, began an assault on a supermarket in in Trèbes, near the historic town of Carcassonne. Lakdim was shot dead by police at the scene.
French police arrived at the supermarket to find Lakdim holding several people hostage – the gunman agreed to release a hostage in return for taking Beltrame in their place.
On Twitter, the Gendarmerie Nationale saluted Beltrame's "sense of sacrifice and the exemplary nature of this officer who gave his life for the freedom of the hostages".
It was reported that Beltrame was among the first officers to respond to the incident and that after agreeing to the hostage swap he left his mobile phone open so that officers outside would be able to hear what was happening inside the supermarket.

French president Emmanuel Macron said Beltrame showed "exceptional courage" and "fell as a hero". Macron referred to the incident as a act of "Islamist terrorism" and said an investigation would now focus on how the Moroccan-born Lakdim was able to get hold of a weapon and became radicalised.
On Friday – before his death had been confirmed – Beltrame's mother told RTL radio: "I'm not surprised. I knew it had to be him. He has always been like that. It's someone, since he was born, who gives everything for his homeland."
Prosecutors said that the four-hour standoff began shortly after 10am, after Lakdim hijacked a car near Carcassonne – one person in the car was killed and another injured.

Then Lakdim began firing at police officers who happened to be out jogging near Carcassonne. Yves Lefebvre, secretary general of the SGP Police-FO union, said the officers were wearing running clothes with police markings. One officer was shot in the shoulder but not fatally.
After moving to the supermarket, where two people were killed, Lakdim demanded the release of Salah Abdeslam, the only surviving man behind the Paris attacks in 2015 that left 130 people dead, AP reported.
Since 2014, Lakdim had been on a government surveillance list for people who were suspected to have been radicalised but hadn't yet carried out any acts of aggression.
Francois Molins, a Paris-based prosecutor, told reporters there were no warning signs that Lakdim was about to carry out an attack. Molins added that an unnamed woman had been arrested in connection with the incident.
CORRECTION
Gérard Collomb, Redouane Lakdim, and Salah Abdeslam's names were misspelled in an earlier version of this post.