A Police Leader Quit After Being Banned From Making "Reassuring" Media Appearances After The Manchester Attack
Nazir Afzal stepped down as CEO of the Association of Police and Crime Commissioners after its board banned him from appearing on Question Time three days after the Manchester attack.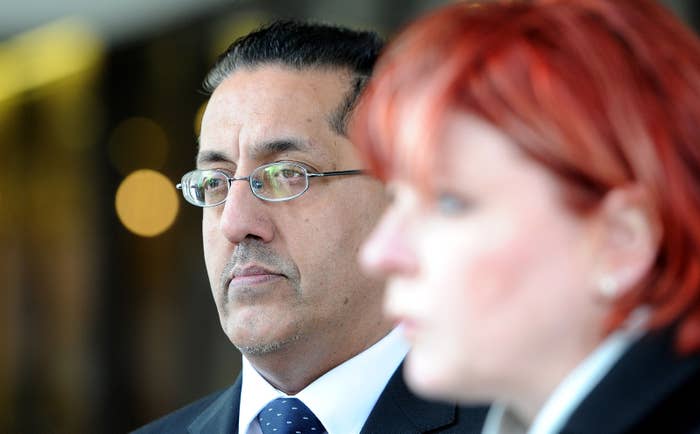 The head of one of the UK's most influential policing bodies has resigned after a row with senior colleagues over his media appearances in the wake of the Manchester terror attack.
Nazir Afzal OBE announced on Twitter on Tuesday that he has resigned as CEO of the Association of Police and Crime Commissioners (APCC), an umbrella group that supports the UK's 40 independent elected police and crime commissioners (PCCs).
He added on Wednesday that he was banned from doing media appearances at a time when he felt the public needed reassuring.

Afzal resigned last Thursday because at least two APCC board members took issue with his various media interviews in the days after the atrocity.

He had been in the role since April 2016 and was previously a lawyer and chief crown prosecutor for the northwest of England. He was praised for his handling of several high-profile criminal cases such as the Rotherham abuse scandal, which was the subject of BBC drama series Three Girls.
He was booked to appear on the BBC's Victoria Derbyshire programme on Thursday morning to talk about Prevent, the government's anti-terrorism strategy, but was told he couldn't attend.
Afzal, who lives in Manchester, was also told not to take part in a special edition on Question Time held in the city on Thursday, but took part anyway.
In the last week Afzal appeared on BBC Breakfast, the Today programme, BBC 5 Live, and BBC Radio Manchester, as well as news channels in France, the US, Turkey, and Austria.

He told the BBC that after terrorist attacks there was often an increase in abuse against Muslims: "It is disappointing but it happens every time. After Brussels, after Paris, after the murder in Westminster....There is a spike.
"That is sad that people are targeting a whole community just because of the action of criminals, and they are criminals. They don't represent the community.
"Jo Cox's murderer doesn't represent the white community of this country, the KKK don't represent Christianity. But that said what we have to do is encourage people to come forward and report."
Two board members who voiced their concerns were the committee's chair Dame Vera Baird, the PCC for Northumbria, and David Lloyd, the PCC for Hertfordshire.
Baird is a former Labour MP and Lloyd is a former Conservative councillor, while the CEO role is nonpolitical.

According to a source with knowledge of the situation, they were concerned that Afzal was granting interviews without discussing it with them first, and that elected board members should be the main media spokespeople. APCC's two statements on the Manchester attack both quote Baird.
The APCC's board said in a statement on Tuesday night that Afzal was in breach of his contract.
"Nazir agreed and signed a contract when he took up the post of chief executive of the APCC confirming that he would not do any media without the consent of the APCC board," it said.
"This is essential because the APCC is made up of Conservatives, Labour, Plaid Cymru and Independent PCCs, the role of chief executive is politically restricted and the organisation apolitical.
"Nazir told the board that he intended to go on Question Time to discuss the recent events in Manchester. The Board, made up of all parties, advised that it would be inappropriate for him to do so, given the number of contentious issues relating to policing which could be raised especially in discussion with politicians who were appearing and during purdah. He resigned from his post in order to make this appearance.

"We thank him for his service during his year at the APCC."
The offices of both Baird and Lloyd declined to comment and referred BuzzFeed News to the APCC statement.
The same source said that some PCCs were considering withdrawing their membership of the APCC over the incident.
Keith Hunter, the PCC for Humberside, told BuzzFeed News that he supported Afzal but would not be resigning.
"Nazir Afzal has done an excellent job as chief executive of the APCC and I wish him well for the future," he said. "His decision to resign does not affect my position in the APCC and I have no intention of resigning from the association."

Arfon Jones, the PCC for North Wales, Jones told BuzzFeed News: "The resignation of Nazir Afzal is a huge loss for the APCC and I am disappointed he was put in position where he felt this was the only possible course of action for him.
"He was an excellent chief executive who implemented positive changes which transformed the organisation for the better.
"Nazir is well-informed and has spoken with great authority on an important subject, providing a valuable perspective that helped provide the public with a better understanding."
On Tuesday, Jones said there were "a lot of questions to be answered".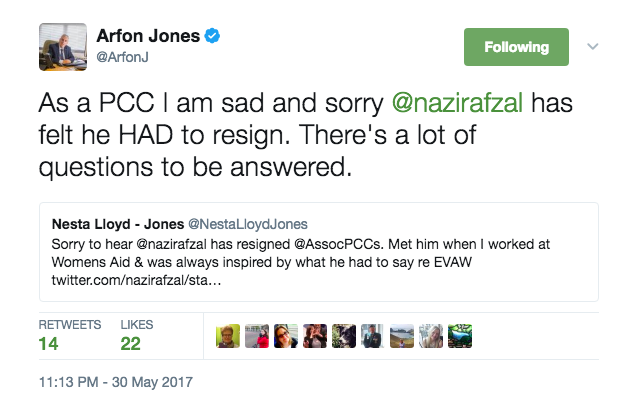 Nazir Afzal declined to comment, citing legal reasons.