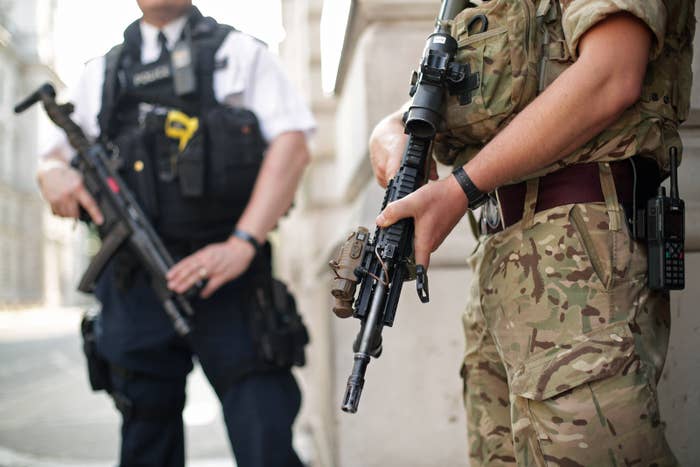 A police commissioner has backtracked from comments that the authorities should consider whether citizens should use firearms in case of a terrorist attack.
Alison Hernandez, the police and crime commissioner for Devon and Cornwall, took listeners' questions on BBC Radio Cornwall on Monday and, responding to one from a retired gun dealer in Bude, she said the question of whether people could use privately owned weapons against terrorists was something that should be looked at.
When challenged on whether she was advocating vigilantism, she said: "I'm just saying... Let's officially have a look at that and see what would be the implications of it. Let's unpick it a little bit.
"We work with businesses to keep our communities safe. I'd really be interested in exploring that with the chief constable.
"I think the reality is... If your community was coming under attack, people would do all sorts of things to try to save their community without even thinking."
Shortly afterwards, Deputy Chief Constable Paul Netherton of Devon and Cornwall police issued a statement to say the force did not support such a stance.
"Quite obviously a marauding terrorist is the most challenging of circumstances, the police response requires significant professionalism and training as well as firearms capability," he said.
"Under no circumstances would we want members of the public to arm themselves with firearms, not least because officers responding would not know who the offenders were, and quite obviously they would not have the time to ask."
Police and crime commissioners are independent elected officials who hold their local police force to account.
On Tuesday, Hernandez declined to be interviewed on the subject but released a statement clarifying her remarks, saying she had been misinterpreted.
"My comments on BBC Cornwall, in response to a telephone caller question, have been misinterpreted. To be clear, I am not advocating the use of firearms or other weapons by members of the public in the event of a terrorist incident.
"As I have said many times previously the police instruction to 'run, hide and tell' is the appropriate action and that should be followed. The caller raised a question about what the large number of people who hold legitimate firearms licences could do in the event of an attack on their community.
"For a more comprehensive answer than I was able to give at the time, I suggested that the caller should write to me personally so that I could meet with the Chief Constable and provide a detailed reply."