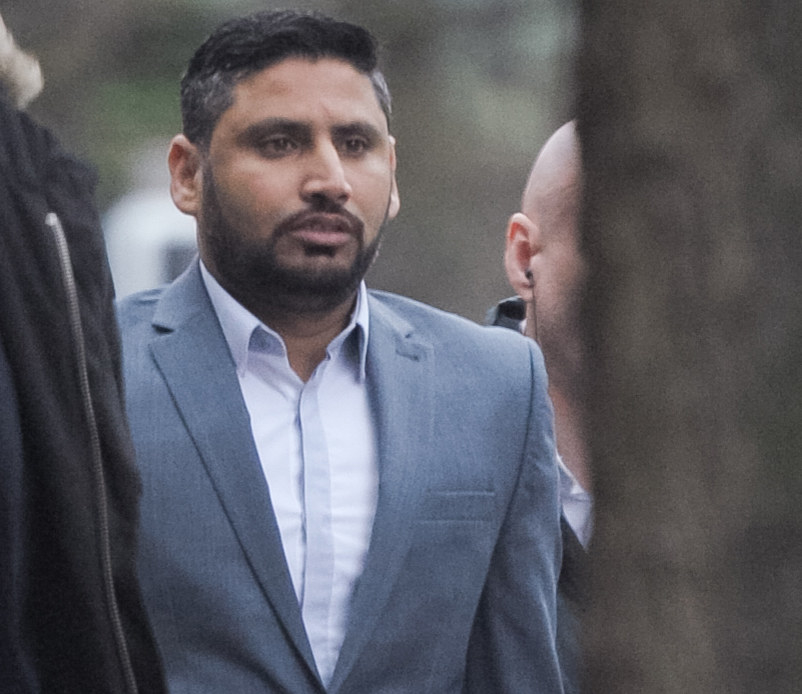 Prosecutors are reviewing a court case in which a man who admitted beating his wife with a cricket bat and forced her to drink bleach was spared jail after possibly relying on false evidence.

On Monday Mustafa Bashir, 34, from Cheetham Hill in Manchester, was handed an 18-month jail sentence, suspended for two years, after he pleaded guilty to assault and actual bodily harm (ABH) against his wife, Fakhara Karim, 33. He was also given an indefinite restraining order, ordered to pay £1,000 costs, and told to attend a relationships course.
The Crown Prosecution Service is currently "considering its options" after it emerged that Bashir, an amateur cricketer, had not been offered a professional contract with Leicestershire Cricket Club, as was claimed in court.
Judge Richard Mansell QC said in summing up: "With regard to the mitigating factors I am not convinced of your remorse for her, but you are sorry for the position you find yourself in over the last two years. Your current partner is supporting you in court and she complains of no violence. You have employment prospects of being employed in cricket for Leicestershire Cricket Club."
But the club said in a statement: "Any references to Mustafa Bashir signing or being approached to sign for Leicestershire County Cricket Club are completely false. The club have never spoken to Mustafa Bashir or an agent, nor offered a contract to the player."
Manchester crown court heard that Bashir, angry about the amount of time she spent on the phone, told her: "If I hit you with this bat with my full power then you would be dead."

In a statement read out in court, Karim said: "I did fear for my life, he told me he was going to kill me."

The case has sparked outrage because of the judge's comments regarding the vulnerability of Karim. Passing sentence, Mansell said Karim was "an intelligent woman with a network of friends" and had a university degree.
Addressing Bashir, he said: "You told her how to spend her money and you tried to turn her against her family who you regularly insulted. She would buy clothes that were of a Western style which you disapproved of and called her a slag and said her friends were 'English slag girls'.
"But I am not convinced she was a vulnerable person. Sometimes women who moved her from their country become trapped in a relationship where they lose their support network of family and friends and cannot speak the language.
"This is not the case here. She is plainly an intelligent woman with a network of friends and did go on to graduate university with a 2:1 and a master's – although this has had an ongoing effect on her. She has difficulty trusting people now, especially men."
The sentencing guidelines for ABH charges allow judges to impose anything from a fine to three years in jail, and also compel judges to weigh up a victim's vulnerability when sentencing.
But domestic abuse charities were quick to criticise the judge's comments.
Polly Neate, CEO of Women's Aid, said: "The horrific assaults and controlling behaviour that Fakhara Karim endured are completely unacceptable; and a softer sentence on the basis that 'she is not a vulnerable woman' is shocking.
"It is a complete fallacy that only a certain type of woman can become a victim of domestic abuse. In fact, perpetrators target women of all ages from all sections of society."
Sandra Horley, CEO of Refuge, said the judge's comments displayed a "shocking ignorance around the impact of domestic violence on women".
"What a woman does for a job, her level of education, or the number of friends she has makes no difference; for any woman, domestic violence is a devastating crime that has severe and long-lasting impacts," she said.
"A domestic abuse perpetrator's employment prospects should make no difference either. Men who abuse women do not make positive role models; it is concerning when men's professional or celebrity status is used in court to defend them."
Labour MP Jess Phillips said on the Today programme on Tuesday in response to the sentencing remarks: "Your vulnerability and risk is a completely dynamic thing. You aren't born one sort of vulnerable – everybody has a dynamic risk. I have met women who had law degrees who went on to be murdered, who were very eminent businesspeople."
Despite calls for Bashir's sentence to be reviewed, legal commentators have pointed out that assault occasioning ABH cannot be be referred to the attorney general, because it is an either-way offence, meaning it can be tried by magistrates or in crown court.

However, the judge now has 56 days to recall Bashir to court and impose a new sentence under the so-called slip rule, if he feels false information was used in court.
In an unrelated case last year, two drug-dealing brothers who'd been handed suspended jail sentences were recalled to court and sent to jail using the slip rule after one of them remarked on Facebook that the judge could "go suck my cock".
The judge in that case said she had originally handed them suspended sentences because of their expressions of remorse, which, in her view, were proven to be false.