Firstly, don't panic: The Queen is not in hospital and is not dead.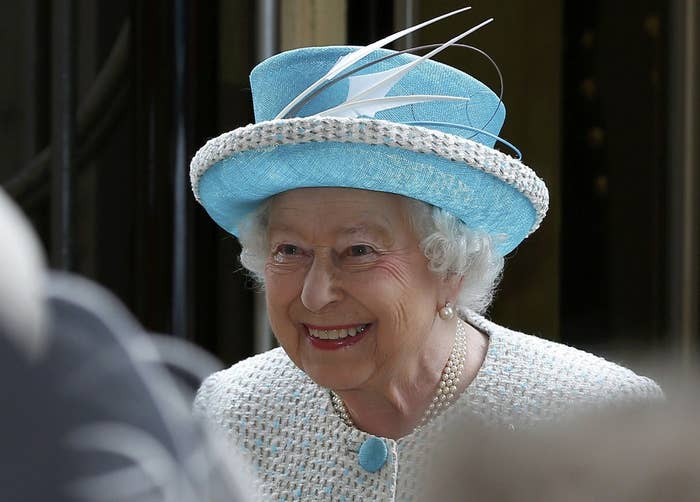 Ahmen Khawaja, a BBC journalist based in London who produces news bulletins for BBC Urdu, tweeted this on Wednesday morning.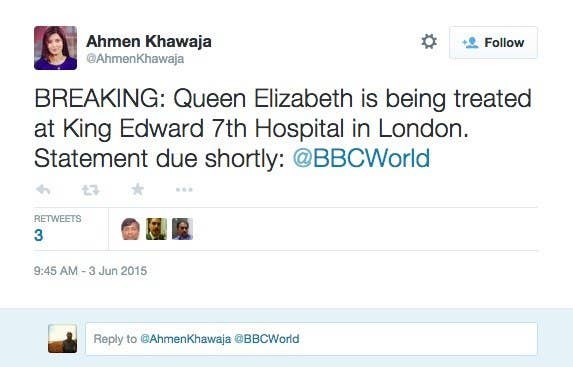 A second tweet then said the Queen had died.

The tweets were then swiftly deleted.
She then followed up by saying: "False alarm to Queen's death!"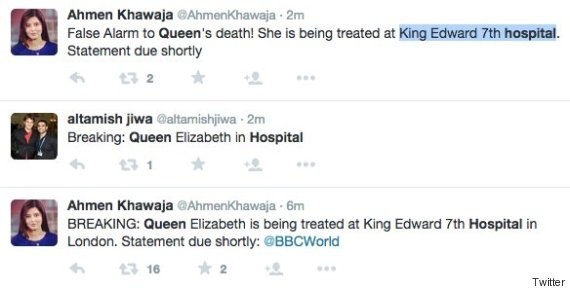 She claimed the tweets were a "silly prank" carried out by someone using her phone, which she left at home.
CNN Newsource, which provides content to 900 affiliate broadcasters, got very excited about it and put out this tweet...
...before correcting it shortly afterwards.
German newspaper Bild put out a story online...
...before withdrawing it and putting out a clarification minutes later.
The BBC said Khawaja was taking part in an internal test, rehearsing how the newsroom would react in the event of the Queen's death.
The organisation often carries out training exercises to prepare for the deaths of major figures. An internal staff email from the BBC's head of newsgathering, Jonathan Munro, seen by The Guardian, said: "This has been in the diary for some time – there is NO editorial reason why this is happening now.
"It's essential that we can rehearse these sensitive scenarios privately ... BBC tours have been suspended, and the blinds from public areas including reception and the media café will remain dropped. I'd also ask for your help in refraining from any external conversations and all social media activity about this exercise. Your continued discretion will be greatly appreciated.
"It's mainly a technical procedure looking at the use of the studio. It does not involve any sites outside New Broadcasting House and it will not include radio or online."
However, in what appears to be a complete coincidence, there was some truth to Khawaja's tweet about the monarch visiting hospital. A Buckingham Palace spokesperson told BuzzFeed News:
"I can confirm that the Queen this morning attended her annual medical check-up at the King Edward VII Hospital in London. This was a routine, prescheduled appointment. The Queen has now left the hospital."
The whole thing was a bit confusing.
The Queen, aged 89, continues to carry out a busy schedule and is due to be at a reception for new and retired Lord Lieutenants at Buckingham Palace tonight.
So, back to normal everyone.