A 14-year-old boy's name will be on a criminal records database for 10 years after he sent an "indecent" image of himself to a girl the same age.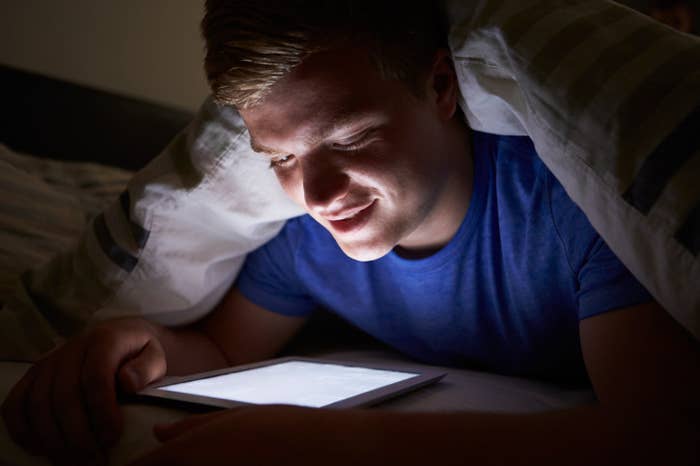 The boy, from the north of England, sent a single compromising picture via Snapchat to a girl he was flirting with.
The next day, his school's resident police officer called his mum to explain that the girl had forwarded the image on to other children at the school.
Anyone aged over 10 years old who shares an indecent image of a person aged under 18 can be arrested, charged and potentially jailed for up to 10 years, plus be placed on a list of sex offenders.
But the boy was not arrested or charged with any crime.
The boy, who was given the fake name "Simon", and his mum told BBC Radio 4's Today programme about the ordeal on Thursday.
His mum said: "I don't really remember a lot of what was said, because her [the police officer's] opening line was, 'Simon has taken and distributed an indecent image of himself,' and I didn't hear much after that to be honest."
When the mum confronted her son about the incident, he "was very embarrassed and covered his face throughout", she said.
"He'd spent the night at his dad's the night before," she said. "He was flirting with a girl and he sent a picture of himself via something called Snapchat. I didn't even know what Snapchat was."
To the mum's confusion, the police officer asked her: "What does Simon want to do when he leaves school?"
"She said, 'It's just that if he applied for an enhanced CRB (Criminal Records Bureau) clearance this could be flagged," the mum explained. "That rang alarm bells with me – she told me that there was a crime report but there wouldn't be a criminal offence against him."
According to the mum's account, the police officer said that until recently crime reports didn't have to be submitted in cases like this, but a new directive means they are now submitted as standard. In total, three people were listed on the report: Simon, the girl who got the picture, and the person she sent it to.
Simon told the programme he was "embarrassed, a bit intimidated" by the whole ordeal.
"I didn't want to talk to people at lunches – I'd normally just get my food and go outside, but now I go to the library and get a book," he said. "People teased me about it. I wouldn't consider it bullying, it's just what happens to everyone when people find out."
Simon's mum said: "At best he was naive, at worst he was a teenager. And in this day and age it's referred to as sexting and it happens all the time. It's how teenagers flirt."
Children sharing sexual images of each other is a growing problem for police forces and schools.
In July 2014 a teenage couple from Nottinghamshire received a police caution for distributing indecent images of children. Police said at the time that they were receiving similar complaints on a daily basis.
Workshops and classes are taking place in UK schools on the dangers of sexting for children as young as 5.
Listen to the full section on the Today programme here.