1.
When a cow got killed in a lift.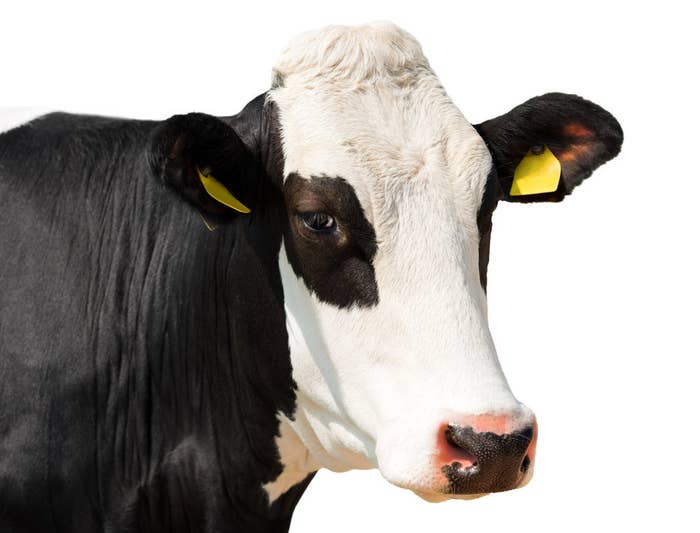 According to a former Bullingdon Club member, a cow was brought to a dinner and for some reason put into a freight lift. It didn't end well.
He told The Mirror: "We sneaked in through the fire exit and found a freight lift, put it in, pressed the top floor and waited to see what would happen.
"At the top the doors opened and the cow got wedged and freaked out and kicked the lift to s***. At that point the Bullingdon ran.
"The fire brigade was called and they found a dead cow on the eighth floor. It caused £20,000 of damage."
2.
That time a lot of windows got smashed.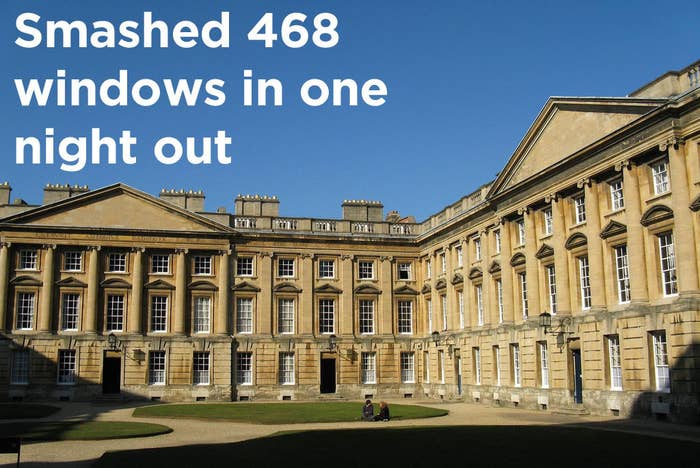 Members of Bullingdon Club smashed 468 windows in the Peckwater quad at Christ Church, Oxford, after a raucous dinner in 1894.
The club was then banned from meeting within 15 miles of Oxford, according to The History of the University of Oxford.
3.
When people were encouraged to eat live goldfish.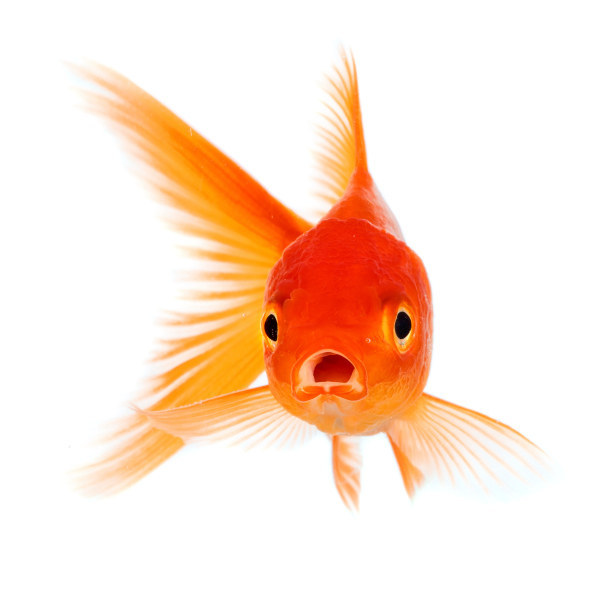 According to university newspaper Cherwell, to gain entry to the Wyverns society at Magdalene College, Cambridge, students must sit down to a 20-course meal that can include the likes of dog food and a live goldfish.
The paper also alleged that would-be members have been forced to eat their own vomit.
4.
When some unconventional drinking vessels were used.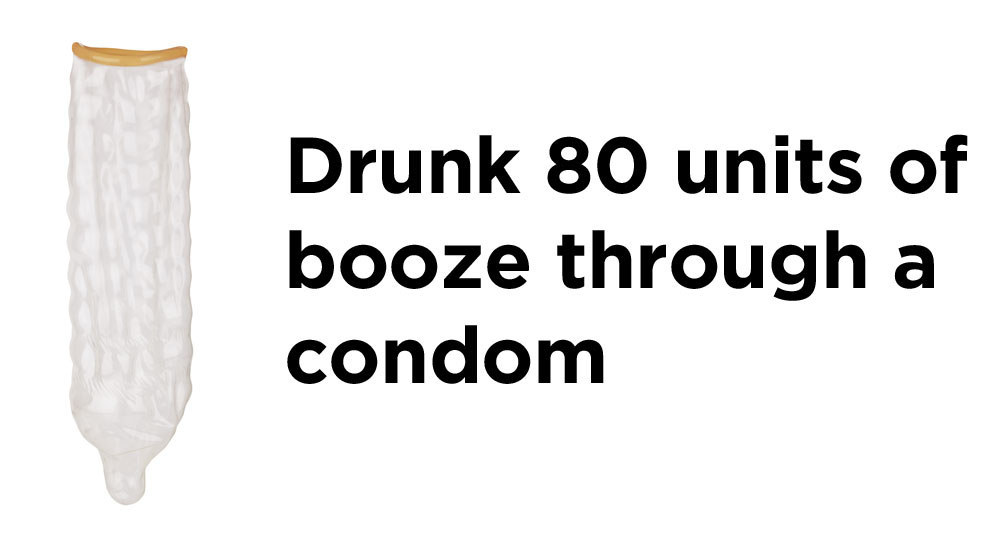 To gain entry to Ferretz, an inter-collegiate drinking club at Cambridge, students must "must consume 80 units [of alcohol] on their initiation, beginning with a bottle of gin and finishing off with a bottle of port, consumed through a condom", according to campus newspaper Varsity.
According to one student: "You have to bite the condom. If you bite too much and spill the port you have to do it again."
5.
When someone ate a wine glass.
The Mail on Sunday recounted the story of the time a Bullingdon Club member went without a starter during a meal and instead ate a wine glass.
Around the same time, one club member, a Hungarian count, pushed a Portaloo containing another member down a hill.
6.
When there were some ridiculous drinking games.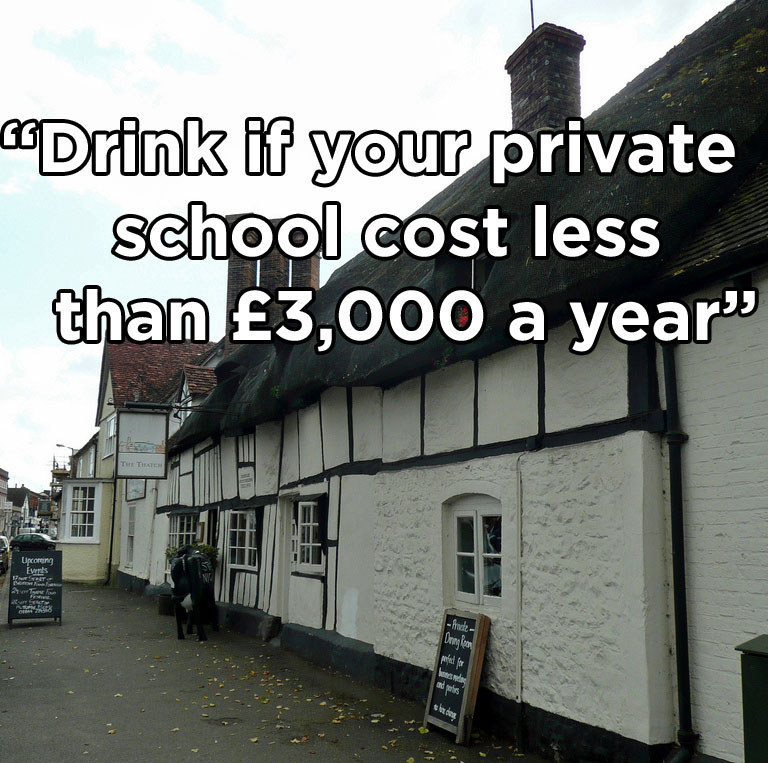 The Evening Standard reported last year that the so-called Assassins club carried out some of Oxford University's most debauched behaviour in the '80s.
A court case in 1982 heard that 19 members of the club went to the Thatcher's pub in Thame (above, now just The Thatch), where they went through 57 bottles of vintage wine and took part in such drinking games as "Drink if your public school cost less than £3,000 a year" and "Drink if your family name became double-barrelled during the last 100 years".
Members were seen "vomiting and urinating in the garden, smashing plates on walls, and trying to burn tablecloths, causing £600 in damage."
Robert Hanson, who was there, told the Standard: "I was there on the night, covered in pink blancmange. So I remember it well."
7.
When an all-male club made women get on all fours and pretend to be horses.
A pseudonymous former Bullingdon Club member told the Daily Mirror: "You would treat them like fillies. Women aren't allowed to formal dinners but at informal gatherings we would make them get down on all fours like a horse, whinny, and bring out hunting horns and whips. It was ridiculous."
However, he said: "Yes they were degraded to some extent, but it was all done respectfully and the more they took, the more respect they earned. Half of them are godparents to my children now."
8.
When some Bullingdon club members apologised while trashing a pub.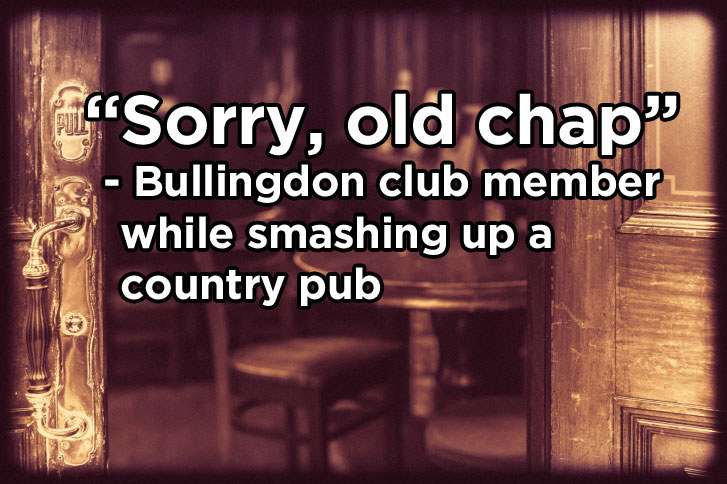 According to Ian Rogers, the then landlord of the 15th-century White Hart pub near Oxford, in 2004 a group of Oxford University students smashed 17 bottles of wine, a window, and every piece of crockery they came across.
"It was very peculiar," he told the BBC. "They were not rude or violent to my staff.
"Even when I pulled them off each other when they were fighting and chucking bottles at the walls, they would say 'Sorry old chap, just a bit of high spirits'."
9.
When rival Cambridge colleges got drunk, put on war paint, and wrestled each other, using a pig's head on a stake as a mascot.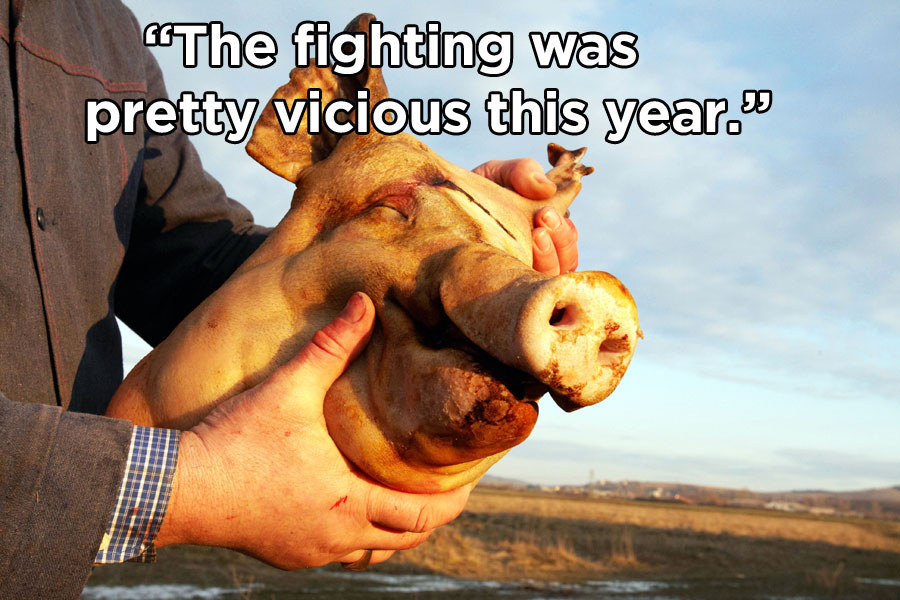 The Daily Mail reported in May 2011 that the traditional booze-up to mark the start of Cambridge University's summer term was especially lively.
Members of the drinking societies of Jesus and Girton colleges reportedly wore togas to drunkenly rugby tackle each other to the floor.
One student told the Mail: "The fighting was pretty vicious this year."