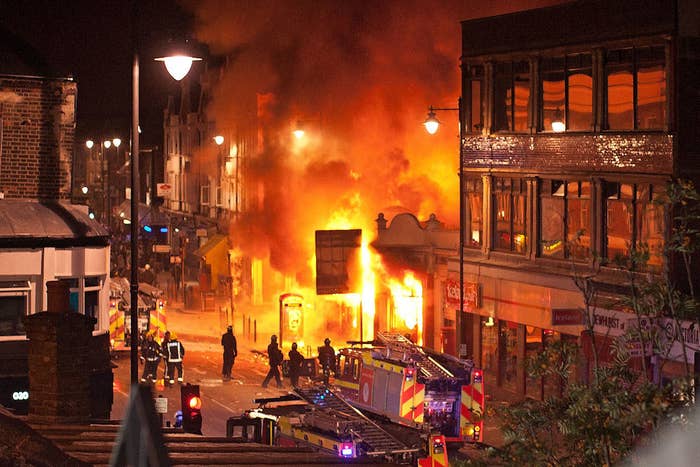 David Lammy is the Labour MP for Tottenham. He grew up in the area and was a frequent presence on the airwaves during and after the 2011 riots. He wrote a book about the disorder and its effects, Out of the Ashes: Britain After the Riots.
I remember the police calling me early evening about 6pm: It was the borough commander and she told me that a young man had been shot. She sounded tense at the end of the phone. I asked her about the circumstances and I put down the phone and I remember feeling quite anxious. I didn't know the man; all I had was the name Mark Duggan.
I called a number of people in the community to try to find out a bit more about him. And by Friday morning I'd made my way to the estate where he had lost his life.
There was a lot of communication between the police, the IPCC [Independent Police Complaints Commission], the local authority, and various local people on Friday and Saturday. It was an anxious, tense time. But it came to a head really.
First a police car and a bus were burning outside a police station after the march had gone awry. Those images were played over and over again on 24-hour news.
It was the lowest moment of my political career, it's not a moment I look back on [fondly]. ... It makes me feel… It was the worst moment of my political life.
I was required to leave [the area] and be a voice of calm and reason at a time when a lot of people were not feeling like that.
As everyone knows, I'm from Tottenham, I've known the high street for a long time and the neighbourhood, it's part of me, and to just see it looted and burning is a very painful thing. There's something horrible about a riot because there's a sense of neighbours turning on neighbours. If you speak to the shopkeepers, some of them would say that some of their shops and homes were burned by their fellow Londoners.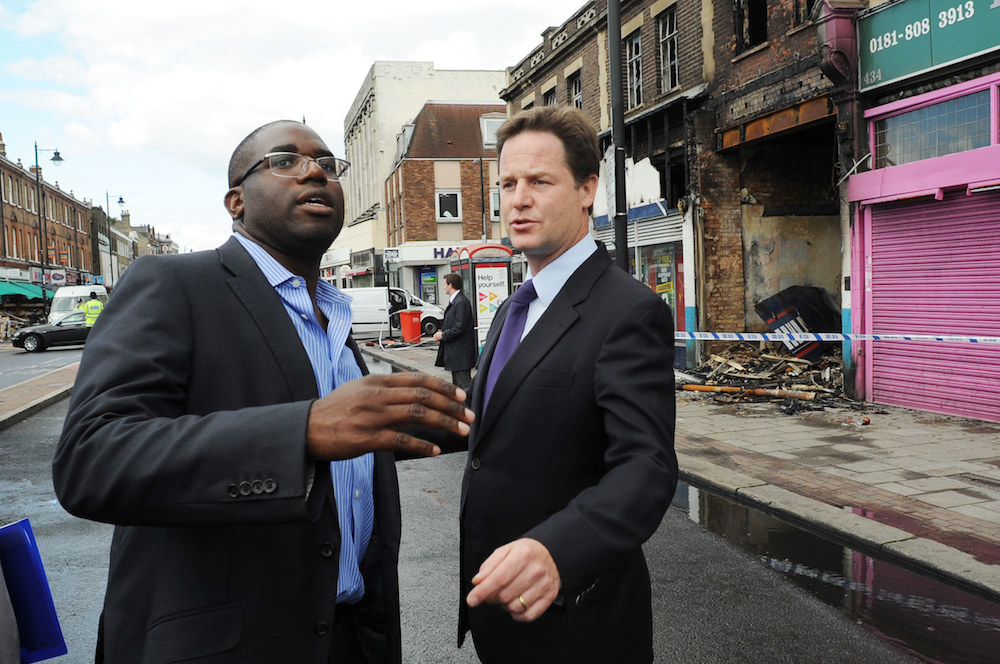 It was a very scarring event for everyone who was caught up in it. I've got a pictures of the Tottenham leisure centre, with all the families who had had all their belongings burned to the ground gathered. People were delivering food and clothing, basic necessities, nappies. I was sitting with 60, 70 people who had lost absolutely everything.
There's not the language to describe how horrendous it was. I couldn't sleep for four days.
All riots take a spark and in this case it was the death of Mark Duggan at the hands of the police. That was the precipitating cause in Tottenham. But I think in other parts of Harringey and across other parts of the country, things that lay behind the riots, the looting and burning, there was clearly an issue around the use of stop and search and the way that the police were at that time, with section 60 notices, and they were stopping urban youths left, right, and centre and I think that had led to a breakdown in relations between the police and young people across the capital.
But actually, the rioting took place in places very different to Tottenham, involving black and white, rich and poor, young and old, some much, much older. There was something about a stake in society and people feeling that they didn't have one – they just felt they had nothing to lose.
I was very keen at the time not to just reduce the reasons for the riots down to a soundbite. And the most important thing to say is the prime minister at the time launched a commission, there was a victims' panel, they went round the country, they spoke to the affected areas and they made their recommendations. I think three-quarters of them have not been implemented.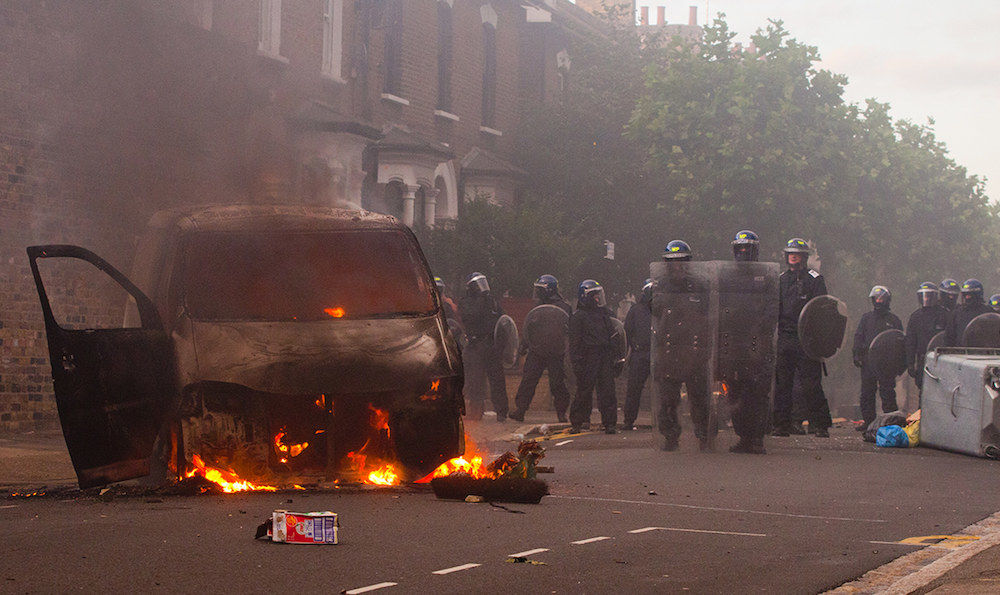 Victoria Thompson is a solicitor. She was on duty at Highbury magistrates' court two days after rioting began and ended up representing clients nonstop for 36 hours.

My colleague had been on court duty that day and had been saying "We've got 50 people coming, they're coming in vans" but it never really materialised. But because of all the difficulties, the police still hadn't processed this large number of people who'd been arrested so they hadn't yet had an opportunity to get them to court.
So my colleague rang me to say the court was considering staying open a little bit later and I happened to live near Highbury and he said, "Do you want to cover this one?"
I'd been at Thames [magistrates' court] that day already, which was busy enough. I arrived at Highbury and nothing was really happening. They kept saying the vans were coming with all these prisoners but no one really knew what was going to happen.
Then at 8 or 9 o'clock, it was chaos. There were streams of people; the cells were overflowing; there were vans outside, backed up down the avenue waiting to bring people in; they were putting three or four people in each cell…it was very, very busy.
The court was closed at this stage so there weren't the normal staff to help bringing people in and out of court or running up and down stairs delivering papers, although we weren't getting much papers because the police weren't ready with them. You'd try to get some information from a police liaison officer before the suspect came into court.
It became very informal. The air con turned off because it was on a timer so the court became very hot – the judge said you can take your jackets off. It's not normal for it to be so informal.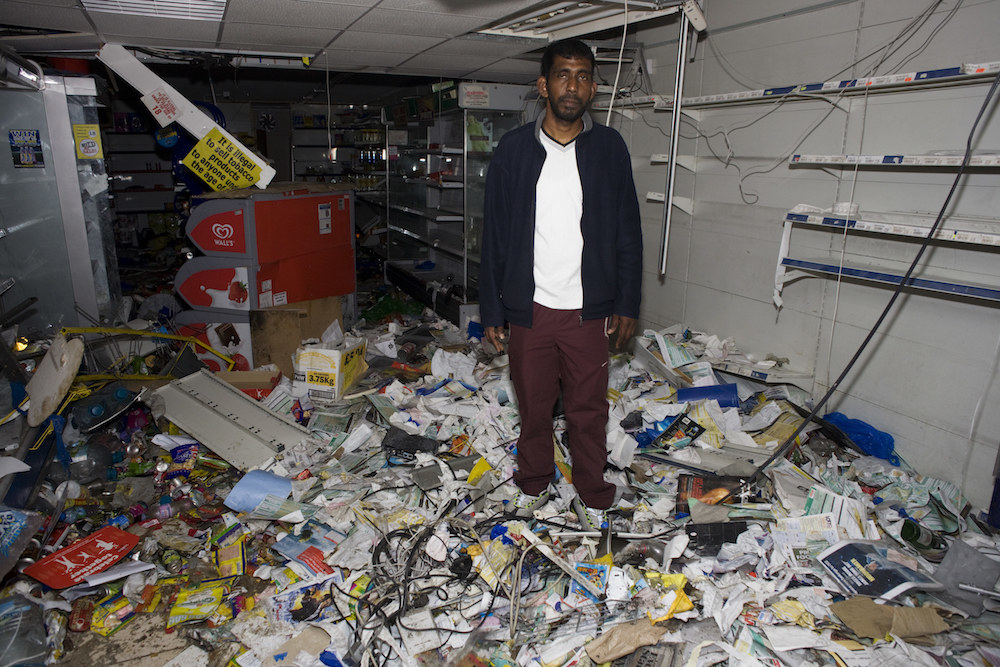 We were just trying to process this number of young people coming in, not having what you would normally have when the police would have put together a bundle [of details about each case] so you could properly advise your client on the plea and so on. But we didn't have that because the police were so far behind because of the sheer quantity of people.

You had a lot of people who hadn't been in trouble before and didn't really know what was going on and all of a sudden they were in this situation and didn't know what to do with themselves.
I got sidetracked because I ended up representing the youngest rioter, just a little kid, who was only 11 years old. My maternal instincts clicked in and I just wanted to make sure he was OK. He was just a kid who got caught up it, like a lot of them were. These were people who weren't your usual criminals, but they were dealt with in the harshest way.
Although it was never official it seemed to be the policy of the court that everyone should be remanded [in custody] and sent to crown court – it didn't matter what you said or how you tried to get bail, the rules of law seemed to go out the window. You had people with minor offences – one guy stole a bottle of water – and here they were being remanded into custody and taken off to crown court.
Certainly for the first three or four days that was the case, until things settled down and solicitors were able to challenge decisions. It was just a way to show a hard line and stop people causing disorder.
I don't even remember it becoming daylight. I'd been a duty solicitor for about a year at that point, so I was fairly new. You normally deal with seven or eight in a day and you might stay there until 5 to get everything done.
Instinct kicks in and it just became normal to stay for 36 hours. When you stepped out of the courtroom you realised there was no one else in the building.
I remember the director of public prosecutions, Keir Starmer, popping down at 5 in the morning just to see how we were doing and that's an unusual sight to see in the magistrates' court.
Afterwards I went home and couldn't sleep, I watched the news for quite a long time and followed Twitter. I left court in a state of shock. You'd think you'd just immediately go to sleep but I didn't – I was still processing it.
Ken Hinds is a community activist and the chair of Haringey's Stop and Search Monitoring Group. He acted as a liaison between the Duggan family and the police in the days following Mark Duggan's death.

I was there when things went pear-shaped.
The police called me up from home to ask if I'd like to come down to the station. I went down there and I was successful in getting the Duggan family to talk to the police officers. I got the police officer to come out and he said, "Look, I'll get the borough commander's room prepared and put some tea and coffee out."
I said, "Rather than do that, just invite them in." I had them standing at the side and introduced them to him. They started having this engagement, but to my shock horror, instead of taking the family to one side he tried to have that conversation in a hostile environment with people who really wanted to see blood on the streets.
They were intimidating the police and also intimidated the Duggan family. They said to the police: "You're not senior enough to talk to, you're just an effing lackey," because he was a black man.
Instead of saying, "I'm the most senior one here and the buck stops with me," he says, "OK I will go and talk to my area commander." Within half an hour of that disastrous response it kicked off. That was the pivotal moment.
I stepped back after that. It was going pear-shaped. Me and a few others stood outside a couple of Asian shops. So when people were trying to loot all the places around them we deterred them from looting these shops. We said: "No, you're not doing this."
I remember how big a role Blackberrys and social media played. People were sending all kind of pictures, about the police car on fire, the bus on fire, and things up in arms. It was wild.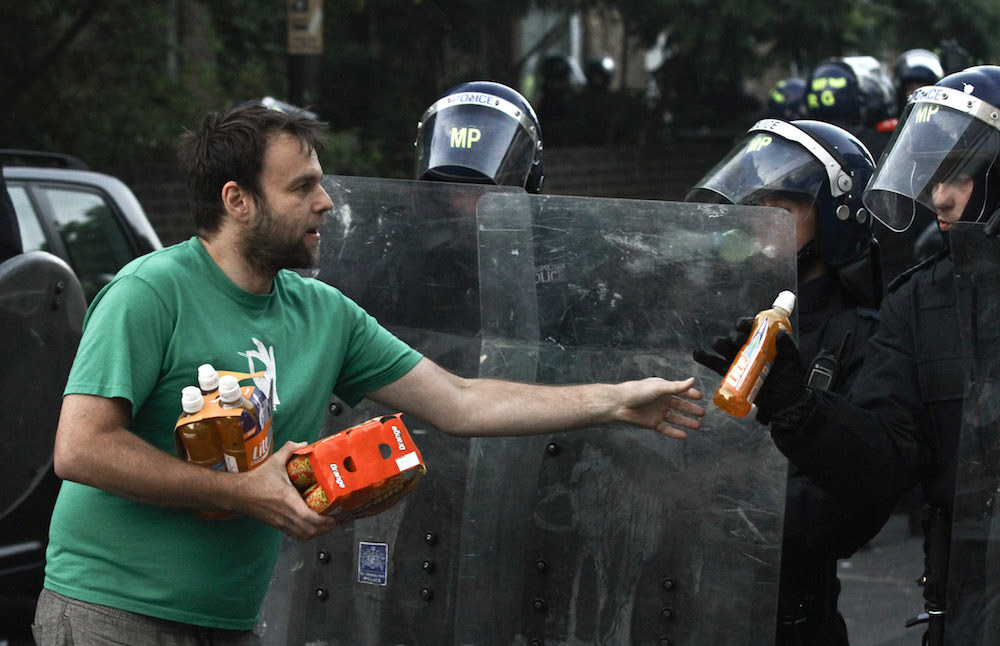 We wouldn't want a repeat of that, but I can't see it happening again – there was a number of specific things that led up to that night. We had a policeman who was acting above his station and got caught short. The police had shot dead someone and said there was a shootout, IPCC said there was a shootout, but then they had to say they got it wrong. But the damage had been done. And thirdly none of the police nor the IPCC approached the family to tell them that their son had been shot dead. It came together like a perfect storm.
People were angry at the time. They were angry at the amount of stop and search being done and how they were being violated – this is a common thread around the country. In communities with a high proportion of BME people, stop and search was the driver, the fuel, that made people angry.
Not everyone went out there just to rob and loot, that wasn't the case. I saw people astounded how people stood toe to toe to take on the police, they were that angry.
You had these kind of sightseers who were following it on social media – they were just watching these people come out of shops with all this stuff, they'd drop it and then the bystanders would pick it up and get caught on CCTV. Now they get put in prison and they're the robbers.
The thing that's changed is that they're not doing as much stop and search. What they were violating us [BME people] on wasn't stop and search with suspicion, it was stop and search with no suspicion. They didn't need no reason.

Trevor Reeves is a director at his family's business, House of Reeves, a longstanding furniture shop in Croydon, south London. The main shop building was set on fire amid general disorder on 8 August. The flames became a symbol of the destruction and lawlessness of the riots in London.

The work that went on afterwards to get us to where we are now has basically wiped out four years of our lives. It's only the last year when we've popped out of it and realised that we've done a really good job to survive. To overcome people who want to smash your company to pieces. We're proud of the resilience that we've shown.
The memories of that day are still as fresh as they were [at the time]. It's still a devastating thing to have witnessed. But these things give you strength.
I was at home when I first heard. I locked the shop up at about 5:30pm, maybe 6pm, and a neighbour came round and said one of their relations who lives near the shop said something was going on. About half an hour after I got here they set it alight. It was a big crowd at that stage.
I didn't see them set it on fire – there was a building in the way. I saw it on the CCTV in court later on. [A looter was jailed for 11 and a half years for starting the fire.]
This shop's been in the family for five generations. There are a lot of people in Croydon with a story about the shop, they've bought their sofa here, all these sorts of anecdote. You don't realise what an effect having this thing taken away from a community has. It's very powerful. It brought the community together.
I was concerned for the customers and staff and how we were going to deal with it. There isn't a book that says "if your business is burned down you do this".
Across the road was another shop we owned which we mainly used for storage. That was smashed up in the riot, but we refurbished it to make it a retail outlet and it was open two days afterwards.
There was such an outpouring of goodwill from people that they were even trying to get through the police cordon at the crime scene to get in and help and get us up and running.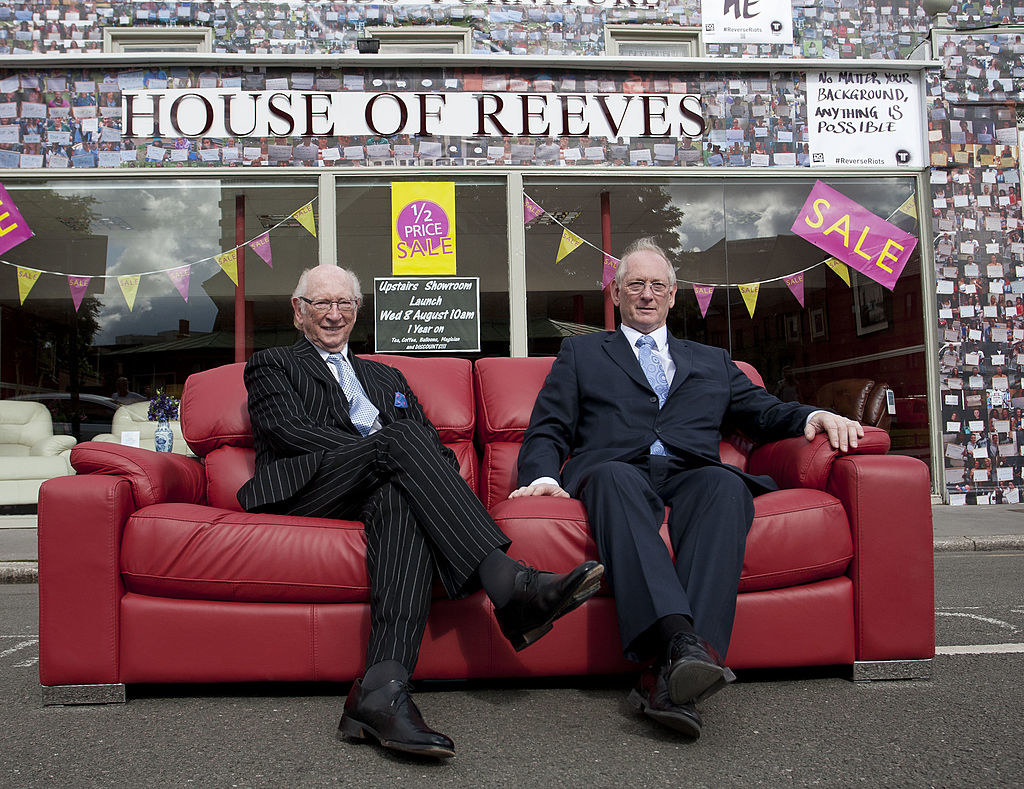 We'd loaded our delivery van the night before, which we don't usually do, so we made a delivery the next day, which must have shocked a lot of people.
All the members of the family who could come and help did so. My daughter got two weeks off to help out. Plus we had to deal with the media – it was international and went on for three months. We went down to studios in the middle of the night doing interviews for Australian TV.
But we made the decision that we would because the media had engaged with our story and our history and how we'd reacted. It showed the positivity that people weren't getting elsewhere.
Croydon's changed a lot since then and there's a lot of building going on. There's a new Westfield shopping centre. But they tried to burn us down and knock us out – we're not going to lot a bit of development stop us.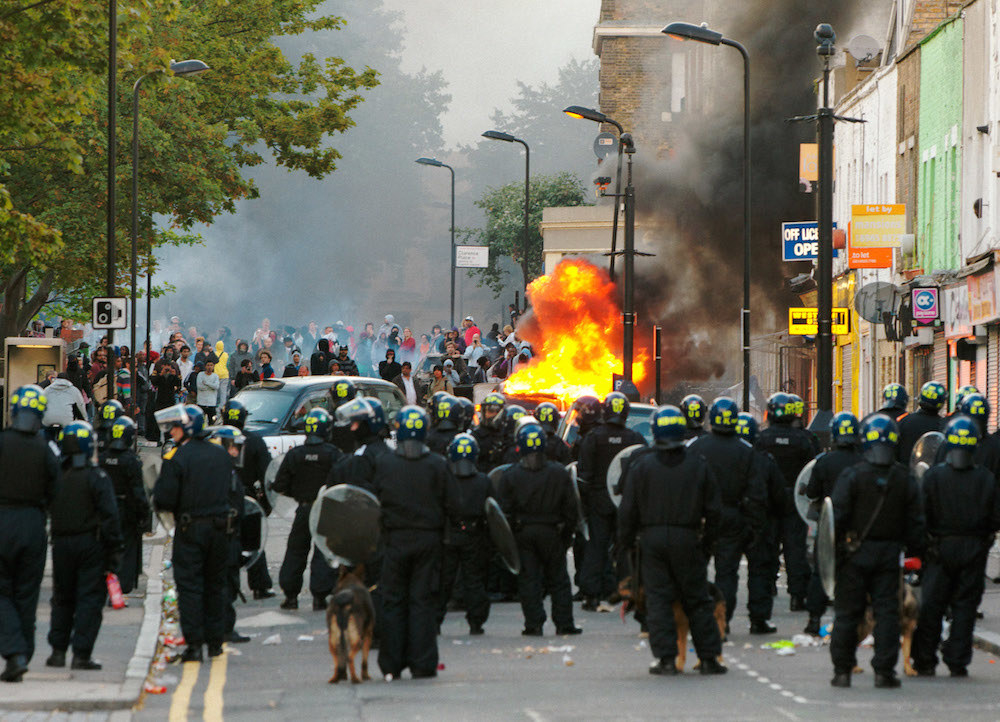 Hackney resident and grandmother Pauline Pearce rose to prominence after video footage of her confronting young rioters went viral, earning her the nickname "The Hackney Heroine". She was the Liberal Democrats' parliamentary candidate for Hitchin and Harpenden at the 2015 general election and a London Assembly List candidate in 2016. She is considering running for mayor of Hackney.

Five years on, I have personally achieved things I never thought that I could. The riots really awakened something in me and encouraged me to get politically active. I enjoy working with the Lib Dems – I feel that they really listen to me.

Socially, we still have a long way to go. There are still issues with the police such as stop and search, although that has calmed down. I feel I've seen the police change their approach and become more involved with the community. At community events, instead of walking in their pairs, I've seen them interacting with people, dancing, and getting involved in what's going on. I think this is a good way to engage with the community.
It is what it is. It's the way it was meant to be. It was not planned or organised. I could not have put it across like that if it had been. It was passion… To this day, I still feel the same way. What I really regret [about the riots] is so many young people incurred criminal records as a result and have had to rebuild their lives. It's hard. I have been there. That's part of what I said [to rioters at the time]. Prison is not a bed of roses. It's not something you want on your resumé…. I believe that a lot of kids just got carried away in the moment, and we are talking about children. Let's be real for a minute: Everyone gets carried away in the moment.
I think the authorities could have dealt with things differently. They could have given young people warnings or made them do community service. A lot of young people ended up doing time. When I came out of prison, I worked two jobs [to make ends meet] and it was really hard. It's hard enough to find a job these days. It's harder when you have a criminal record. It's doubly harder when you're black. There's a social cost, and then there's the actual cost of keeping people in prison and the services they need when they are released if they can't find jobs. It can be a vicious cycle.
A few youngsters said they voted for the first time because of me, although not necessarily for my party. They said they understood some of the issues better because things were explained to them.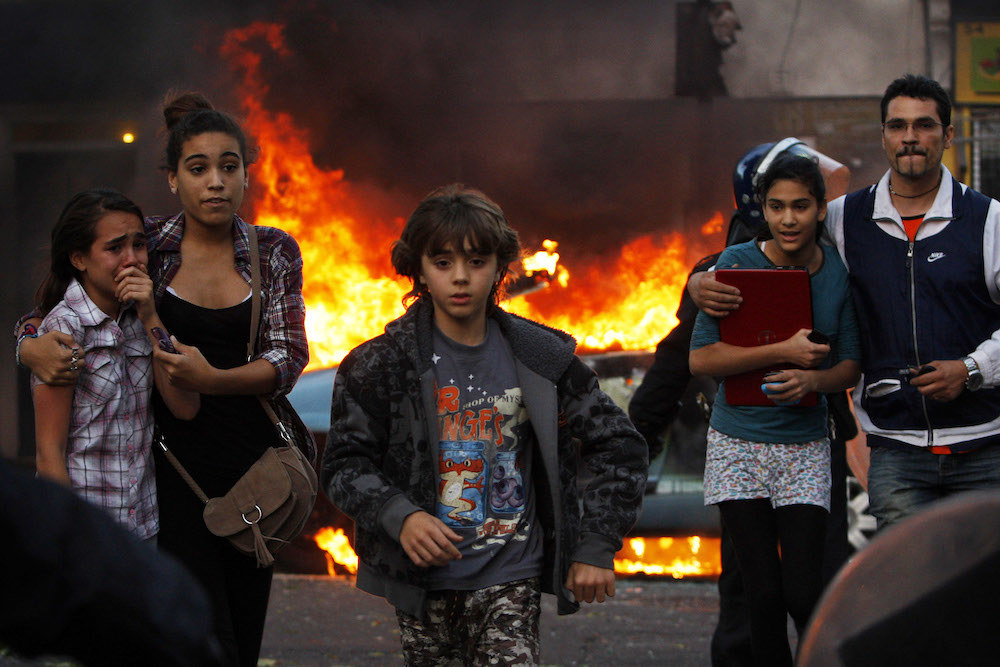 I realise that many people don't understand politics or bother about things like manifestos, especially the black and minority community. We have a sort of brainwash. Because our parents voted Labour, we just vote Labour too, without looking at their record and asking if they're really looking after our interests. After all, look at Hackney. Labour has been in charge for 30 years and they're the ones that are selling off our housing estates.

One of my biggest gripes is about what happened after the riots. Hackney [council] was given [£2 million from the Greater London Authority's post-riot fund] and they put it into a fashion hub…. Was this not money given to the borough to do something for the community? For the young people of Hackney? If they had put the money into a fashion hub that backed designers from local people or something, then OK. But it's Burberry and Nike. The council would argue that it's a way to create jobs, but I'm the kind of person that likes to do little tests. I go in there and ask questions: "Oh, are you from around here?" Most of the time they've come from outside the borough so I'm not convinced this is going to help the young people of Hackney when it's up and running.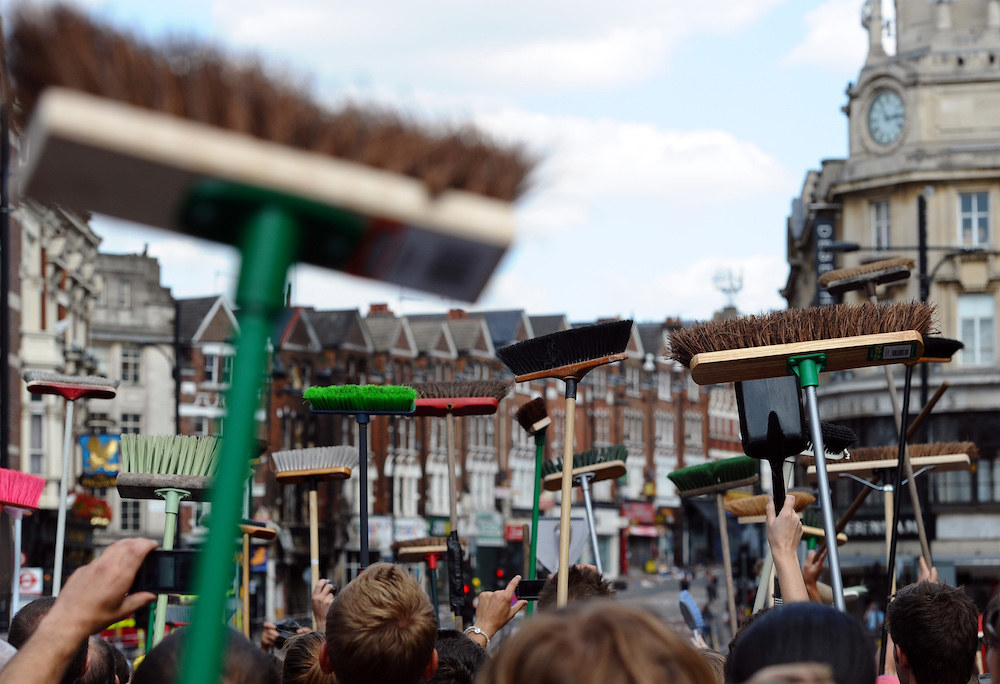 Artist Dan Thompson, 42, lived in Worthing in Sussex at the time of the riots but was a driving force behind the #RiotCleanup hashtag on Twitter, which helped mobilise people to volunteer to clear up the debris in their areas.

I do a lot of work with empty shops and local communities concerned about the state of their high street, so I was well aware of the issues. My involvement happened really because people started smashing things up and looting small and independent shops. I don't mind people smashing up Starbucks or targeting big businesses but those small shops are part of the community. Seeing them smashed up is something different. That's when I got involved, asking people to help support just their local independent shops. Help them clean up, help them tidy up because once they are up and running they're secure.
At first 50 people wanted to be involved. I started tweeting at about 10pm the night before [8 August 2011], and then we ended up with 12,000 volunteers altogether across London, and people elsewhere outside of London started to volunteer as well.
Four-hundred flats and houses and homes were targeted, flats above shops were targeted and destroyed – they are not the targets of protest, poor and low-income people. We were able to not only help independent shops, but build a campaign that got relief to those families.
I would like to say I was shocked but I wasn't. The difference with [the riots] was that it was out of control very quickly – it wasn't targeted at anything. Protests usually target parliament or the establishment. These were small independent shops and people's homes, and this doesn't typically happen. That's why I was shocked and that's why I wanted to help.
I was living in Worthing at the time of the riots but knew lots of people in London. I planned on jumping on a train in the morning. But at a dozen locations across London, we'd created a loose mini-organisation, with someone on Twitter, someone on the website, someone liaising with police to let them know what we were doing, No. 10 [Downing Street] phoning me to offer their support, so I didn't actually go to London. It became really obvious that my best role was to sit in the middle coordinating it. I spent the entire time sat at a laptop in Worthing to keep it unfolding, dealing with the media, keeping authorities informed.

The moments where people would tweet me a picture of a group of volunteers in Clapham Junction were incredible and emotional. The defining images of the day were crowds in Clapham holding brooms in the air. The difference between this and everything previous was that these images were from the crowd, not press photographers. These were images from right in the middle of it.
There has been an acceleration in London of poor communities being driven apart, by big developments not meeting the needs of the community. We know what we should be doing, we have reports that tell us what we should be doing: social housing, making sure regeneration doesn't drive communities apart. We know all this stuff. We knew it before the riots. But it's still not being acted upon.
Communities have become far less cohesive [in the past five years]. Some very good recommendations were put forward in the report by Baroness Sherlock, but they were never acted on. The government knows what it needs to do but has never acted on it. Since the EU referendum we're seeing an even more dangerous situation. There is a huge gap in society between the rich and poor, and that gap is getting wider all the time and nothing is being done to stop it. Another fault line [since the referendum] is race and immigration, which is even more frightening. I'm fairly sure we will see more riots.
We saw it after the floods in Cumbria, we saw exactly the same thing happen in the same way. The one thing the #RiotCleanup did was show a different model. Previously this didn't happen, but now whenever there's flooding we've seen an exact duplicate of #RiotCleanup. People organise themselves through social media: first the clean-up and then relief. It's now the standard model.
It was about one moment, it wasn't about carrying on. We didn't want to become a charity. We had one job to do, that was to clean up, get those shops working, and give help to people who lost their homes.