4 Members Of YouTube Prank Collective Jailed For Gallery "Robbery"
The four men pleaded guilty to using threatening, offensive, or abusive language while staging fake robberies at two London art galleries in July 2015.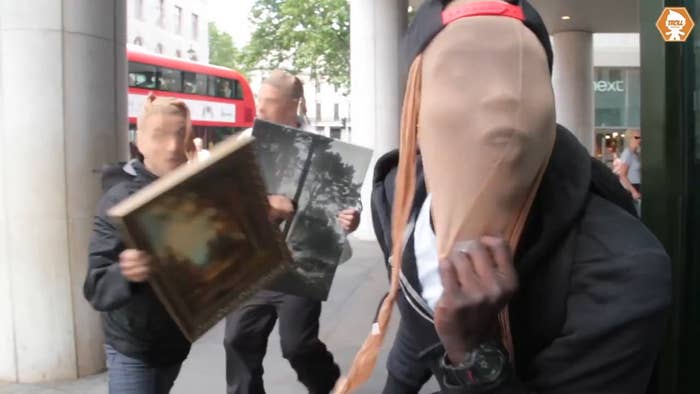 Four members of the YouTube prank channel Trollstation have been jailed for staging hoax robberies in two London art galleries on the same day, one of which caused a stampede and left members of the public terrified, a court has heard.

The members of the London-based collective pleaded guilty on Monday morning to two counts of using threatening words or behaviour contrary to section 4 of the Public Order Act, by staging mock heists at London's National Portrait Gallery and Tate Britain on Sunday 5 July 2015.
City of London magistrates' court heard that the four men wore tights over their heads and pretended to steal paintings they had brought themselves. The stunts took place one week after terrorist attacks on tourists in Tunisia, with police and security services in the capital on high alert.
During the stunt at the National Portrait Gallery, the more serious of the two, the group played an alarm through a loudspeaker. The court heard one woman was left unconscious in the rush of people running out of the building, while another said in a witness statement that she was "absolutely terrified".
Trollstation has grown to become a controversial but popular British internet video brand, with more than 700,000 YouTube subscribers.
But now five of its key members are in prison. The group's founder and cameraman, Danh van Le, was sentenced to nine months in jail in March for his part in the art gallery stunts, as well as for organising another unrelated prank involving a fake bomb.
The four sentenced on Monday are:
-- Endrit Ferizolli, 20, who often acts as the group's spokesman and was sentenced to 16 weeks in a young offenders' institute
-- Helder Gomes, 23, who was sentenced to 18 weeks in jail
-- Ebenezer Mensah, 29, who also received an 18-week sentence

-- And Daniel Jarvis, 27, who was given a 20-week sentence.
Although all four had initially pleaded not guilty, Gomes, Mensah, and Ferizolli changed their pleas last week and received a 25% reduction in jail time as a result.
Jarvis changed his immediately before Monday's hearing and only got a 10% discount on the full 26-week maximum, but his sentence was reduced because of his attention deficit hyperactivity disorder.
Mensah and Gomes got a reduced sentence for their work with young people and ex-offenders.
The court also ordered that equipment seized by the police should be destroyed.
The group claimed that the stunts were meant as entertainment and their intention was not to cause fear or alarm.

However, district judge Mike Snow disagreed and said they were guilty of immature and dangerous behaviour.
"The defendants in this case are part of a group called Trollstation, a group that considers it amusing to carry out acts on the public and upload them on to the internet, specifically YouTube," he said.
"We have been told that the defendants intended this a joke. Their sense of humour is warped and immature.
"It's likely that the members of public who had seen images of people running for their lives in recent terrorist attacks would run in fear. And that's what happened."
The judge said the incident should be ranked as among the most serious types of offence in its category because it was planned, because art galleries typically have vulnerable people inside, and because the group planned to "humiliate" the public by uploading the video of their reactions.
He said he "struggled to understand why anyone had pleaded not guilty in this case" and he rejected the argument that their intention was comedic. He said the group planned to film the reaction of scared members of the public. "If the public don't react, then you have nothing to put on YouTube, do you?"
The court was shown CCTV footage of crowds rushing out of the National Portrait Gallery in Trafalgar Square, with some people continuing to run down the street in fear.
Mensah can be heard to shout to the fleeing people: "It's a joke! It's a joke!"
The mock robbery in the National Portrait Gallery
The group then moved on to the Tate Britain gallery, where they pretended to have taken a woman hostage – who had agreed to her involvement in advance – and appeared to have stolen paintings.
Maya Chopra, acting for Jarvis, said in mitigation that both incidents lasted no more than three and a half minutes each. She said: "He didn't have intent but he did have understanding that this [causing panic] would be the result.
"Mr Jarvis doesn't shy away from the criminality of it, but the intent was not to cause distress for distress's sake."
Rose Commander, acting for Ferizolli, Gomes, and Mensah, told the court that the group had intended to make "a parody of a bungled robbery" and said that footage not played in court showed the planned comedic element of the final video.
She pointed out that Trollstation often uploads social experiments and links out to charitable causes as a way of promoting awareness of important social issues to its more than 700,000 YouTube subscribers.
"The hoaxes may have seemed harmless to them, but they caused genuine distress to a number of members of the public, who should be able to go about their daily business without being put in fear in this way.
"We hope these convictions send a strong message that unlawful activities such as these will not be tolerated in London," said Robert Short, of the Crown Prosecution Service.
And this is far from the group's first brush with the law. Gomes and Jarvis were fined and given a football banning order for running on to the pitch at a Tottenham Hotspur match in 2014 as part of a Trollstation prank.
Last year Gomes was convicted and fined for intimidating and insulting a member of the public in a Pret cafe. He staged a mock argument with an unsuspecting woman and remonstrated with her over the supposed ending of a relationship.
During his tirade, Gomes retrieved various items from a bag, including knickers, a bra, and a sex toy. The court heard that he said: "Remember when we went to Bangkok? Well you'll never bang this cock again!"
The official Trollstation Twitter account, which posted a defiant message of support to Danh Van Le (aka DigiDan) upon his sentencing, promised to publish a new video after Monday's sentencing.