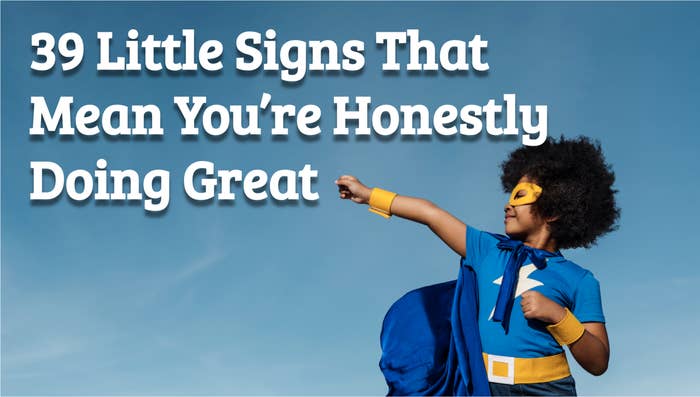 Check off all the things you've done today:

You hit snooze this morning to give your body and mind some extra TLC.

And you brushed your teeth.

And you practiced your skincare routine, whether that's a quick wash and moisturizing or a detailed 10-step Korean beauty regimen.

You showered or bathed at least once.

You decided on an outfit to wear.

You showed your hair some love by "doing" it, whether that's a quick finger comb or a timely twist-out.

You checked the weather and remembered any necessary accessories, like an umbrella or a light jacket.

You prepared your breakfast/lunch/dinner in advance.

You nourished your body with food and beverages.

You didn't get any food or drink stain on your clothes.

You haven't given up on your professional dreams.

And you haven't given up on your personal dreams.

You were late to something and didn't beat yourself up for it.

You remembered to drink water throughout the day.

You have community, including work family, a MeetUp group, your neighborhood.

You did laundry in the past two weeks.

You've read a book that made you feel something.

You thought of your friends and family.

You texted a friend or family member.

You called a friend or family member.

You laughed at something funny.

You gave someone some solicited advice.

You scheduled an appointment.

You remembered to go to an appointment.

You researched therapy options for yourself or a loved one.

You complimented someone.

You took a selfie and gassed yourself up.

You checked off at least ONE thing on your to do list.

You had a great idea and shared it with someone.

You entertained yourself with a TV show or movie.

You listened to some damn good music.

You wrote in your journal.

You brushed your teeth again.

You got through the day in one piece, physically and mentally.

You gave yourself a break from working/studying/adulting and took a BuzzFeed quiz.