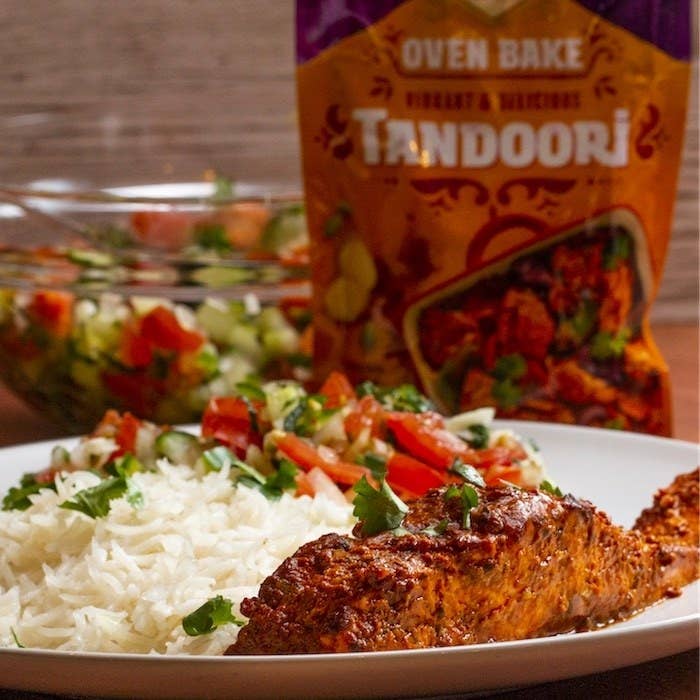 Ingredients

1 sachet Patak's Tandoori Oven Bake
2 salmon fillets
Chunky Kachumber
½ cucumber, roughly chopped
6 tomatoes, roughly chopped
1 onion, roughly chopped
Juice of 1 lemon
1 green chilli, deseeded and finely diced
10 grams mint, finely chopped
¼ teaspoon cumin
To Serve
Yoghurt
Coriander, roughly chopped
Basmati rice, cooked
Preparations
Preheat the oven to 180°C.

To a large bowl, add the Patak's Tandoori Oven Bake and the salmon fillets. Massage the tandoori paste over the salmon fillets; set aside.

Place the salmon onto a lined baking tray and place in the oven for 20 minutes.

Meanwhile prepare the chunky kachumber. To a large bowl, add the cucumber, tomatoes, onion, chilli, mint, cumin, and lemon juice. Stir to combine and set aside until ready to serve.

Once to salmon is cooked, serve over basmati rice and top with kachumber, a small dollop of yoghurt, and a sprinkle of coriander. Enjoy!