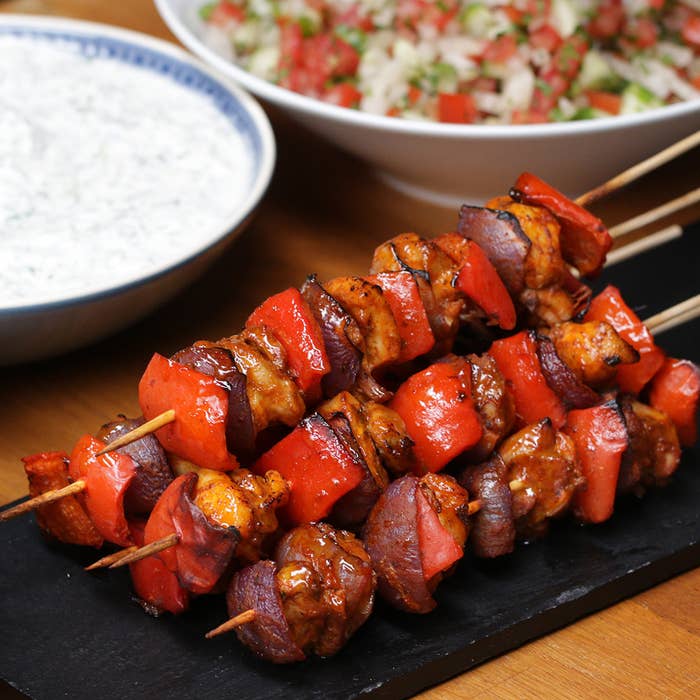 Servings: 4
Ingredients
• 120 grams sachet Patak's Oven Bake Tandoori marinade
• 400 grams boneless, skinless chicken thighs, cut into bite sized pieces
• 2 red peppers, chopped into bite sized chunks
• 1 red onion, peeled and quartered
Riata
• 15 grams fresh coriander, chopped (save some leaves for garnish)
• 10 grams fresh mint, chopped
• 400 grams plain yoghur
t• 1/2 cucumber, peeled & grated
• ½ teaspoon ground cuminKachumber
•½ cucumber, deseeded and fine diced
•6 tomatoes, deseeded and fine diced
•1 onion, finely diced
•Juice of 1 lemon
•1 green chilli, deseed and fine diced
•10 grams, mint
•¼ teaspoon cumin
•4 Patak's naan bread
Preparation
1. Preheat the oven to 425 ̊F (220 ̊C). Line a baking tray with foil.
2. Add the peppers, onions and all the chicken into a bowl with the contentsof the Patak's Oven Bake Tandoori marinade. Mix thoroughly until coated evenly.
3. Slide a piece of pepper down the skewer, then an onion then a piece of chicken -alternating until there is a 1-inch gap on the top and bottom of the skewer. Repeatwith the remaining peppers, onion, chicken, and skewers.
4. Arrange the skewers so their ends rest on the edges of a baking tray, allowing thechicken to be suspended. Cook the chicken skewers for 18-20 minutes, until cookedthrough.
5. For the riata; place the yoghurt, grated cucumber, mint, coriander, and cumin in a bowl and stir until fully combined. Place in the fridge until ready to serve.
6. For the Kachumber place the cucumber, tomatoes, onion, lemon juice, green chilli, mint and cumin in a bowl. Stir until fully combined.
7. When the chicken kebabs have 5 minutes left, place the Patak's naan bread into theoven (follow instructions on package).
8. To serve; place a chicken skewer in the center of a warm naan bread, drizzle with theriata and serve alongside a helping of kachumber. Garnish with remaining fresh corianderleaves
9. Enjoy!