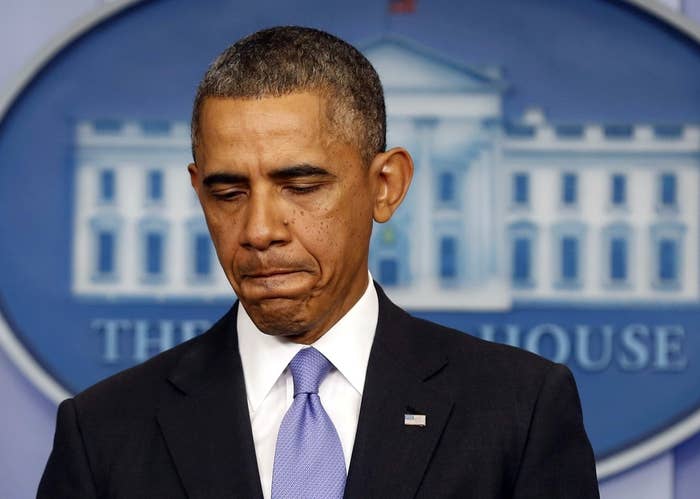 President Obama threatened Thursday to veto a House bill that would allow insurance companies to continue offering existing health plans after millions received cancelation notices due to the Affordable Care Act.
The threat came hours after the president asked health insurance companies to allow individuals to keep their existing, canceled plans for a year.
The "Keep Your Health Plan Act of 2013," sponsored by Republican Rep. Fred Upton of Michigan, would allow insurance companies to continue to offer plans that were available before the new Obamacare rules took effect. The House is scheduled to vote on the bill Friday and a handful of Democrats were expected to support it.
Obama's fix allows only individuals whose policies were canceled in 2013 to re-enroll in their plans next year, while the Upton bill would allow insurers to sell the plans to new customers and would not be limited to just one year.
"The Administration supports policies that allow people to keep the health plans that they have," the White House said in a statement Thursday evening. "But, policies that reverse the progress made to extend quality, affordable coverage to millions of uninsured, hardworking, middle class families are not the solution."
"If the President were presented with [the bill], he would veto it," the statement concluded.
The Republican congressman behind the proposal said he believes his bill is a "better answer" than the president's to fix the health law.
"Ours allows — if a plan met the test, anyone can purchase it," Upton said on Fox News. "His plan is, in essence from what I understand, just people that had it and nobody else so it really discriminates against other folks."
The White House had hoped to quell a Democratic uprising with Obama's announcement that insurers would have the option of renewing existing plans for one year, but backers of congressional action insisted they're not giving up.
"The president's announcement this morning was a great first step," said Sen. Mary Landrieu, one of several Democrats who have openly broken with the White House in recent days. But "we will probably need legislation to make it stick," Landrieu warned, adding that she has no intention of putting the breaks on her push to bring her bill to the floor.