This is Julissa Calderon. She's a Dominican-American actor, writer, and producer for BuzzFeed's Pero Like.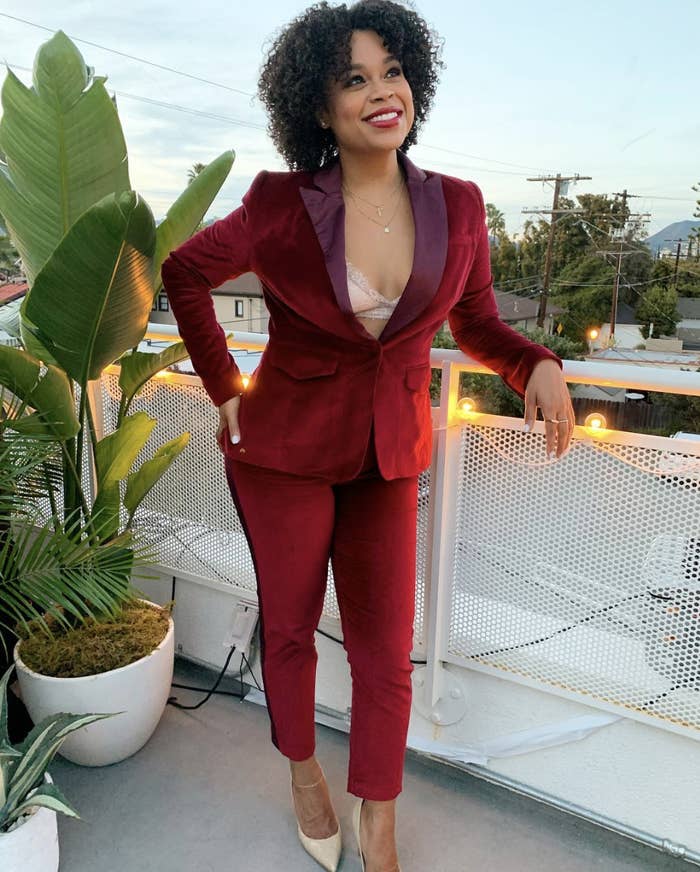 Recently, she closed out Women's History Month by celebrating and transforming into the Latina icons that continue to inspire her: Rosie Perez, Rita Moreno, Selena Quintanilla, and Celia Cruz. Needless to say, the results were stunning:
Her first mission was to become Rosie Perez, in the 1992 film White Men Can't Jump, and nearly fell 20 times while wearing the roller skates.
She eventually pulled it off without a broken femur and pulled it off WELL.
Watching Rosie act and succeed gave Julissa the hope that one day she could do it too. Julissa said, "Rosie showed the world that you can have an accent, be brown and bold, and still be on the big screen without compromising where you came from."
Next was the PEGOT legend herself, Rita Moreno in the classic 1961 film, West Side Story.
Julissa put her high kick to the test and brought out the moves needed to transform into Anita herself.
Speaking on Anita, Julissa said, "What was not to love about her? She was strong, independent, and could dance her ass off."
Then came time to slip into THAT purple jumpsuit and become the woman who needs no introduction, Selena Quintanilla.
And boy did she channel the Texas icon with power and style.
Selena was one of the first celebs Julissa felt an emotional connection with and said, "Her legacy and music will continue to leave messages of hope, love, and gratitude in every Latina girl's heart, like she did for me just 25 years ago."
And, last but not least, was la reina de salsa, Celia Cruz.
Julissa donned the fabulous wig and ornate blue dress, along with the confidence that comes with being a queen.
Celia left her mark by being one of the first Afro-Latinas Julissa saw on TV and heard blaring through her parents's speakers. She said Celia "was fearless, an originator, and embraced every ounce of melanin on her body. She dared to be different."
Julissa ended her day of dress-up by leaving us with this message, "My only wish is to teach young Latinas what they taught me: To dream big, nunca cambies quien eres, and own every part of being a woman. They are power. I am power. WE are power. "