1. "Are you seeing anyone?"
2. "You're so picky!"
3. "But like, don't settle!!"
4. "So, are you even trying to go on dates?"
5. "You need to get out more."
6. "I don't understand how you're still single..."
7. "Ugh I miss being single! It's so fun!!"
8. "There's someone out there for everyone!"
9. "It'll happen when you least expect it, I promise."
10. *Is seen talking to a friend* "OMG ARE YOU TWO DATING?!"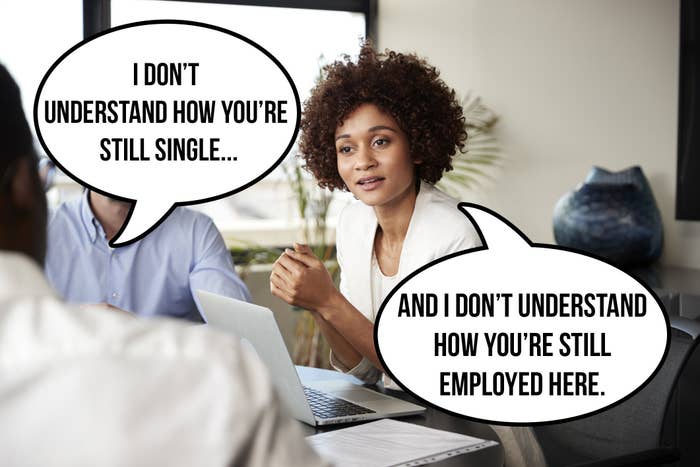 11. "This celeb didn't meet someone until they were 40."
12. "Don't you get lonely being by yourself all the time?"
13. "At least you get the bed to yourself HAHAHA."
14. "Have you tried dating apps?"
15. "I'm the perfect wingwoman/man! Let's go out!"
16. "If I were single I'd date you! You're so perfect!"
17. "You're a catch. Anyone would be lucky to have you."
18. "Let me set up a profile for you!"
19. "What does (insert dating app here) look like these days? It's so foreign to me haha, show me!!!!"
20. "What kind of pictures are you putting on your profile? Maybe that's the problem."
21. "Let me set you up with (insert person here)!"
22. "What are you even looking for in a person?"
23. "I could never go back out there and date again, it's exhausting."
24. "Never get married it's so hard haha."
25. "Aww, come on, give them another chance!"
26. "I'm living vicariously through you."
27. "When'd you last get laid?"
28. "You need to get laid."
29. "Sex isn't everything!"
30. "They don't deserve you."
31. "You know you're not getting any younger."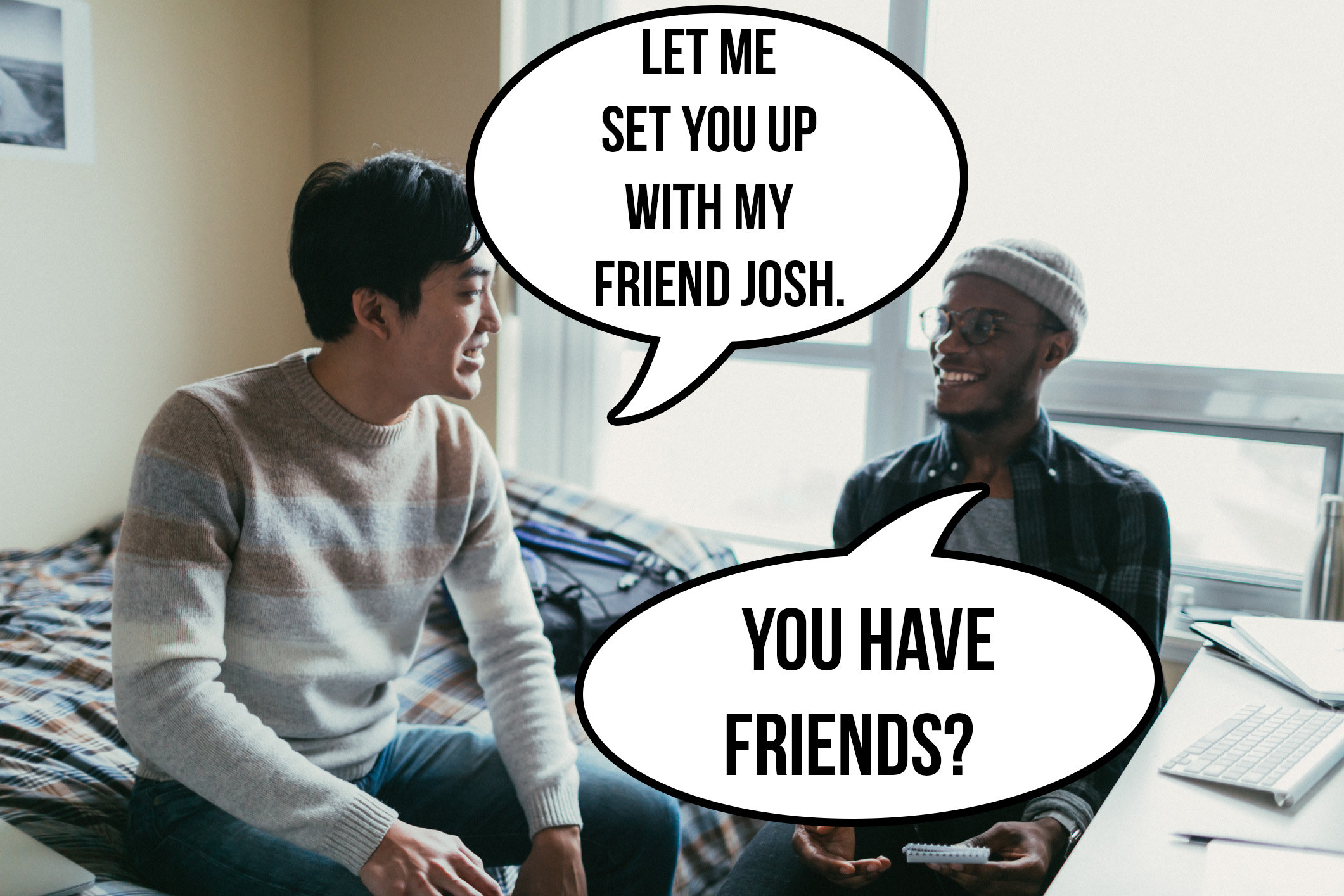 32. "You expect perfection, but that doesn't exist."
33. "Are you single because you actually want to be?"
34. "I always hated your ex lmao."
35. "It's so good that you're taking time to focus on yourself."
36. "Don't you want kids though? The clock is ticking!"
37. "Have you thought about giving (insert random person here) another chance?"
38. "You have to love yourself before you love anyone else."
39. "Are you single because..."
40. "I was married at your age."
41. "Don't worry, there's plenty of fish in the sea."
42. "What do you even do with your free time or on weekends?"
43. "This book/podcast/show/tweet about dating changed. my. LIFE."
44. "It's sooooo empowering that you're single and actually loving it!"
45. "I thought I'd never meet someone, then I met him."
46. *Someone gets married* "You're next. ;)"
47. "What happened to that guy you dated in 2012? What about him? :)"
48. "Go give him your number!!!!!!! GO!!!!!! GET UP!!! GIVE THAT MEDIOCRE MAN AT THE BAR YOUR NUMBER!!! FOR GOD'S SAKE!! BEFORE YOU DIE ALONE!! PLEASE!!"