Amsterdam is one of Europe's most celebrated cultural centers thanks to dozens of museums, picturesque canals, and an overall friendly atmosphere. But the city is also known for its Red Light district — filled with XXX-type entertainment — and its lax stance on marijuana. With more than 200 legal dispensaries, Amsterdam uses these laid-back laws as a means of subduing the black market drug trade and keeping crime rates low – keeping things soooo mellow, if you will. But this coming January, The Netherlands will vote on whether or not non-natives can buy pot at their infamous "brown cafes." To locals, the initiative would mean residents would have to register as "users," which would then be verified by a dispensary owner. But since we're not Dutch, we figured we needed to pack our bags ASAP while we can still get legally stoned. After scrounging the city, we found some of the best cafes — plus hotels where you can rest your head — in Europe's Hemp Heaven.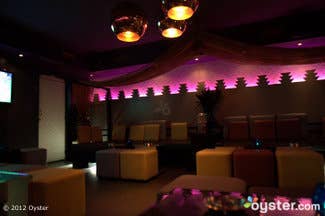 For the Spring Break Stoner
Smoke Here: The Bulldog Cafe
Stay Here: The Swissotel Amsterdam
College students looking to kick back for a more chill, non-Cancun spring break experience should look no further than the famous Bulldog Café. The oldest and one of the most popular cafes in the city, the Bulldog is to Amsterdam what Señor Frogs is to every other party destination west and/or south of the Atlantic. Several outposts of this chain may have sprung up throughout the years, but the original 1975 café still stands today as a token (or rather, toking) hotspot. And for the Spring Break crowd, the nearby The Swissotel Amsterdam has all the amenities a college student could want from iPod docks to bike rentals, and has rooms spacious enough for all of your friends to crash.
For the Rasta-Wannabe Stoner
Smoke Here: Pick Up the Pieces
Stay Here: Best Western Dam Square Inn
A small café decked out with Bob Marley images and reggae music blaring, Pick Up the Pieces is a slice of Jamaica in smack in the heart of the Amsterdam. Though the Caribbean island may be thousands of miles from the city of canals, visitors can tune into the same mellow vibes here, thanks to the spot's endless supply of the Kush variety. Post up at the nearby Best Western Dam Square Inn: The hotel is not only affordable, but also has a cozy lobby bar to indulge in munchies and a free breakfast buffet for a post-wake 'n bake feast.
For the Undercover Stoner
Smoke Here: Easy Times
Stay Here: Park Hotel
Easy Times is the perfect shop for blazing like the locals and staying under the obvious-tourist radar. A decidedly sophisticated café somewhat removed from the bustling Old Center, Easy Times has the laid-back, lounge atmosphere that natives prefer. Because the neighborhood café draws a local crowd, stoners trying avoid the English-infested shops have a perfect place to light up without having to worry about looking like a tourist or, well, worry about much at all. And guests will feel right at home in the Park Hotel, with its charming fireplace in the lobby and comfortable library to sprawl out in and read a good book.
For the Star-Struck Stoner
Smoke Here: The Green House
Stay Here: Sofitel Legend the Grand Amsterdam
This premier café has won the coveted High Times Cannabis Cup a whopping 35 times for its exceptional variety of genetically-engineered strains. And it has the high-profile following to vouch for it. The Green House is one of the most frequented cafes for A-listers, proudly displaying its celebrity clientele with guest pictures of everyone from Fran Frescher, to Dennis Hopper, to green god Ludacris. The neighboring Sofitel has also seen its share of famous faces including Mick Jagger and former French president Jacque Chirac.
For the Elitist Stoner
Smoke Here: De Tweede Kamer
Stay Here: The Ambassade Hotel
What Napa Valley is to wine, De Tweede Kamer is to weed. Known for their massive menu of potent chronic, De Tweede Kamer specializes in hash, drawing in connoisseurs with only the most sophisticated of pallets. For stoners who know what they like and demand only the best bud, Tweede Kamer is a one-stop shop for pot. And because customers of the café are so discerning, the nearby Ambassade offers an expansive library and trendy spa, just a few of the perks for those of exquisite taste.
This post was created by a member of BuzzFeed Community, where anyone can post awesome lists and creations.
Learn more
or
post your buzz!