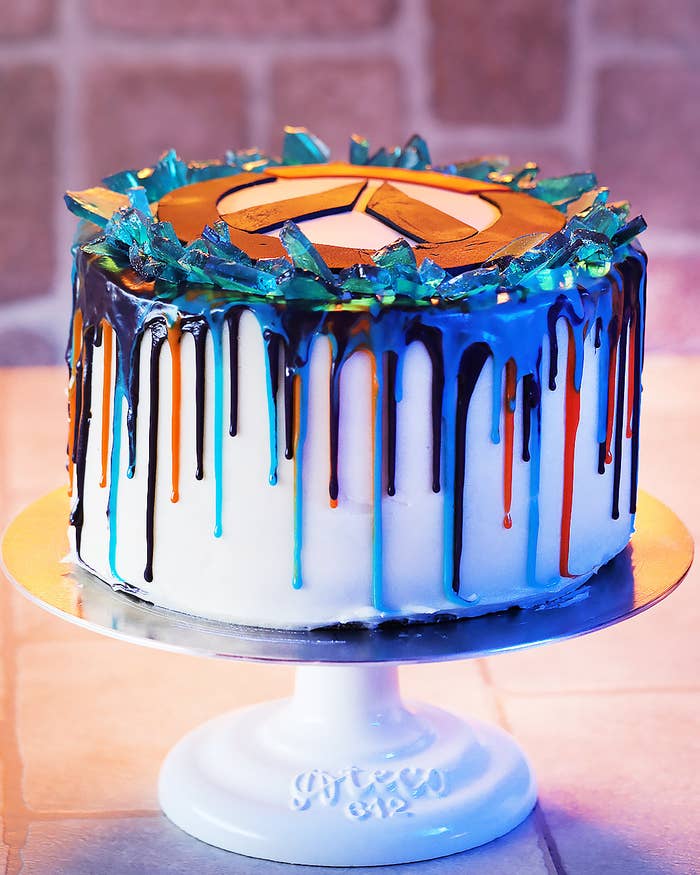 Overwatch Anniversary Drip Cake
Servings: 10–12
INGREDIENTS
3 cups milk
½ cup apple cider vinegar
3½ cups water
3½ cups cocoa powder
6½ cups all-purpose flour
5¾ cups sugar
1 tablespoon + 1 teaspoon salt
2 tablespoons baking soda
2½ cups oil
6 eggs
2 tablespoons vanilla extract
VANILLA BUTTERCREAM
6 cup (12 sticks) unsalted butter, at room temperature
11¼ cups (3 1-pound boxes) powdered sugar, sifted
6 tablespoons half-and-half or whole milk
1 tablespoon vanilla
1 tablespoon salt
Blue food color
WHITE CHOCOLATE GANACHE (divided by color)
3 cups white chocolate
2¼ cups heavy cream
Orange, blue and black food coloring
Optional Additional Garnishes
Fondant Overwatch logo
Blue rock candy
PREPARATION
1.Preheat oven to 325℉.
2.Combine milk and vinegar, then set aside.
3.Bring water to a boil, stir in cocoa powder, and set aside.
4.In a large bowl, sift flour, baking soda, salt, and sugar.
5.Combine eggs, milk and vinegar mixture, vanilla, and oil in a separate bowl.
6.Add wet ingredients to the dry ingredients and mix with a hand mixer until fully combined.
7.Add cocoa mixture and combine with hand mixer until fully incorporated.
8.Pour batter into greased 9-inch cake pans. Bake 30–35 minutes until a toothpick comes out clean.
9.Allow cakes to cool completely and freeze 30 minutes before trimming and leveling the cakes. To level each cake layer, carefully trim the top with a serrated knife to create a flat surface. Repeat with each layer.
10.Prepare the frosting: Using a hand mixer, cream the butter until light and fluffy. Add 1 cup of powdered sugar at a time and mix well before adding the next cup. Add the vanilla and salt. Mix well, then add the rest of the powdered sugar and continue to mix. Add ¾ of the milk and beat well. Add remaining milk if the frosting is too thick. Reserve two cups and blue dye for decoration later.
11.Once the cakes are cooled and leveled, begin building.
12.Spread about 2 cups of buttercream between each layer and use an additional 2–3 cups to crumb coat. Place in refrigerator to set up for 1 hour.
13.Frost cake with remaining frosting, trying to maintain a smooth even surface. Place in refrigerator and allow to cool for at least 1 hour.
14.Prepare your drip colors: Chop the white chocolate separately into 3 medium-size bowls. Scald the cream and pour over each chocolate. Wait about one minute and mix to combine. Add food color accordingly.
15.Remove the cake from the refrigerator.
16.Decorate: Carefully drip the ganache around the edges of the cake, allowing the drips to reach the bottom naturally. Pipe reserved blue buttercream around bottom to decorate.
17.Decorate with any additional garnishes, such as fondant embellishments and rock candy.