Every parent knows the feeling: You're just trying to get a couple things done around the house, and your kid is in a particularly demanding mood and making it impossible. You are fully aware that letting them watch something on their tablet for a little while would allow you your productivity, but they had a a lot more screentime yesterday than you would have liked...and you have a long car ride later where you're definitely going to need to break out the screen again.
Whatever you decide to do, it's going to cause you angst. The screentime struggle is real.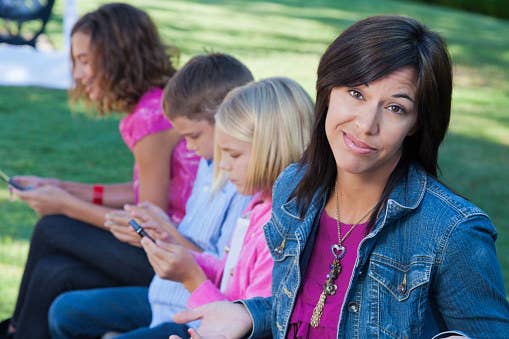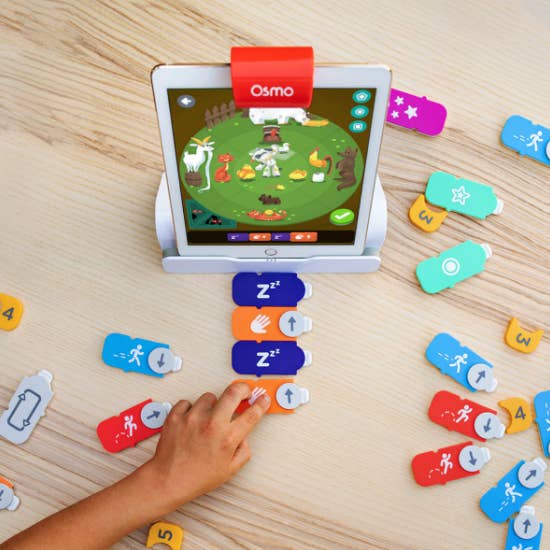 Honestly though, screentime doesn't need to be guilt-inducing for parents. It can actually be a total win-win for both you and your kid. How? With interactive, play-based games that yes, require an iPad or Fire tablet to work, but combine digital with hands-on physical learning that will engage your little one and help them build essential academic, creative, and social skills. With Osmo, educational screentime is a thing, and your kids won't even know the difference!
Tangible Play Inc. — the business behind the Osmo brand — was founded in 2013 with the intention of creating "something awesome that inspires the youngest generation," while at the same time addressing the main issue parents have with technology, which is that it takes away from hands-on play.
Osmo's first three learning games, Newton, Tangram, and Words, were launched in 2014. Like all the games in Osmo's now-extensive suite of play and curriculum-based games, these three proved to parents that screens and physical play can work together to build imagination, creative problem solving skills, literacy, overall confidence, and so much more in their little ones.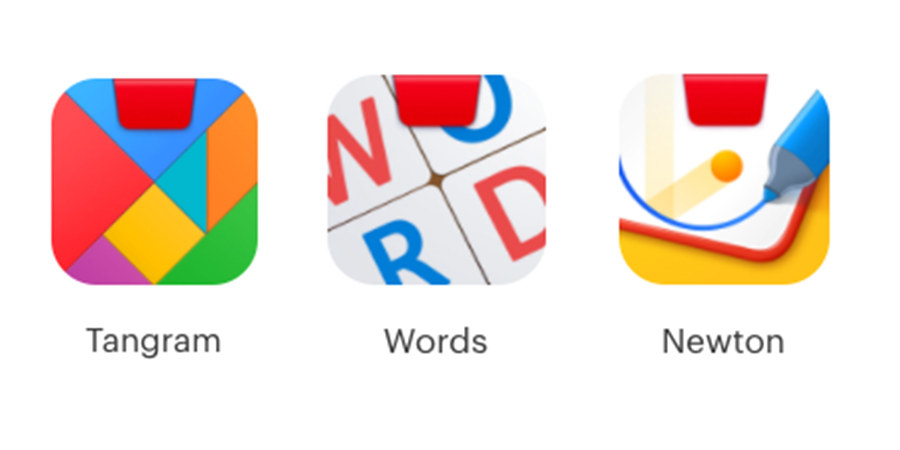 The philosophy behind Osmo's products can be broken down in the following key tenets:
- FUN: Designed to bring kids pure joy and excitement, like putting "ketchup" on learning!
- ACADEMIC: Meant to supplement a child's classroom learning experience, giving students who may be a bit behind a chance to catch up or fast learners a chance to challenge themselves even more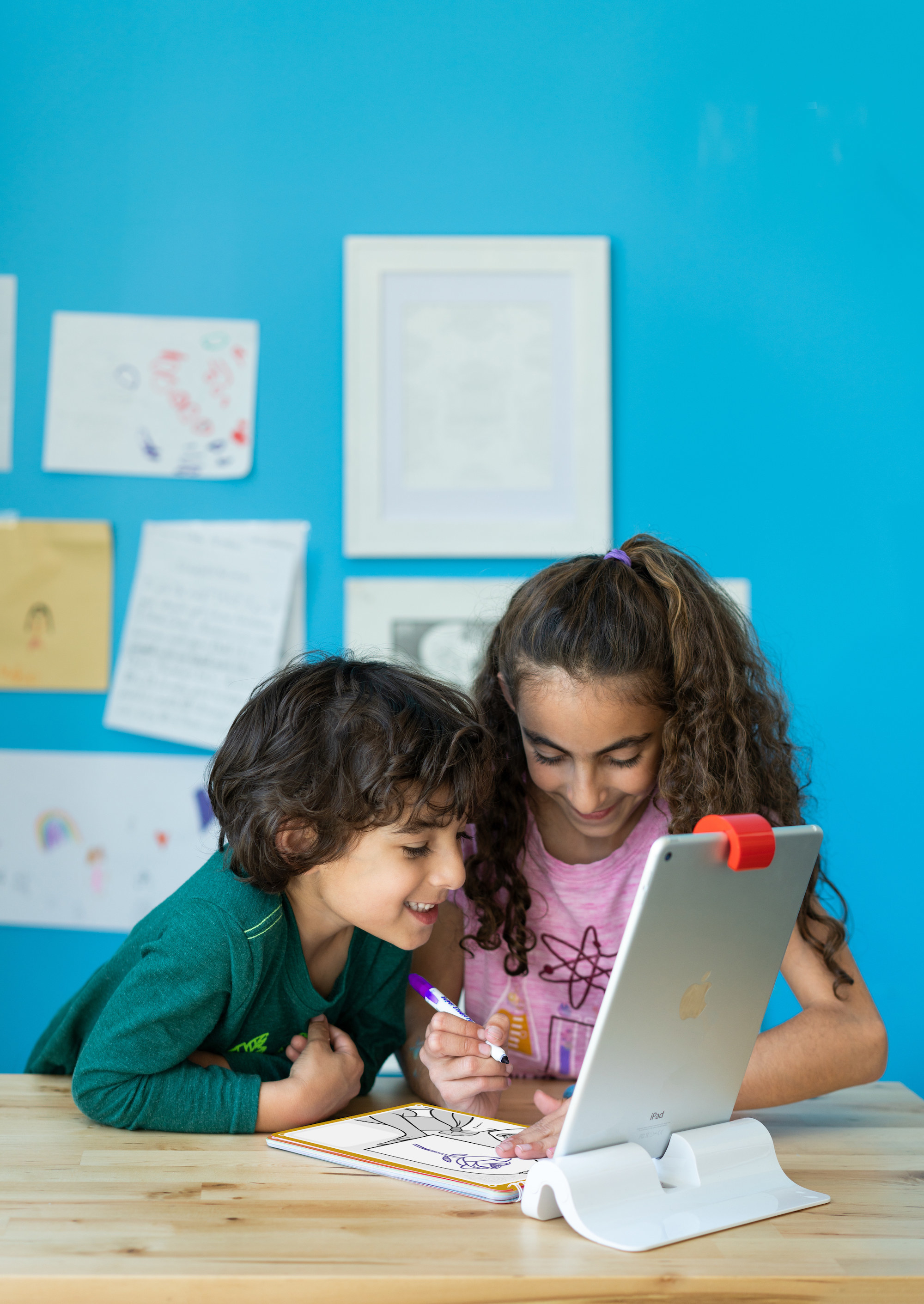 - CONFIDENCE: Games are self-guided and allow children to go at their own pace, gradually building understanding and providing multiple ways to solve problems so kids can feel proud of their skills and strategies
- CREATIVE: Built with creative freedom in mind to encourage critical thinking and problem-solving as well as expression and interpretation
- SOCIAL-EMOTIONAL: Encourage self-awareness and management, as well as relationship skills and social awareness when played with a friend, parent, or sibling
- EMPATHETIC: Seek to make supplemental learning easy and accessible to parents, and encompassing of all the different ways and paces at which children learn
Osmo's learning games are currently being used by 2.5 million children around the world and are part of 31,000 different classroom settings!

At this point you're probably wondering, Well, which Osmo is right for my kid?? Time to do some browsing!
Osmo's products are designed for a range of ages, from preschool up through middle school, and some are focused on more individualized skills, like math or coding, while others cover the full spectrum.
For the littlest learners, the Little Genius Starter Kit includes four games (ABCs, Squiggle Magic, Costume Party, and Stories) to engage preschoolers in building letters and shapes with squishy colorful sticks and rings, dressing characters, navigating adventures and obstacles, and more. All while watching everything come alive onscreen!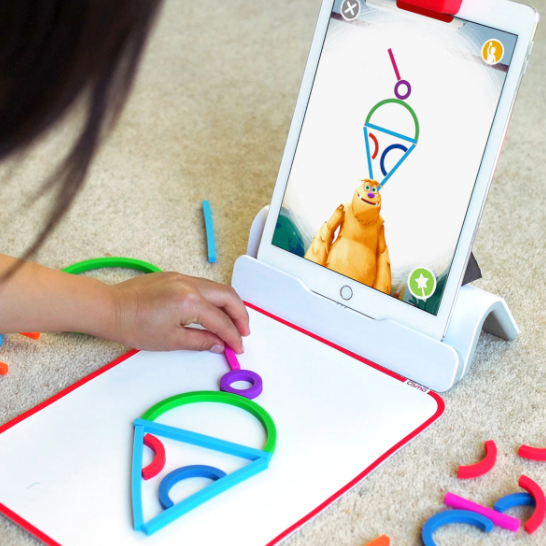 For older kids, ages 6–10, the Genius Starter Kit is a great way to begin learning with Osmo. This kit features five games, including the Osmo OG's Tangram, Newton, and Words, plus the drawing game Masterpiece and math game Numbers, so kids can bolster core skills using physical action that translates onto the screen.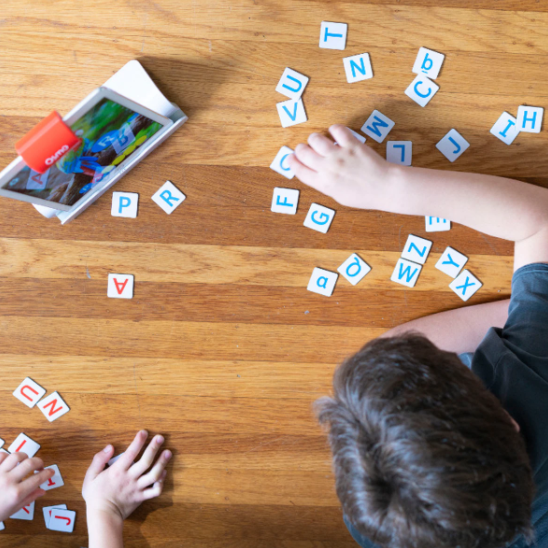 To encourage your child's inner artist, the Creative Starter Kit brings physical doodling and drawing into the digital world with three imagination-inspiring games that involve monsters, magic, physics, and masterpieces.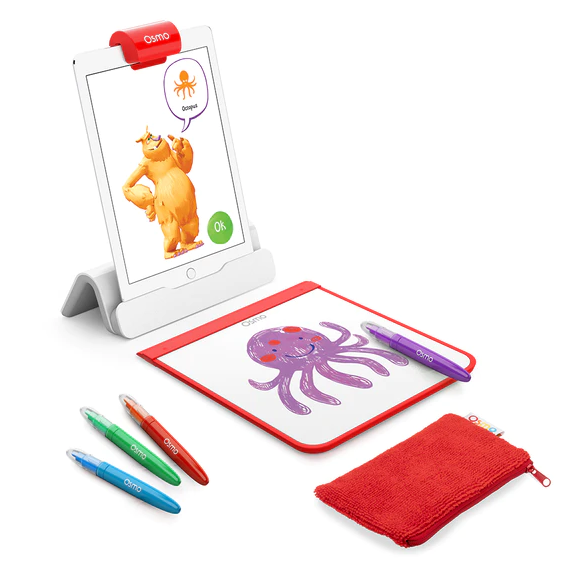 Curriculum-based STEM learning meets food, airships, dragons, potions, and more in the Math Wizard Bundle. Each game will engage your kid in a truly "mathemagical" adventure while teaching geometry, addition, subtraction, multiplication, and measurement.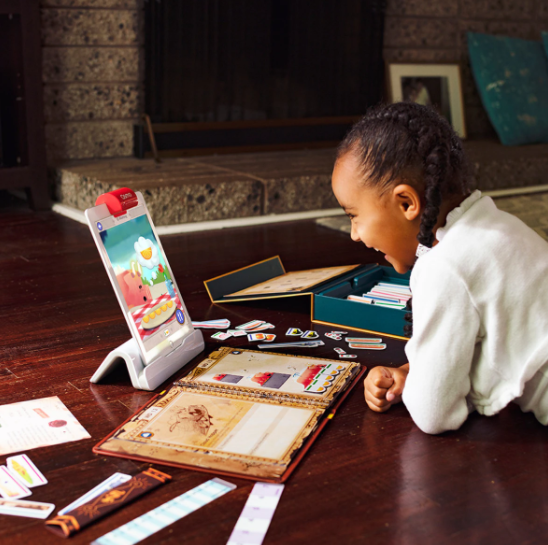 And, in today's tech-centric digital world, it's never too young to learn to code! The Coding Starter Kit will prompt your child to string together colorful blocks of code with their hands while in the digital world, they are embarking on outdoor adventures, composing music, and solving tricky puzzles and challenges.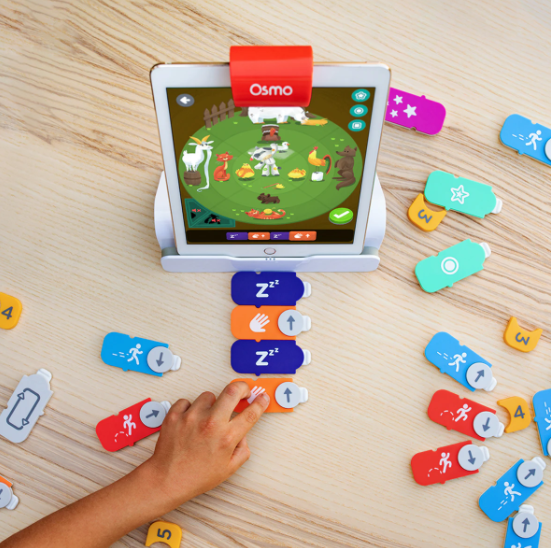 If you'd like to learn more about all the products Osmo has available for your little one, check out their full line here!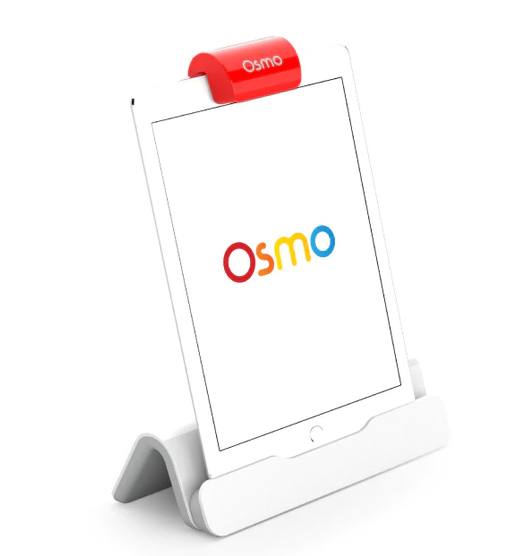 When purchasing from the Osmo website, you'll just need to select whether your compatible device is an iPad or a Fire tablet. You can view the full list of which exact models of these two devices are compatible with Osmo here.
All of the Starter Kits include an Osmo base and reflector (for either iPad or Fire), while other games and bundles may require you to purchase those accessories separately. You can also grab additional accessories like carrying cases, storage containers, and skins or choose from a ton of Add-On games and bundles to expand your Osmo system!

Once Osmo is a part of your household, the company offers plenty of guidance and support to ensure their products are doing the best they can for you and your little ones.
- If you need help setting up your Osmo, their website FAQ offers instructional videos and written directions.
- For questions, live chat is available on the Osmo website, as well as a Support contact form.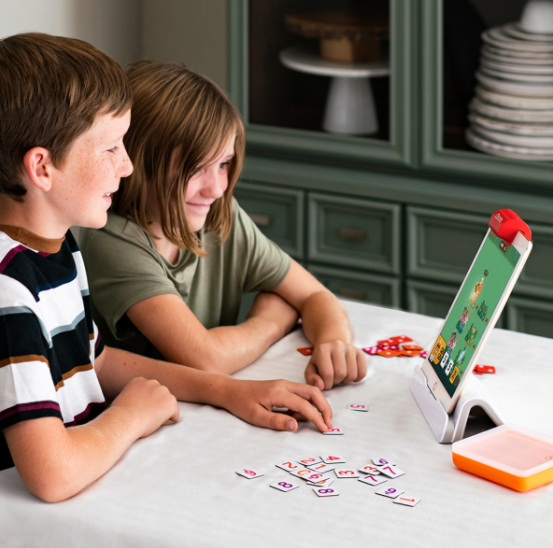 - You can also send Osmo a DM on their Facebook page.
If you're at all concerned about your child's privacy while they are playing Osmo, you can rest assured it is protected! The way Osmo translates your child's physical activity (like drawing or putting together coding tiles) onto the screen is with the Reflector, which bounces an image of their creation into the device camera. The Osmo app then processes and recreates the image digitally. The Reflector only captures what is within a bounded area, so nothing beyond what your child puts together with their hands will be captured.
And, because Osmo understands the reality of household chaos and that game pieces are bound to get lost, they will replace lost or broken game pieces free of charge, within reason, for the first 90 days after your Osmo purchase. Learn how to get your replacements on their FAQ page.
Otherwise, your Osmo learning games are there for you and your little ones to enjoy and incorporate into your lifestyle however you see fit!
Parents, what are you waiting for? Turn screentime into time that is enriching, empowering, educational, and fun for your kid, and totally guilt-free for you. Discover which Osmo learning games are perfect for your family today.
Header design by Emma McNail/BuzzFeed