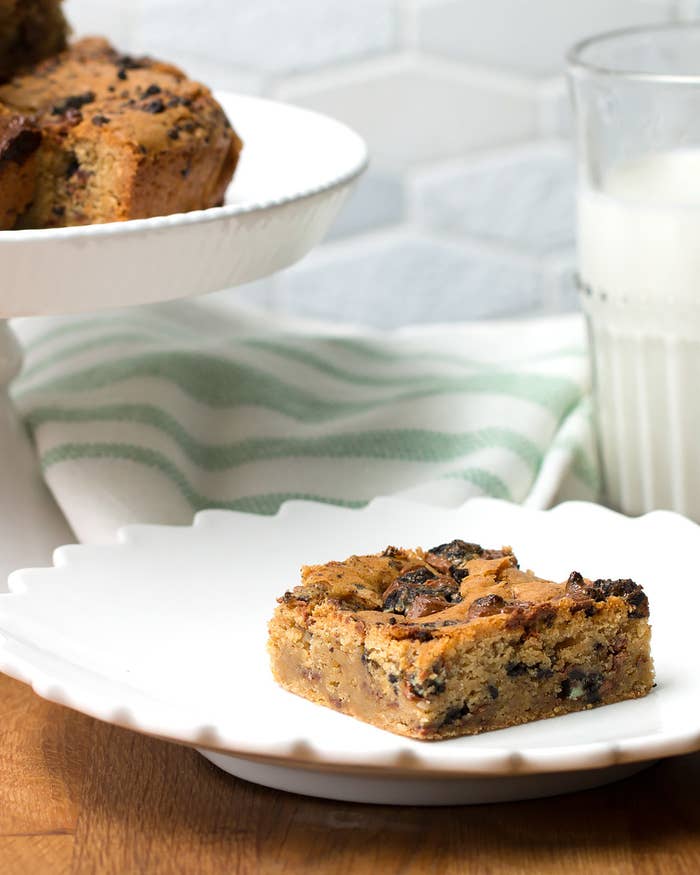 Servings: 16
INGREDIENTS:

4 Milka Mint Oreo Chocolate Candy Bars
1 cup flour
½ teaspoon baking powder
1 teaspoon salt ½ cup butter, melted
1 cup packed brown sugar
1 teaspoon vanilla extract
½ teaspoon peppermint extract
1 egg
PREPARATION:
Preheat oven to 350ºF.

Roughly chop the Milka Mint Oreo Chocolate Candy Bars into small pieces. Reserve a few tablespoons for the top and save the rest to fold into the blondie batter. Set aside.

Mix together flour, baking powder, and salt in a small bowl.

In a large bowl, mix together melted butter and brown sugar. Add in the vanilla extract and peppermint extract. Whisk the egg into the batter. Stir the dry ingredients into the batter.

Line an 8 x 8" baking pan with parchment paper. Evenly spread the batter into the pan and sprinkle with the reserved crushed candy.

Bake for 25 minutes, until a toothpick inserted into the blondies comes out clean.

Let cool for 15–20 minutes before removing from pan and slicing.