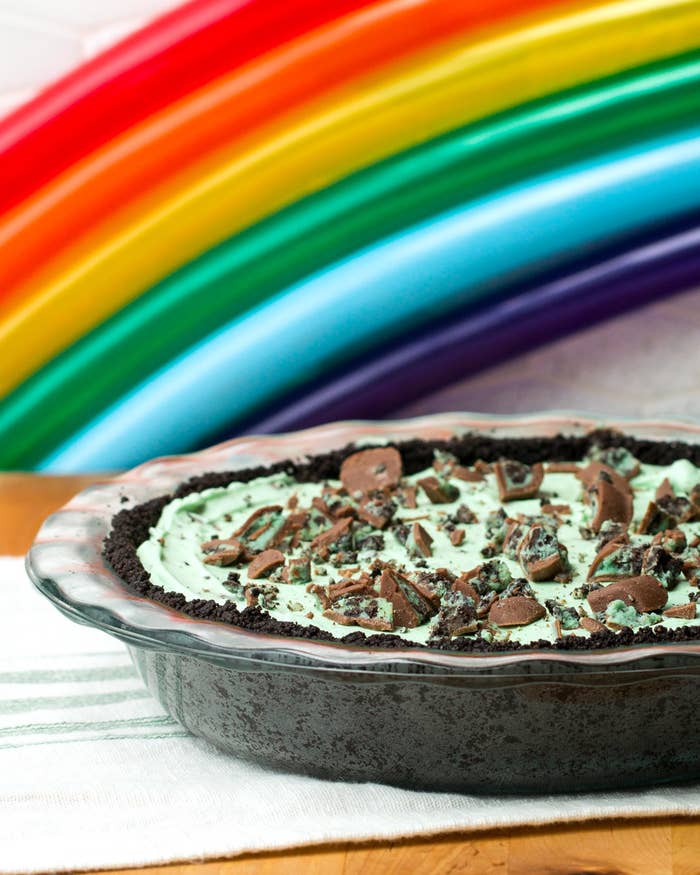 Servings: 8–10
INGREDIENTS:

Crust
30 Oreos
Pinch of salt
½ cup butter, melted


Filling

1 ¼ cups heavy cream
8 ounces cream cheese, softened
1 cup powdered sugar
5 drops green food coloring
¾ teaspoon peppermint extract
1 teaspoon vanilla extract
½ teaspoon salt 4
Milka Mint Oreo Chocolate Candy bars
PREPARATION:
Make crust: Place Oreos and salt in a food processor. Pulse until cookies have completely dissolved into crumbs. Pour in melted butter and pulse until well mixed. Pour crust mixture into a 9-inch pie dish sprayed with cooking spray and press into an even crust. Chill.

Roughly chop the Milka Mint Oreo Chocolate Candy bars into small pieces. Reserve a couple tablespoons and save the rest of the chopped candy to be folding into the filling.

Make filling: Using a hand mixer, whip the heavy cream into stiff peaks. In a separate bowl, whip the cream cheese for 1 minute, then add the powdered sugar and whip until smooth. Add green food coloring, peppermint extract, vanilla extract, and salt, then continue to mix until the color is uniform. Gently fold in the homemade whipped cream and the chopped candy pieces.

Pour the filling into the chilled crust and sprinkle with the reserved chopped candy.

Refrigerate pie for at least 6 hours or overnight. Serve!