Cream Cheese Swirl Brownies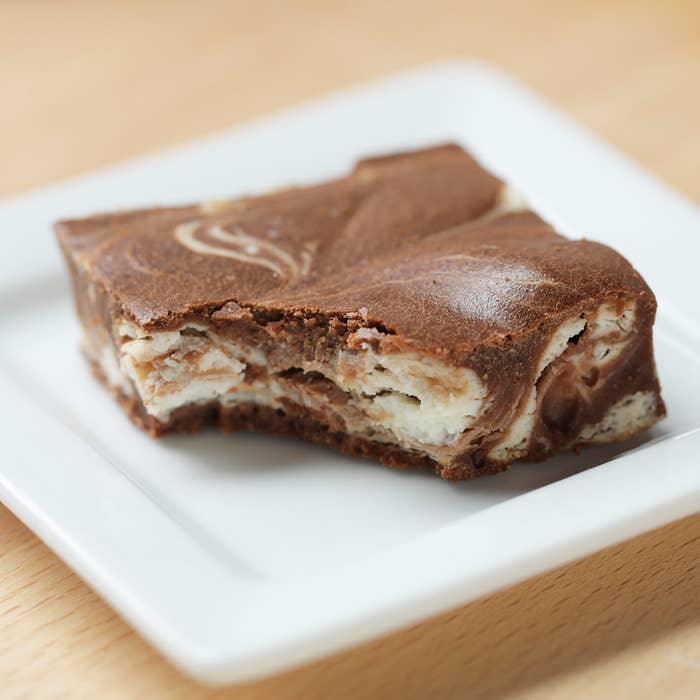 INGREDIENTS
Servings: 12
Brownie Batter Ingredients
1 cup oat flour
1/4 cup plus 1 tablespoon coconut oil
1 and ½ cup Optimum Nutrition Gold Standard whey protein powder (3 scoops)
1/2 cup plain low-fat or fat free Greek yogurt
⅔ cup egg whites
1 cup dark chocolate chips
Cream Cheese Swirl Ingredients
8 ounces (1 package) light or fat free cream cheese
2 tablespoons cup honey
1/4 cup egg whites
PREPARATION
1. Preheat oven to 350°F/180°C.

2. Combine coconut oil and dark chocolate chips in a bowl.  Microwave for 30-second intervals until butter and chips are melted. Whisk until smooth.

3. In a separate bowl, add oat flour, Gold Standard whey protein powder, fat free Greek yogurt, and egg whites, and whisk until a batter-like consistency is reached. Reserve 1/2 cup brownie batter in a separate bowl. Pour the remaining batter into an 8x8 baking pan.

4. In a separate bowl, combine cream cheese, egg whites, and honey, and use an electric beater to mix until all lumps are gone and a thick, creamy consistency is reached.

5. Spread cream cheese layer over the brownie batter layer and drop spoonfuls of the reserved brownie batter on top of the cream cheese layer. Using a butter knife or a fork, gently swirl the layers together.

6. Bake for 30 minutes or until a toothpick comes out clean.

7. Allow the brownies to cool, cut, and enjoy!