The task was simple enough for a crane operator of 11 years. Chris Johnson, a heavily pierced and tattooed 30-year-old, was to lift a 5,000-pound lay-down of piping and then set it back down. The crew was constructing modules for a refinery in the Alberta oil sands, the industry in which Johnson has worked since shortly after he finished high school. But the load was 80 feet away and Johnson, sitting in the cab of a 30-tonne crane, couldn't make out what was happening at the end of his hook. He stretched his right arm, inked with black stars and winged skulls, and pulled the lever back slowly. No sooner had the hook lifted did the boom get pulled toward the ground. The weight of his load shifted. The crane started tilting forward, taking Johnson down with it.
His mind acted fast. He ejected the hook, the load dropped, and the crane fell back into place. In trade terms they might call this the "pucker factor" — the sketchier the situation, the tighter your asshole puckers — and this had a pucker factor of 10. But Johnson knew the feeling better as a nervous breakdown. What took all of three seconds — five seconds, max — felt like hours in free fall when his equilibrium dropped. He hopped out of the cab hyperventilating, both relieved and confused to be standing, and told his foreman he needed to get to a hospital immediately.
It was only two years earlier, in 2014, that Johnson, who has bipolar disorder and a history of self-harm, woke up in a Fort McMurray hotel wanting to kill himself. Back then, when he asked for a mental health day, the foreman, an older guy, tried to guilt-trip him into coming to work. In the past, he's been told to suck it up. You can't just replace a crane operator on short notice in the oil sands. They're in high demand — or, at least, they were back then, before the market collapsed and 100,000 jobs were bled. In the summer of 2016, when his crane almost crashed, Johnson just felt lucky to have a crane to operate, so he worried how his foreman would respond. Luckily, this foreman was of a younger generation that's more understanding of mental well-being, and let him go.
"Basically, the response is 'don't be a pussy.'"
Johnson drove 30 minutes alone to the emergency room, fueled on shock and adrenaline. He'd be on mental health leave for two weeks, but his reflex to a nervous breakdown is an exception for most men in the oil patch and trades. Ten years of psychiatry and two stints on suicide watch drilled it into his head when to see a doctor — STAT. "A lot of guys don't even think they can get help because there's such a stigma around it," he says. "Basically, the response is 'don't be a pussy.'"
"Trades and industry" has the highest suicide rate of any occupational group, according to a 10-year study by the Suicide Prevention Resource Centre in Grande Prairie, an oil-rich city in Alberta. The blue-collar province consistently records one of the highest suicide rates in the country, and mental health experts believe it's only worsened since the economic downturn in late 2014. The following year, suicides spiked 20% — to a rate of 15.8 per 100,000. Alberta hasn't seen a rate like that in two decades, and mental health visits to the emergency department and call volumes at crisis centres also rose sharply. It's impossible to draw a direct line, but many counsellors say they're treating more people, namely men, in the patch. Job insecurity has only intensified the usual stressors of mining life: grueling hours, shift work, sleep deprivation, isolation from loved ones, and a "boys don't cry" attitude that censors emotion.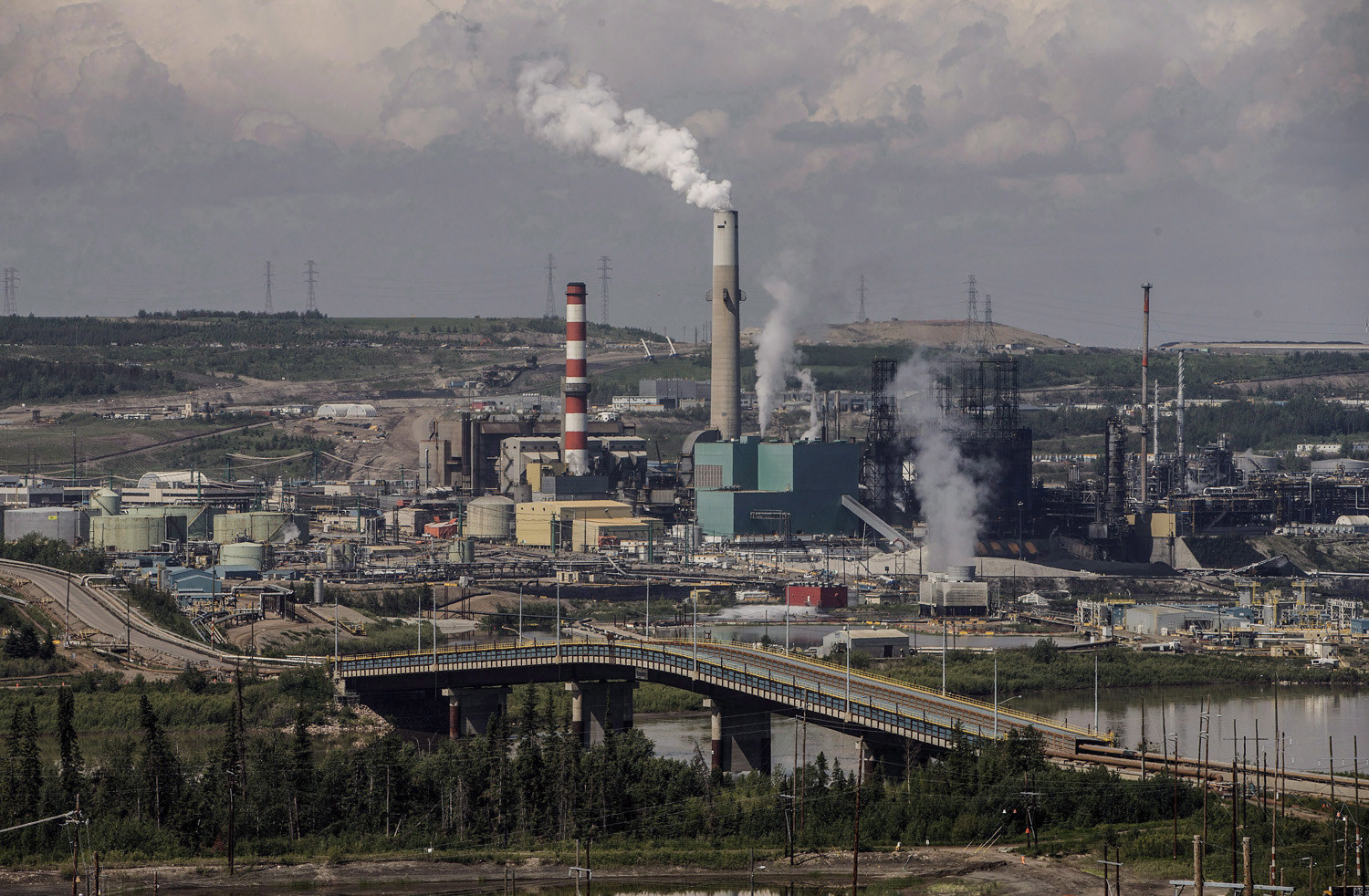 "It's been more intense post-downturn, there's no question about that," says sociologist Sara Dorow from On the Move — a Canadian partnership of researchers from 27 international universities studying the mobile workforce, also known as FIFO (fly-in fly-out) workers. Of the 50,000 FIFO workers in the Fort McMurray area, 40% are from Newfoundland, which in 2014 had a higher suicide rate than Alberta. A generation ago Newfoundland was considered "Canada's happiest province," on account of having the lowest suicide statistics despite also having the lowest income.
Dorow, who has studied FIFO culture in the oil sands region for a decade, has recently learned of several suicides at camps, though the total number is unknown. Angela Angel, an addictions and mental health consultant, has also met with multiple concerned industry representatives. "They were concerned with some of the traumatic events that had taken place, suicides on work camps," she says, "but the mental well-being initiatives that I put forth were not taken up."
The evidence remains blurry and anecdotal, but if true it certainly isn't unique. In 2014, the Australian government launched an inquiry into nine FIFO worker suicides that occurred over 12 months. It concluded that Western Australia's 60,000 mobile workers were at significantly greater risk of mental illness and abusing substances — especially synthetic drugs, like meth, that aren't easily detected by mandatory testing. The report recommended legislative changes to include mental health risks in workplace hazard laws, and to oblige mine managers to record all suicides and suicide attempts regardless of "whether the suicide or attempt is considered to be 'work related.'" It also recommended a proposed FIFO code of practice to discourage work rotations longer than two weeks, and to encourage suicide prevention, anti-bullying training, and sympathy for the impact on workers' personal relationships.
No such official inquiry exists in Canada, but there's a growing movement among unions and trades schools to get workers to think seriously about their mental health. Wayne Garner, vice president of Alberta's Teamsters Union — which represents everyone from pipeliners to truck drivers, and which created a suicide prevention campaign in light of recent statistics — says the bigger challenge is getting workers to show up to mental health first-aid courses. "You go out on a pipeline, see these 250-pound, super-strong gorillas out there, and say to them, 'Hey, let's take a three-hour course on how you feel.' Not a lot of folks will."
The first billboard on the highway into town, after "Welcome HOME Fort McMurray," advertises the community's 211 line for confidential health, social, and government services. Following that is a billboard for the town crisis line, SOS (Some Other Solutions), portraying a young man holding his head despairingly. Like the alteration to the city limits sign, it was added after the May 2016 wildfire chased 88,000 residents from their homes in the costliest natural disaster in Canadian history. Over 2,000 residences were destroyed. The trauma, compounded by an economic blow that had already left thousands unemployed and sent the housing market into a tailspin, has kept crisis counsellors unusually busy. But mental health issues existed long before the bust, when the drilling felt unstoppable.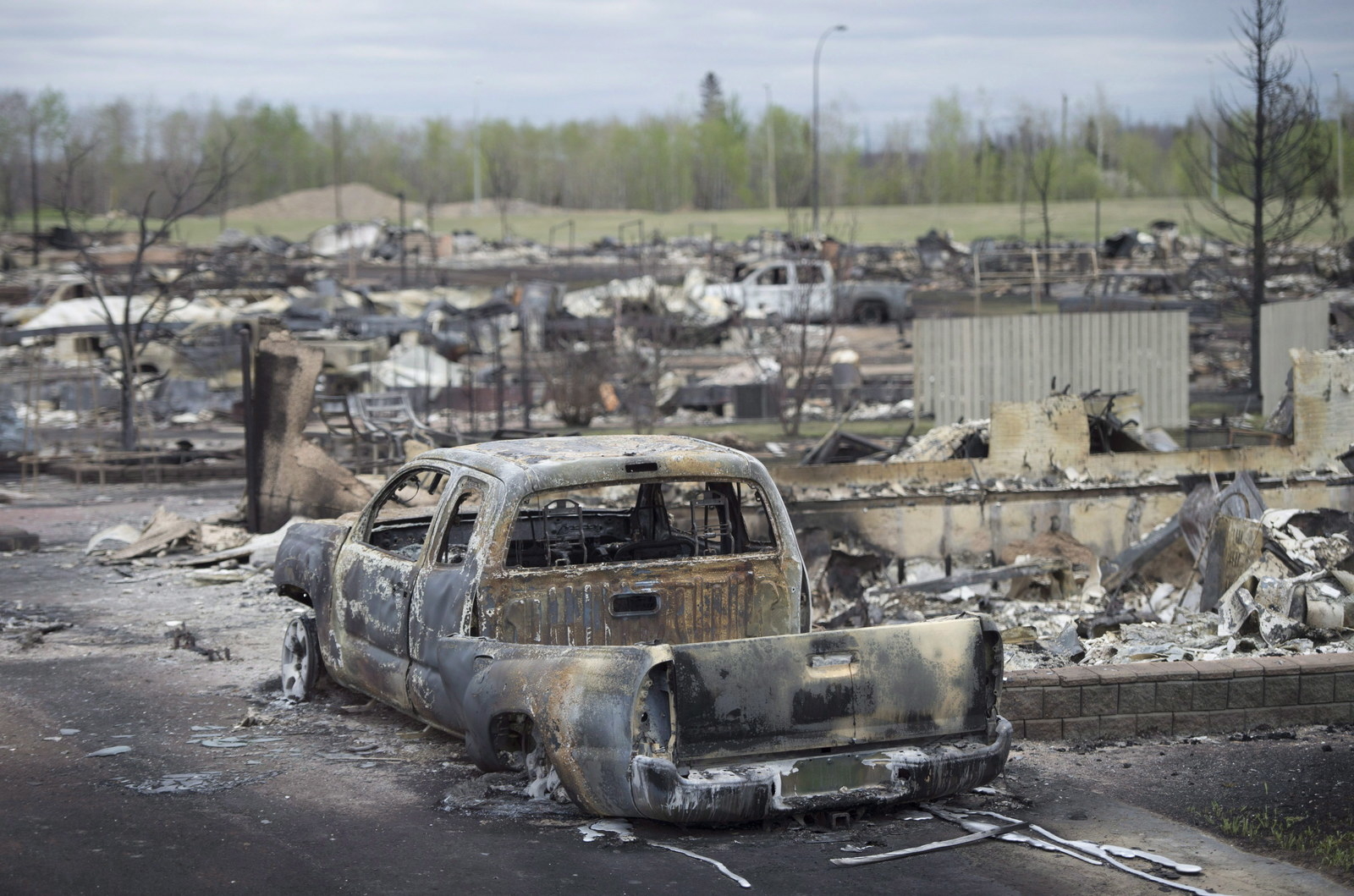 "Fort McMurray is a city of extremes," says SOS Health and Wellness Manager Linda Sovdi. "It's extreme remoteness. Extreme wealth. Extreme boom. Extreme recession. Extreme cold. There are a lot of extreme things to navigate." In addition to servicing Wood Buffalo (Fort McMurray and surrounding hamlets and First Nations reserves), SOS is also the distress line for its "shadow population," which lives around mines for weeks at a time, comprising more than a third of the region's populace. Camp managers have tried to make them happy places with healthier food options, recreational amenities like hockey rinks, and better internet to keep families connected.
In recent years, for reasons of liability or safety, nearly all camps in the area have gone "dry," converting bars into mostly empty Wi-Fi lounges. But those who are willing to risk drinking find a way, as the dozens of Molson Canadian cans in the outdoor garbage bins at one camp would suggest. "As posh as a camp can be, it's still camp, and it becomes old very quickly," says Sovdi. "It can get pretty lonely, and they might default to coping means they normally wouldn't."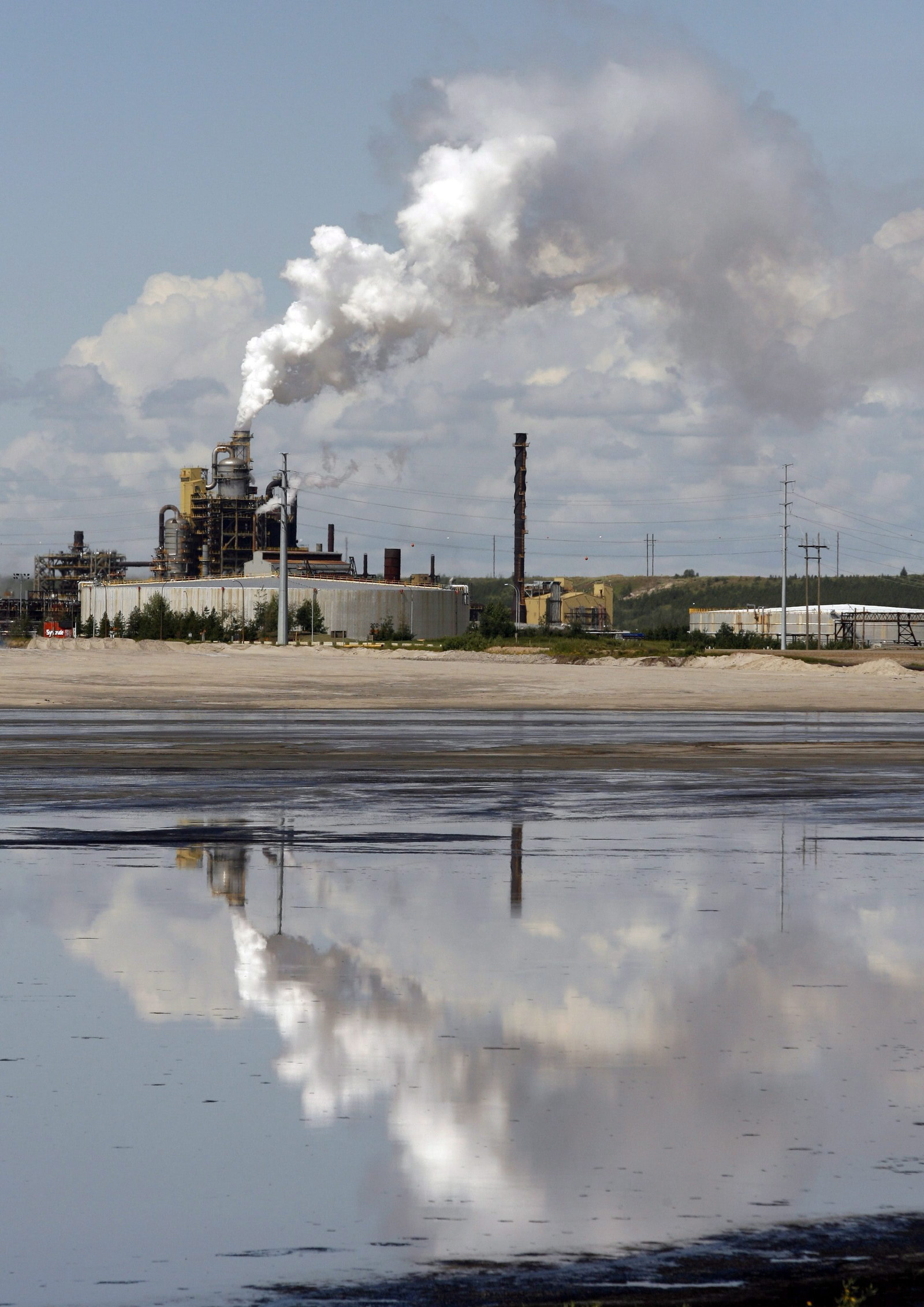 During the peak boom period of 2006 to 2008, when oil reached a record barrel price of $147, a company that provides employee assistance to Canadian oil and gas workers saw access for alcohol addiction treatment rise fivefold, while Wood Buffalo crisis workers reported a "significant increase in suicides, predominantly by men in the oil patch," according to Angela Angel's research at the University of Alberta. Angel, who has studied mobile workers in the Alberta oil sands and North Dakota's Bakken oil region, found that as many as half of the workers engaged in illicit drug use — either to cope with stress, or to "enhance" work performance. In Hinton — a central Alberta oil, coal, and forestry boomtown — the amount of child and family social services interventions related to meth use jumped from 4% in 2000 to 38% in 2005. "[Drug traffickers] marketed it to men and women who needed energy, who needed to work long hours, to shift workers, who could feel invincible and work great amounts of hours and make great amounts of money," Angel said. A common maxim she heard was "The oil comes first."
Angel worked a few summers in camps when she was young, but the inspiration for her research was her father, an electrician who was usually away, and her older brother, Jason Miskuski, a long-haul trucker serving the oil and gas industry. Unbeknownst to her, while she researched substance abuse in Hinton, Miskuski had also developed a crack addiction, which she believes was ubiquitous among his colleagues. As a small company contractor, he didn't have access to the employee family assistance treatment programs of larger corporations.
Miskuski struggled in school and fell into bad crowds as a teenager, but in his twenties, following the birth of his first son, he started turning his life around. The mid-2000s oil boom proved extra lucrative for his trucking career, and he took great pride in providing for his spouse and two boys in Edmonton. Angel remembers him as "the Alberta boy," an old soul who had few friends under 40 and who brought along Lynyrd Skynyrd CDs on every highway. He was a goofy soul, too, who'd force his cats to "dance" for company. But by the time the boom was in full swing, so was his addiction, and he broke up with the mother of his boys. He started retreating and isolating himself. While he was away for work, Miskuski's mom would leave Post-it notes around his home with crisis numbers to call, but to the best of Angel's knowledge he never did. When he was home, Angel would check on him. Sometimes he didn't answer; when he did, he was despondent and hollow. One of the last times she saw him, on Father's Day 2007, she photographed him with his sons. Miskuski is the only one not smiling in the picture. Angel was left wondering, Where's Jason?
Miskuski was in a pit of despair. A month later, aged 35, he killed himself. During his funeral service, Angel noticed funeral home staff crying alongside her. "I talked to them after, and they said, 'This is the seventh young man that we've held a funeral service for in the past two weeks.'"
Fifty kilometres north of Fort McMurray — past SOS main offices, past the industrial parks, gravel pits, and tailings ponds — the FIFO modular accommodations appear like green and white Lego blocks in the tar-scented landscape. Much of the boreal forest was thinned out by the fire and bulldozed thereafter, opening a view of the "lodges," stacked one- to three-storeys high, dotting the side of Highway 63 until the literal end of Alberta's northernmost road. It was here, at Suncor's Borealis and Millennium lodges, that one of the most infamous oil sands deaths occurred.

In January 2008, a young pipe fitter left the camp in a company vehicle in the middle of the night. He drove the truck two kilometres to the oil company's base plant across the frostbitten dirt road, and left the door open and the engine running as he walked to a coker — a refinery tower that distills heavy oils. He must have cleared security, and he may have climbed the zigzag of yellow stairs or taken the elevator to avoid the chill of the frigid weather 100 feet up. What is known is what he did when he got to the top: He jumped.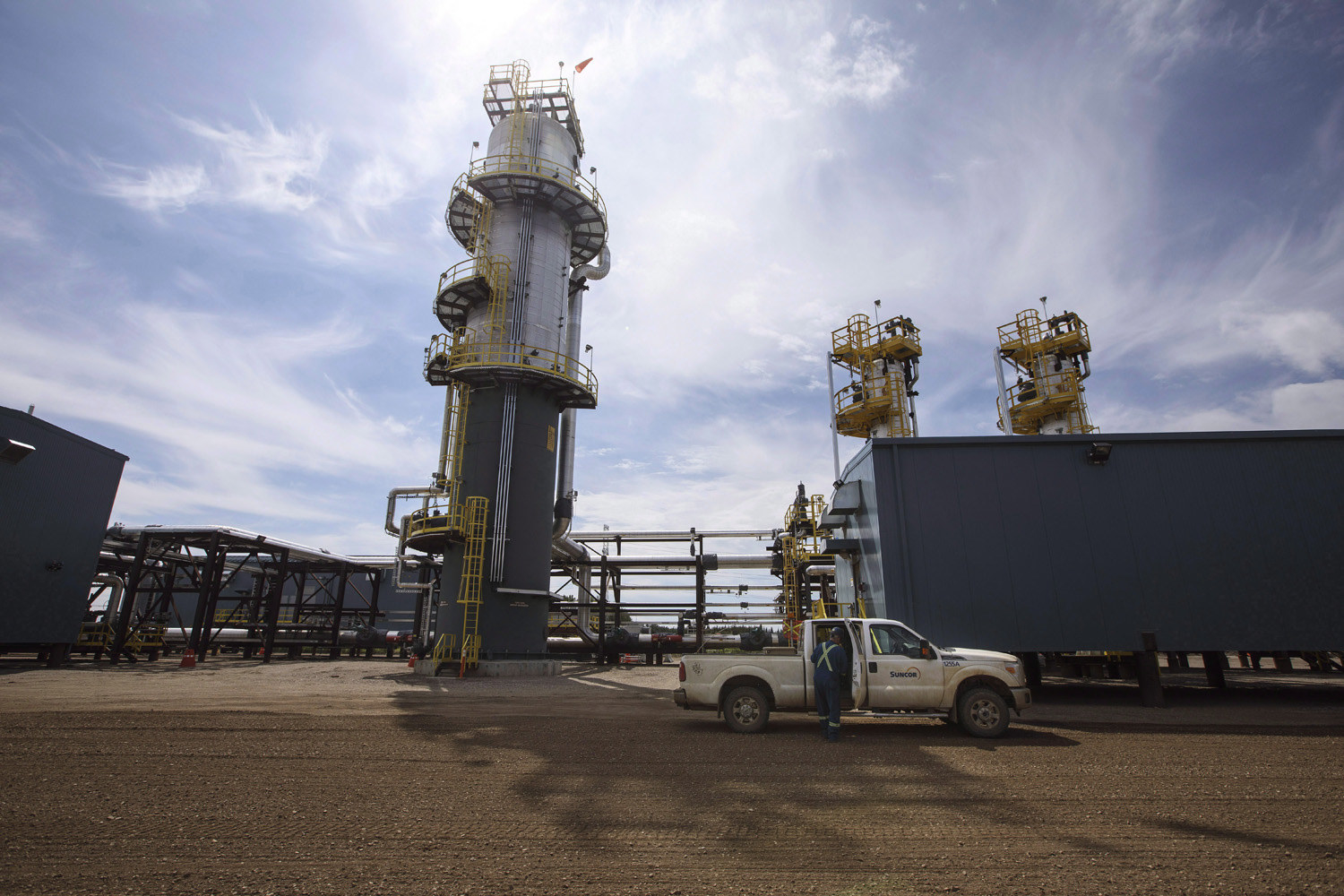 "He was found by the operators and the electricians in the morning," recalled Kristian Rhodes, a mason and insulator who was prevented from entering the site to work that day and sent back to camp. "They originally thought it was an accident, and then they realized really quickly he didn't have any coveralls on."
The incident weighs heavily on the psyche of Alberta's oil sands workers, having taken on a mythology of its own with much speculation about the man's state of mind and substance abuse and relationship issues. When Sara Dorow first heard about it in her interviews she was struck by an immediate empathy for the sadness that may have led him to it. "It wasn't, 'Oh, this is so horrifying — we'd never expect that.' It was this understanding that this is how bad it can get, that we understand that camp is not an easy place to be." That's especially true for the 1 in 5 Canadians living with a mental illness who may struggle with the boredom and loneliness.
"Some people would need to stare at their paycheques to remind themselves why they're there."
Staving it off in a healthy way isn't easy, but Dorow has observed that "people of order and discipline" can thrive there. Rather than a place of rest, camps are part of the job. Staffers tap their badge cards when they enter their rooming wing, leave to work and return, order food in the cafeteria, and bag up a lunch in a repetitive cycle that leaves little time for much else. "Camp itself retains work mode," says Dorow, who has stayed in camps for short periods for research. "Some people would need to stare at their paycheques to remind themselves why they're there — 'for me and my family, and I'm here for work.' Some would talk to me about family connections being a distraction."
But despite the difficulty in ignoring the unravelling of family life hundreds of kilometres away, many in oil country do so. The FIFO life is rife with divorce, says Debra Macleod, a Calgary marriage counsellor. "These relationships are fragile to begin with. Youth, overspending, young kids at home, there may be issues or drinking or drugs," she said. "It's just too much for a young person to handle." It's common for men to return from camp feeling like strangers in their own homes, and after a divorce men are eight times more likely than women to commit suicide, according to the Journal of Epidemiology and Community Health.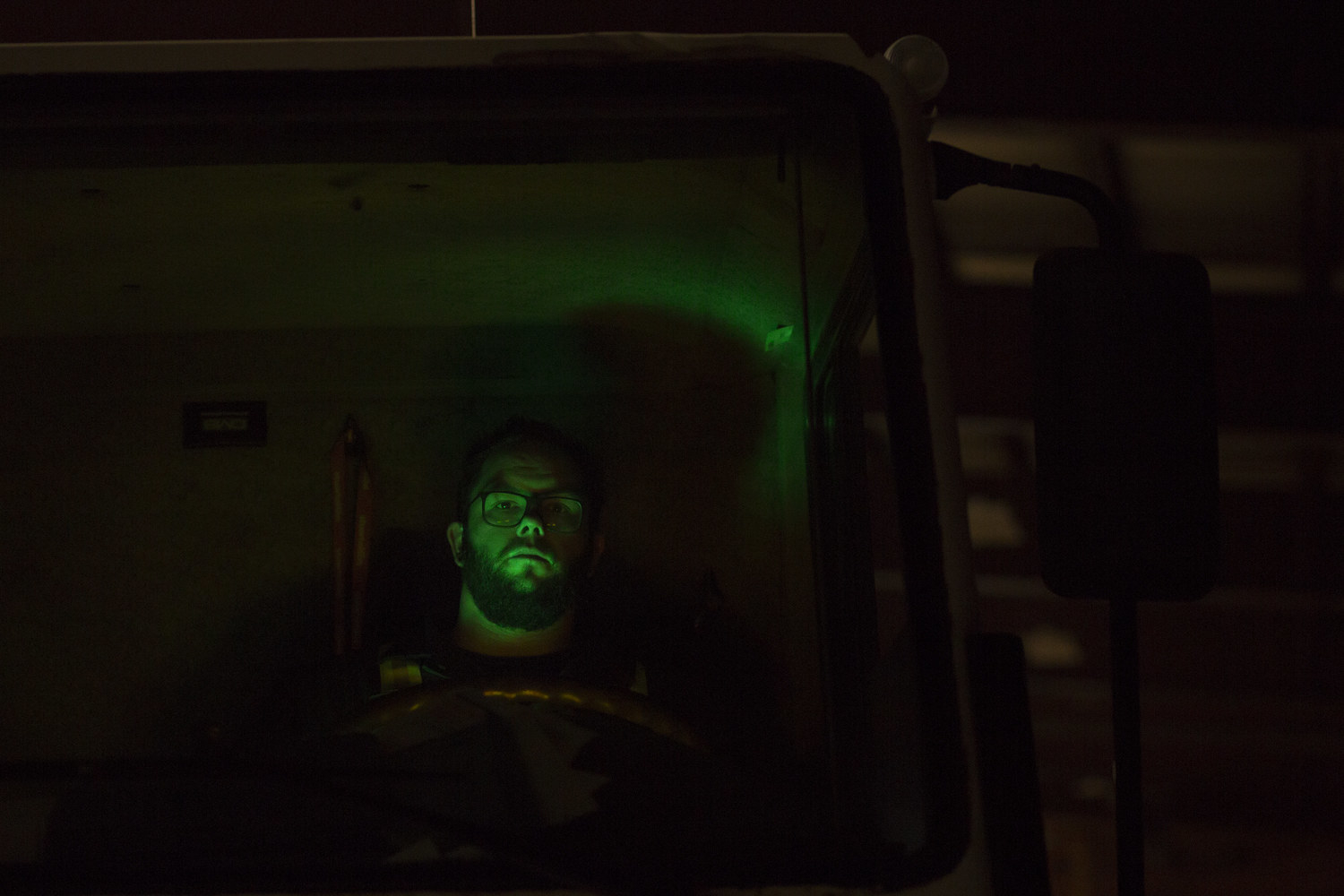 "You're trying to run your entire life from a 12-by-8 room," explains Johnson, the crane operator from Edmonton, who has stayed in countless camps for as long as 24 days straight, from interior British Columbia to Saskatchewan, and of course in Wood Buffalo (including in Wapasu — or "Wapatraz" — a 5,100-person complex deep in the boreal forest that's infamous for physical and virtual isolation). "Your entire window to the outside world is your cell phone and your laptop. If you have problems at home, and you can't get there to deal with them, or contact your wife to sort it out because you're fighting for the signal with everybody else, it makes anxiety infinitely worse."
"A lot of a man's self-worth comes from his job and what he makes."
Though he made $138,000 in his third apprentice year, he lost it all, as well as two long-term relationships — partially to impulsive spending, excessive drinking, and other symptoms of his mania he says were exacerbated by work and camp culture. It reached a crescendo in 2014, when he was put on suicide watch and became a psychiatric outpatient, forcing him to break from his career for some months. Since then, and compounded by the downturn, Johnson's pay is a fourth of what it once was. But the slowdown has also allowed him to take better care of himself. "There was no time to sit back and say, 'Maybe I should focus on me.' It was, 'Let's go, let's go, let's go.'" Johnson added, "A lot of a man's self-worth comes from his job and what he makes."
The paradoxical pride of providing financially yet being helpless to give any other kind of support — "being reduced to a paycheque," as Sara Dorow puts it — can be dehumanizing. The vast majority of Wood Buffalo's mobile workers, 84%, said the biggest hurdle to their work was separation from friends and family. Despite stereotypes of the workforce — that they are young, uneducated, single men living with reckless abandon — more than half are over 35, in marriages or common-law relationships, and with a trades certificate or post-secondary degree. Though the oil economy is slowly strengthening, as many as 50,000 people are still struggling for employment in Canada's energy industry, according to Petroleum Labour Market Information. So much of a man's self-identity comes from his career, says Angela Angel, and work might be his sole coping mechanism to deal with depression — until it's taken away. It's difficult to earn an average salary after earning six figures, especially when it's tied to multiple vehicles, mortgages, boats, campers, and other "toys" so popular in the patch. As Angel puts it, "The taller you are, the harder you fall."
In recent years, and especially after the Fort McMurray wildfires, SOS made a greater effort to provide mental health first-aid training to oil industry managers, with mixed results. Some have taken Applied Suicide Intervention Skills Training — an Alberta-invented course that was exported to the world in the 1990s and is now the gold standard in intervention training — but none have made it mandatory, says Linda Sovdi.
Of the four oil sands camps BuzzFeed Canada visited, none had crisis-line posters on community boards. One owned by international corporation Civeo did have a poster for employee assistance program counselling, but a third of the poster — including the phone number — was covered by a courses schedule.
Around that community board, at Athabasca Lodge, the patter of duty boots echoed off the prefab walls as the night shift left to board coach buses to site. Day-shift staff settled into the cafeteria amid a chattering of English, Arabic, French, and Mandarin, and there were as many knitted sweaters as "I (Heart) Oil Sands" shirts. As far as ethnicity, age, and personalities go, it was as diverse as any city mall's food court, but one would have to strain to locate a woman not in chef whites or janitorial scrubs. Though women are increasingly part of the FIFO makeup — 17% in Wood Buffalo, up from 8% a decade ago— camps are a hypermasculine environment. That might be the biggest obstacle to improving mental health amongst FIFO workers: Men just don't like asking for help.
That resonates with Jenna Lang, whose fiancé killed himself in 2013, just four days before his 39th birthday. He'd just dropped off water supplies to an oil refinery in Fort St. John, British Columbia, where he lived half-time, before he hanged himself in a work garage. "One thing stuck out most in his suicide note, is he said I deserved somebody stronger than him," she recalls.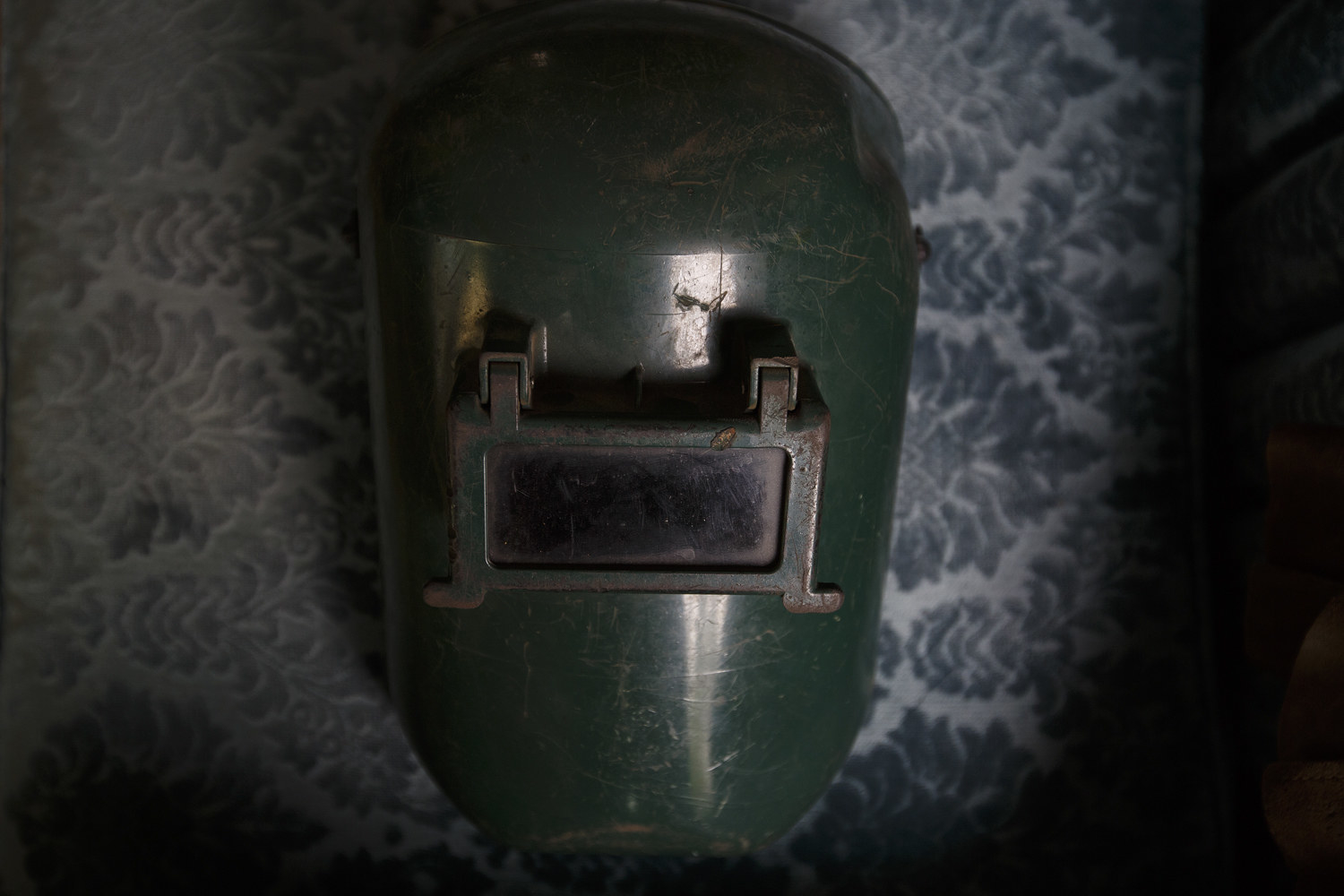 Librarian Robert Olson of the Centre for Suicide Prevention in Calgary — the world's largest library of literature on suicide — says the societal expectation of men as self-determining and self-sufficient prevents them from getting counseling. They may feel threatened and emasculated by it. "We're taught we can get things done ourselves," he says. "If we're troubled we can work through it, often to our peril."
A 2002 group study showed only 18% of men contacted a mental health professional within the month before their fatal decision, and 35% within the year before, which is half as many as women in the same study. After the province's economy tanked in 2015, Alberta men ages 25 to 35 were five times more likely to have killed themselves than women their age, compared to three times more in more average years, both in Alberta and across North America. (Women, however, attempt more suicides than men but use less successful means, like poisoning, while men are more likely to use strangulation or firearms.) The British Columbia Medical Journal called male suicides a "silent epidemic," noting a lack of public awareness and a reluctance to seek help as root causes. In response, says Olson, mental health professionals must try to meet men where they're at, because they're unlikely to come to professionals. The Centre for Suicide Prevention has recently collaborated with researchers and social agencies trying to reach vulnerable men: those who are newly separated from their partners, who lost main custody of their children, and who recently retired or are out of work. Other centres have gone straight to the workforce.
The deterrent may be emasculation, or it may be a fear of ridicule that pervades due to the myth that boys don't cry. But what if crying helps not just their individual well-being, but the company's occupational safety and bottom line? In the late 1990s, more than 100 Shell Oil workers preparing to work on a massive Texas rig underwent all-day sessions designed to share their innermost fears, insecurities, and regrets, and ultimately bring tears to their eyes. The exercises, it was hoped, would make them so comfortable with being vulnerable that they'd shed their hardened veneers when dealing with simpler problems — not knowing how to operate certain machinery, for instance — and more readily admit mistakes. The purpose wasn't improving mental well-being — though it most certainly did that — but making work safer. Indeed, accident rates fell by 84%.
Physical safety is practically a religion in the trades. As the old joke goes, you can hardly take a piss without getting safety training first. But in recent years, companies are beginning to understand that employees who are mentally well are also more productive. Syncrude, Fort McMurray's original oil sands miner, trains frontline supervisors to recognize signs of stress and depression, and to encourage employees to ask for help. Other companies, like Husky Energy and Encana, in Alberta's eastern oil region by Grande Prairie, partnered with the city's crisis network to bring a seminar designed to help workers recognize the signs of depression that might develop working around the rigs.
Tough Enough to Talk About It is a 25-year-old program that's largely gone under the radar because of Grande Prairie's remoteness, but lately it has spread to small towns and cities across Alberta (though, curiously, not to Fort McMurray). It's also been adopted by the province's largest trade school as a mandatory session for 2,000 second-year students. The Northern Alberta Institute of Technology has been trialling it since September with one instructor, but in April it trained 40 more instructors to teach the program starting in fall 2017.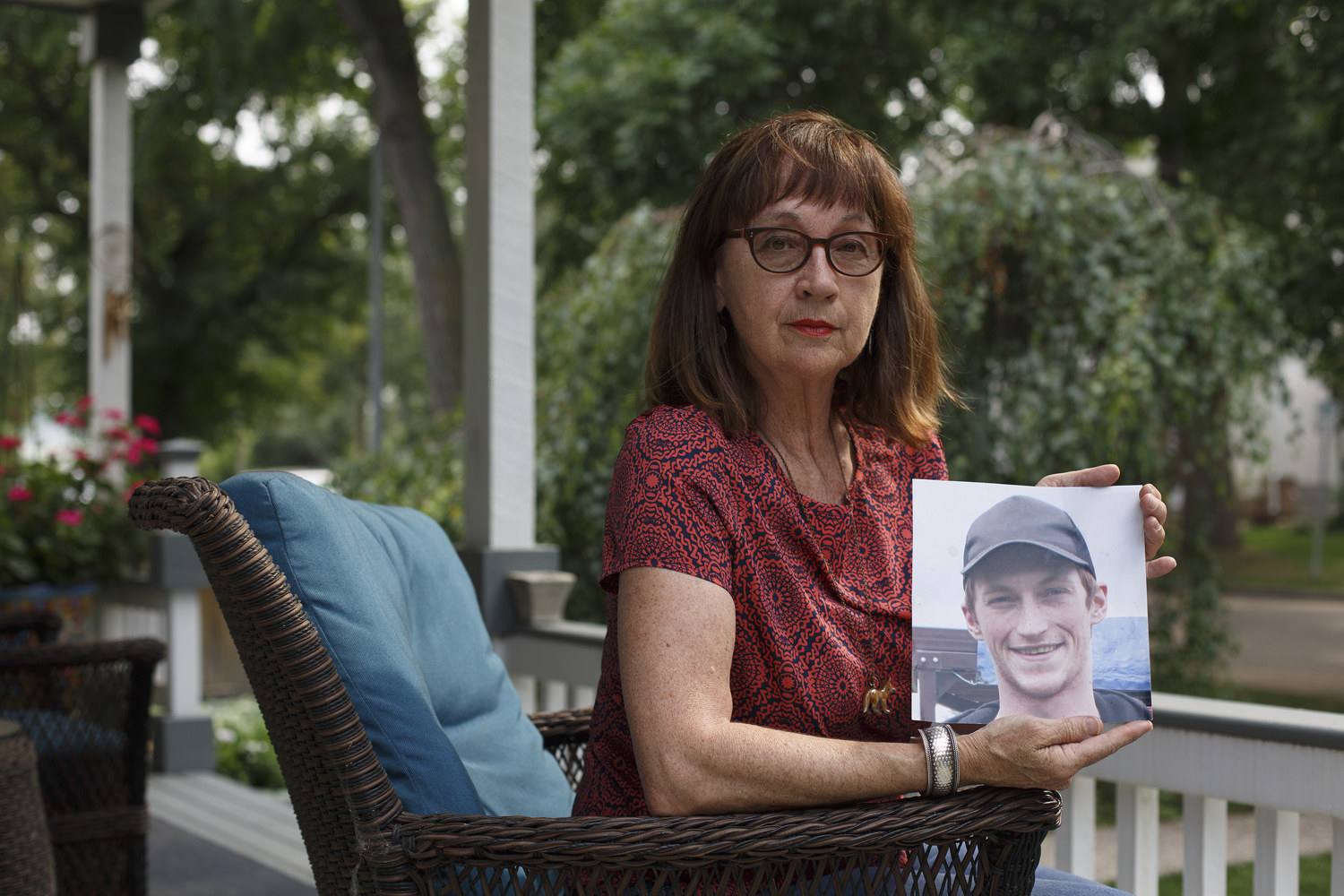 It would not have happened were it not for a grieving mother, Lorna Thomas, who pressured the school for three years following the suicide of her 24-year-old son Alex Thomas-Haug. He was working 60-hour weeks behind a welding visor that masked the dullness of his eyes. The once-exuberant redhead and aspiring filmmaker was increasingly irritable and resisting his parents' attempts at outreach, but he sometimes complained about the macho work environment, the culture of shaming and toughness. Shortly after his death in 2012, Thomas brought a Tough Enough facilitator to her son's former workplace to give the one-hour session as part of a safety meeting.
"Not a lot of things in life are preventable," she told them, "but suicide is." There was a lot of interest and much to relate to among the 30 staff, but once the presentation was over, there was no time for questions. They had to start their morning shifts. They had to get back to work.
Looking for help?
Mental Health HelpLine: 1-877-303-2642 (Alberta)
For other Canadian provinces' and cities' crises lines, visit SuicidePrevention.ca
US National Suicide Prevention Hotline: 1-800-273-8255
Other country's crisis hotlines can be found here.