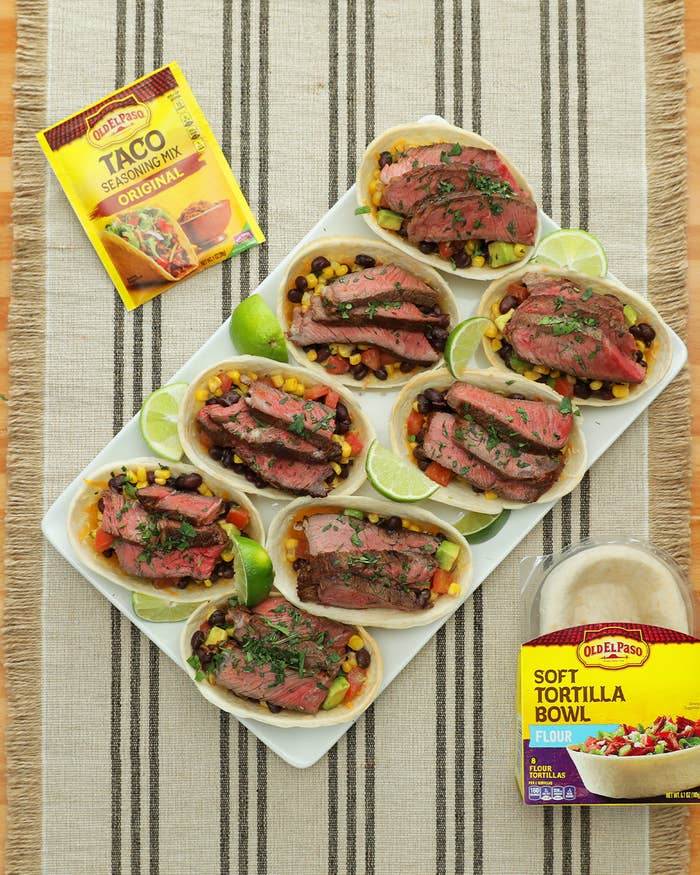 INGREDIENTS:
1½ pounds sirloin steak
1 packet Old El Paso Seasoning Mix Original
2 teaspoons olive oil
1 can black beans, drained and rinsed
1 cup frozen corn
1 avocado, diced
½ cup diced tomato
½ lime, juiced
¾ teaspoon salt
8 Old El Paso Soft Tortilla Bowls
2 cups shredded cheese
2 tablespoons minced cilantro, for garnish
PREPARATION:
1. Preheat oven to 375ºF.
2. Generously rub steak with Old El Paso Seasoning Mix Original. Heat an oiled cast-iron skillet over medium-high heat. When hot, add the steak. Sear steak on both sides until cooked to your desired temperature. Let steak rest for 10 minutes.
3. Heat olive oil in a pan over medium heat. Add black beans and corn, then sauté for 2–3 minutes. Transfer to a bowl and let cool for 10 minutes. Fold in avocado, tomato, lime juice, and salt.
4. Place Old El Paso Soft Tortilla Bowls on a sheet tray. Add shredded cheese to each bowl, making sure the cheese goes up the sides of the bowl. Place tray in oven for about 5 minutes, until cheese is melted.
5. Slice steak, thinly against the grain. Fill each bowl with black bean–corn salad, then arrange a few slices of steak on each. Garnish with cilantro, and squeeze a little lime on each. Serve!