SOFT TORTILLA STEAK TACO BOATS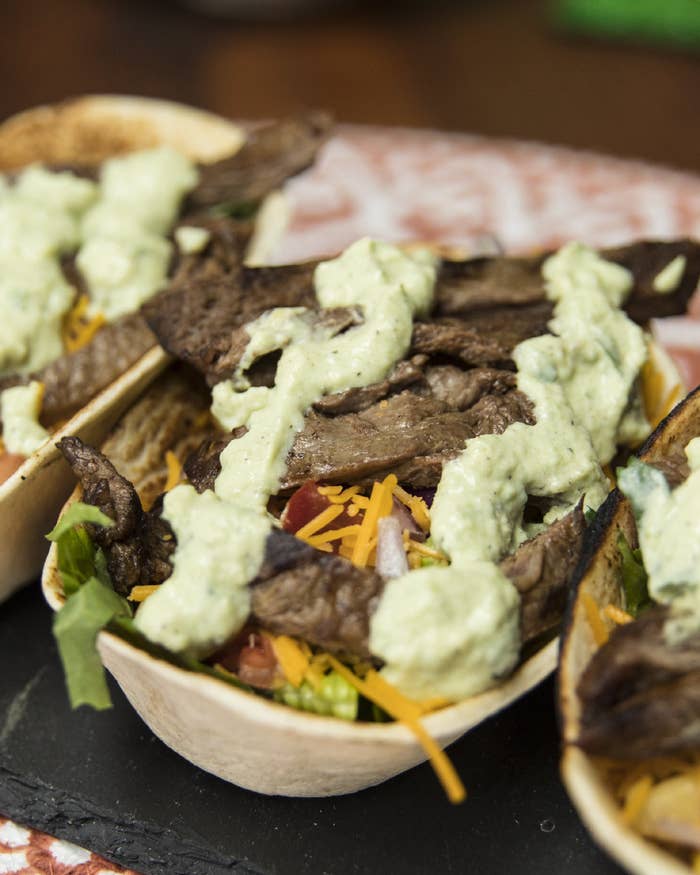 INGREDIENTS:
Steak
1 lb skirt steak
1 packet Old El Paso Taco Seasoning Mix, Original
2 tablespoon olive oil
Avocado Crema
1/4 cup sour cream
1 medium avocado, flesh removed and mashed
2 tablespoons chopped cilantro
Juice of 1 lime
Salt and pepper, to taste
Toppings
2 roma tomatoes, diced
1/2 cup black beans, drained and rinsed
1/2 cup canned corn, rinsed
1/2 head of romaine, chopped
1/2 red onion, diced
4 Old El Paso Soft Tortilla Taco Boats
1 cup shredded cheddar cheese
PREPARATION:
1. Preheat a grill pan over medium high heat.
2. Rub the skirt steak all over with the Old El Paso Taco Seasoning on both sides, until evenly coated and then rub the steak with the olive oil.
3. Place the steak on the grill pan and cook on one side for 5-7 minutes, depending on thickness. Then flip and cook remaining side for another 3-5 minutes. Remove from the grill pan and let rest for 5 minutes before slicing.
4. In a medium bowl combine the sour cream, avocado, cilantro, lime juice, salt and pepper. Add teaspoon by teaspoon of cold water, to get a dressing-like consistency.
5. To char the outside of the taco boats, grab one taco boat at a time with tongs and place over the open flame on the stove, rotating until all sides of the tortilla are evenly charred. Repeat with remaining taco boats.
6. To assemble, place romaine to cover the bottom of the taco boat, then layer with beans, corn, red onion, tomato and cheese. Place the sliced meat on top and drizzle with the avocado crema.