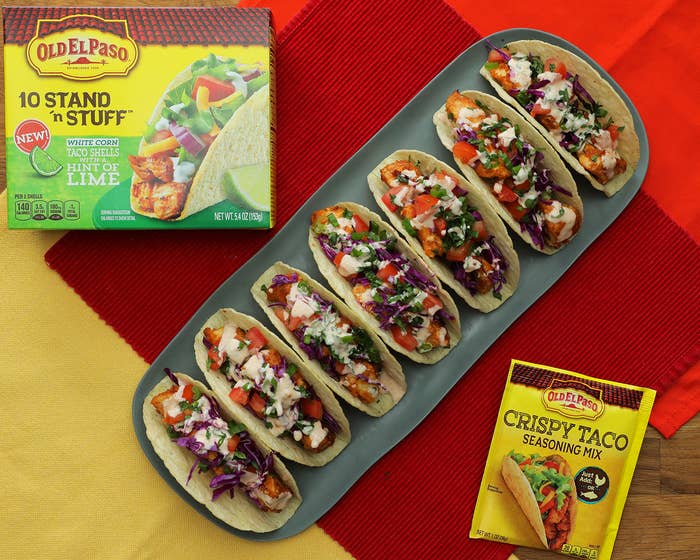 INGREDIENTS:
2 chicken breasts, cut into 1-inch cubes
1 packet Old El Paso Crispy Taco Seasoning
2 teaspoons olive oil
½ cup sour cream
1 lime, juiced
1 tablespoon water
1 tablespoon chipotle sauce
½ teaspoon salt
10 Old El Paso Stand 'n Stuff Taco Shells with a Hint of Lime
1 cup shredded red cabbage
½ cup diced tomato
2 tablespoons sliced scallions
1 tablespoon minced cilantro
PREPARATION:
1. Toss chicken pieces with Old El Paso Crispy Taco Seasoning until well covered.
2. Heat olive oil in a skillet over medium heat. When hot, add chicken. Saute chicken, tossing occasionally, until cooked through, 5–7 minutes. Set chicken aside.
3. In a small bowl, whisk together sour cream, lime juice, water, chipotle sauce, and salt until smooth. Set aside.
4. Separate taco shells and place on a plate. Fill taco shells with chicken. Top each taco with a pinch of red cabbage, diced tomatoes, scallions, and cilantro. Drizzle with sour cream chipotle sauce. Serve!