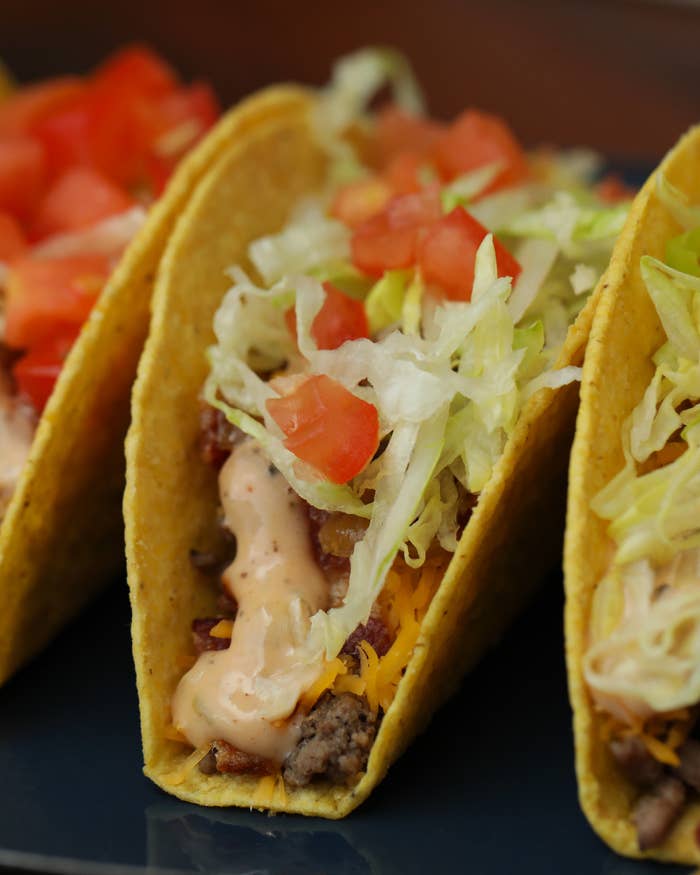 Servings: 8
INGREDIENTS:
Caramelized Onions
1 tablespoon olive oil

1 medium onion, diced small

Meat
1 tablespoon olive oil

1 pound lean ground beef

1 teaspoon salt

½ teaspoon black pepper

1 teaspoon onion powder


Tacos
1 package Old El Paso Stand 'N Stuff Taco Shells

Secret Sauce
½ cup mayo

1 tablespoon salsa

1 tablespoon sweet relish

1 tablespoon ketchup

2 teaspoons sugar

½ teaspoon salt

¼ teaspoon black pepper

Toppings
½ cup finely shredded cheddar cheese

6 slices cooked bacon, crumbled

1/4 head iceberg lettuce, shredded

2 roma tomatoes, diced small

PREPARATION:
In small saucepan over low heat, add oil and onions. Cook for about 15 minutes, stirring occasionally until caramelized and golden brown. Set aside.

In medium saute pan over medium heat, add oil, ground beef, salt, pepper, and onion powder. Cook until meat is completely cooked through, about 5 minutes. Drain and set aside.

Separate taco shells and place on baking sheet. Put into oven for 5–7 minutes to heat through.

In small bowl, combine all secret sauce ingredients. Set aside.

To assemble, place meat in bottom, then top with shredded cheese, bacon, lettuce, tomato, caramelized onions, and secret sauce. Enjoy!