Honey Mustard Chicken, Bacon, and Avocado Salad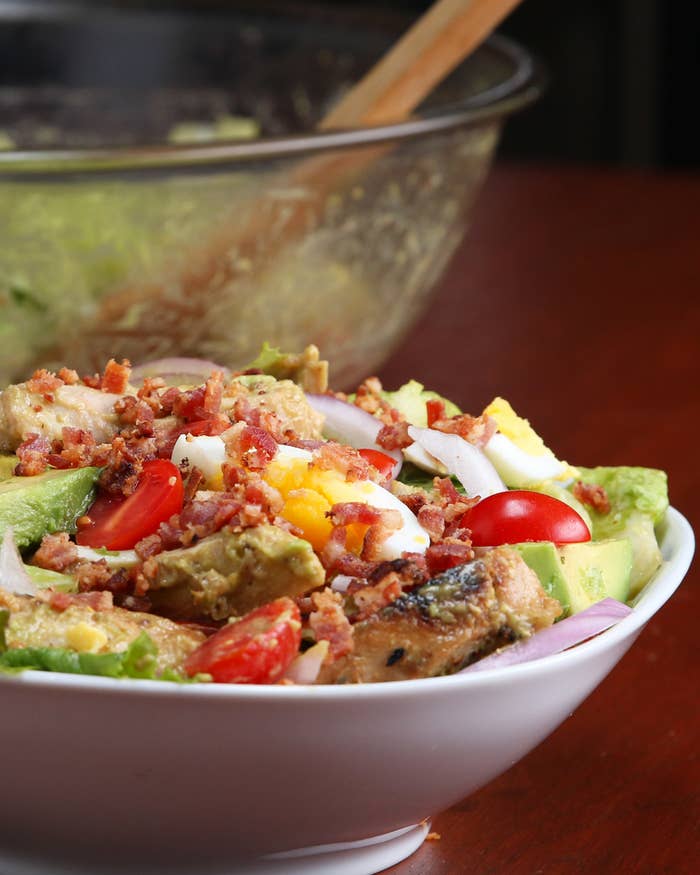 INGREDIENTS
Servings: 4
Dressing/Marinade
2 tablespoons olive oil
⅓ cup honey
3 tablespoons stone ground mustard
2 tablespoons Dijon mustard
½ lemon
1 teaspoon minced garlic
½ teaspoon salt
½ teaspoon pepper
4 skinless and boneless chicken thighs
Salad
1 head romaine lettuce, chopped
1 cup cherry tomatoes, halved
¼ red onion, thinly sliced
1 avocado, diced
1 hard-boiled egg, sliced
¼ cup cooked bacon, diced
PREPARATION
1. In a small bowl, add the olive oil, honey, stone ground mustard, Dijon mustard, 2. Lemon, garlic, salt, and pepper. Whisk until smooth.
3. Remove ½ of the marinade and refrigerate to use as a dressing.
4. Add chicken thighs to remaining marinade and let it marinate for two hours.
5. Add a teaspoon of olive oil to a nonstick pan. Sear chicken on each side until 6. Golden, crispy, and cooked through. Set aside and allow to rest.
7. Put lettuce in a large bowl, add tomatoes, red onions, avocado slices, and hard-boiled egg.
8. Slice chicken into strips and place in the salad.
9. Add the remaining marinade to the salad and toss.
10. Sprinkle bacon on top.
11. Enjoy!