Easy Foil-Pack Lemon and Rosemary Chicken Dinner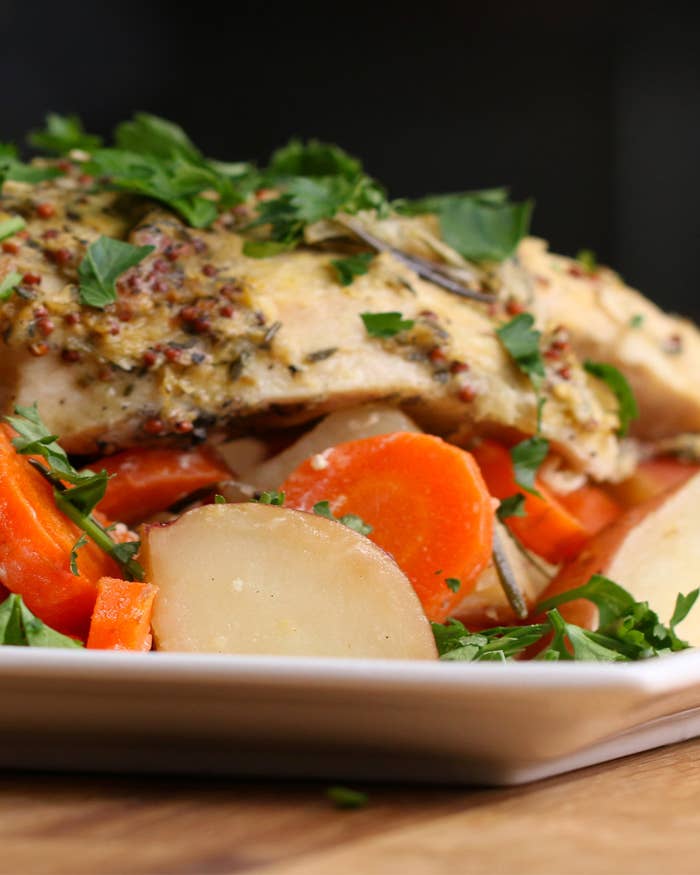 INGREDIENTS
Servings: 4
2 tablespoons olive oil
1 tablespoon whole grain mustard
1 tablespoon dijon mustard
½ teaspoon dried thyme
¼ teaspoon dried rosemary
Zest of 1 lemon
¼ teaspoon salt
¼ teaspoon ground black pepper
8 baby red potatoes, quartered
4 large carrots, sliced
4 boneless skinless chicken breasts
1 lemon, thinly sliced
1 fresh rosemary stalk
2 tablespoons chopped fresh parsley leaves
PREPARATION
1. Preheat oven to 425˚F/220˚C
2. In a small bowl, combine olive oil, both mustards, thyme, rosemary, lemon zest, salt, and pepper. Whisk and set aside.
3. Cut four sheets of foil, about 14 inches long. Divide potatoes and carrots into 4 equal portions and add to the center of each foil.
4. Drizzle with olive oil and season with salt and pepper.
5. Top each packet with the chicken. Using your fingers or a brush, work the mustard mixture onto the chicken. Top with lemon slices and fresh rosemary.
6. Fold the sides of the foil over the chicken, covering completely and sealing the packets closed. Place foil packets in a single layer on a baking sheet. Place into oven and bake until the chicken is cooked through and the potatoes and carrots are tender, about 30 minutes. Cooking time may take longer depending on the thickness of the breast.
7. Enjoy!
Inspired by: Damn Delicious