Craisins® Wild Rice Stuffed Butternut Squash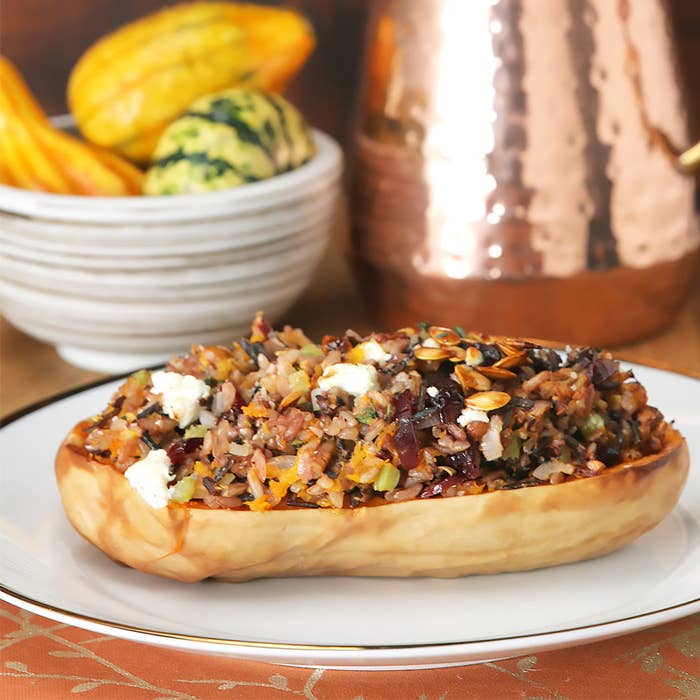 Servings: 4-6
INGREDIENTS
Roasted squash
1 large butternut squash
2 tablespoons butter
2 tablespoons maple syrup
Salt and pepper
Wild Rice Pilaf
1 tablespoon butter
½ cup shallot
1 clove garlic, chopped
½ cup celery
2½ cups cooked wild rice (1 cup dry, cook according to package instructions)
¼ cup toasted pecans
½ cup Craisins® Original Dried Cranberries
½ tablespoon fresh sage, chopped
1 tablespoon fresh thyme, chopped
½ teaspoon cayenne
¾ cup goat cheese, crumbled
PREPARATION:
1.Preheat oven to 400 degrees.

2.Wash whole butternut squash and dry thoroughly. Slice in half long ways and scrape out pulp and seeds and reserve in a bowl.

3.Melt 2 tablespoons butter in a bowl and whip with maple syrup.

4.Brush both sides of the butternut squash and generously salt and pepper both sides. 

5.Place flesh side down on a parchment-lined baking sheet and place in the oven for 35–40 minutes until golden brown and fork tender. When baked, spoon out some of the flesh leaving the skin and about ½ inch of squash to make a boat. Chop and reserve the scooped out squash.

6.Separate the butternut squash seeds from the pulp and rinse clean. Coat seeds with remaining maple butter mix. Spread on a baking sheet and sprinkle with salt.

7.In a large pot, melt 1 tablespoon of butter. Add the shallot, garlic, and celery. Saute until softened, about 2–3 minutes. Fold in the cooked wild rice. 

8.Add the reserved butternut squash, Craisins®, sage, thyme, cayenne, pecans, ¼ cup crumbled goat cheese to the pot and stir to combine. Salt and pepper to taste.

9.Place seeds in the oven with butternut squash for 15–20 minutes until golden brown and roasted. Set aside for garnish.

10.Fill each squash boat with rice mixture until heaping. Sprinkle with the rest of the goat cheese and squash seeds.

11.Bake for 15 mins until cheese is browned.

12.Enjoy!