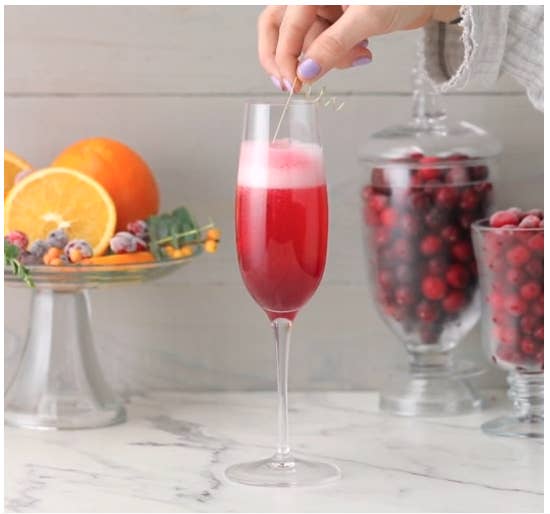 Servings: 20-24
INGREDIENTS
Sugared Cranberries

1 cup fresh cranberries

1 pasteurized egg white

1 cup sugar

1 tablespoon water

Cranberry cocktail

64 ounces Ocean Spray® Cranberry Juice Cocktail

2 oranges, juiced, 1 tablespoon zest reserved

1 lemon, juiced, 1 tablespoon zest reserved

3 inches fresh ginger, peeled sliced

1 tablespoon whole cloves

¼ cup sugar

1 cup fresh or frozen cranberries

3 bottles champagne

PREPARATION:
Rinse cranberries in cold water. In a small bowl, whisk together 1 egg white and 1 tablespoon water.

Spread out sugar on a shallow plate, then roll cranberries in egg white mixture and coat in sugar. Place on waxed paper to dry.

In a large stock pot, bring all of the ingredients for the cranberry cocktail (except champagne) to a boil.

Reduce to a simmer and cook, stirring occasionally, for 30-40 minutes until it has reduced by half.

Next, strain the syrup into a bowl, and set aside to cool slightly before refrigerating until cold.

Pour 1 ounce of cranberry syrup into a champagne flute and finish with champagne and a few sugared cranberries on top.

Enjoy!