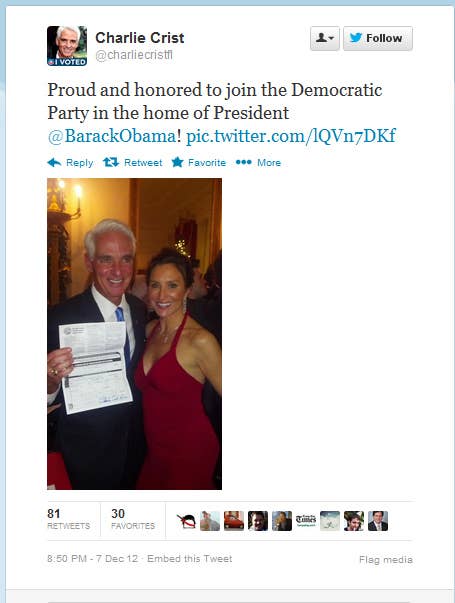 UPDATE: Adam Smith at the Tampa Bay Times reports that Obama gave Crist a congratulatory fist bump after he signed the papers at the White House tonight:

It was just a matter of time.

Charlie Crist, Florida's former Republican governor who relished the tough-on-crime nickname "Chain Gang Charlie" and used to describe himself variously as a "Ronald Reagan Republican" and "Jeb Bush Republican," on Friday signed papers to become a registered Democrat.

He did so Friday evening during a Christmas reception at the White House, where President Obama greeted the news with a fist bump for the man who had a higher profile campaigning for Obama's reelection this year than any Florida Democrat.

The widely expected move positions Crist, 56, for another highly anticipated next step: announcing his candidacy for governor, taking on Republican incumbent Gov. Rick Scott and an untold number of Democrats who would challenge him for the Democratic gubernatorial nomination.

"I've had friends for years tell me, 'You know Charlie, you're a Democrat and you don't know it,' " Crist, a career-long populist, recounted Friday night from Washington, D.C.