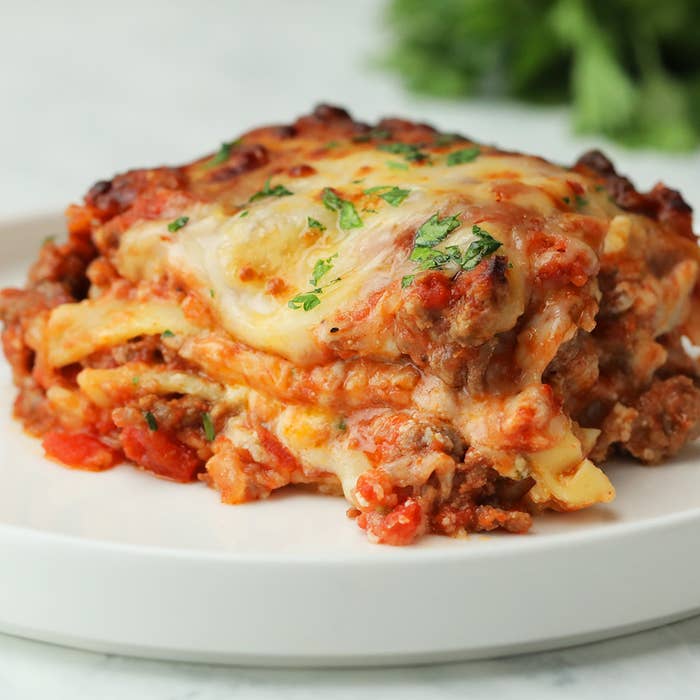 SERVINGS: 8-10
INGREDIENTS
Meat Sauce
2 tablespoons olive oil
1 yellow onion, minced
3 cloves garlic, minced
1½ teaspoons red pepper flakes
1 pound ground beef
1 pound hot Italian pork sausage, removed from casings
2 (28-oz) cans crushed tomatoes
⅓ cup dry red wine
2 teaspoons salt
½ teaspoon pepper
1 bay leaf
Cheese Filling
15 ounces ricotta
2 large eggs
½ cup grated Parmesan
2 tablespoons minced parsley
½ teaspoon salt
Assembly
1 pound lasagna noodles, cooked 2 minutes less than package instructions
3½ cups grated mozzarella cheese
½ cup grated Parmesan
Minced parsley, for garnish

PREPARATION
1. Meat sauce: In a large saucepan, heat olive oil over medium heat. Add onion and garlic and sauté for 5–10 minutes, until translucent. Add the beef and hot Italian pork sausage to the skillet. Brown the meat and break up as it cooks with a wooden spoon. (If there is an excessive amount of grease in the pan, remove some with a spoon.)
2. Add the red pepper flakes, tomatoes, wine, salt, pepper, and bay leaf, and stir.
3. Simmer for 30 minutes, stirring occasionally. Remove bay leaf and set sauce aside.
4. Preheat oven to 375°F.
5. In a small bowl, stir together the ricotta, eggs, Parmesan, parsley, and salt.
6. Spread a cup of meat sauce into the bottom of a high-walled 9x13-inch baking dish.
7. Place a layer of lasagna noodles in the pan. Cover with 11⁄2 cups of the meat sauce, dot with a third of the ricotta mixture, then sprinkle with 1 cup of the grated mozzarella. Repeat 2 more times.
8. Cover the top layer with the remaining sauce, remaining 1⁄2 cup of grated mozzarella, and Parmesan.
9. Cover with foil and bake for 30 minutes.
10. Uncover and bake for 10–15 minutes more until browned in some places.
11. Let rest at least 10 minutes before cutting.
12. Garnish with parsley.