Now that you're not volunteering at the NYC Marathon this weekend, here's how to help with Hurricane Sandy relief in your neighborhood, and beyond.
Updated Friday at 5:30P.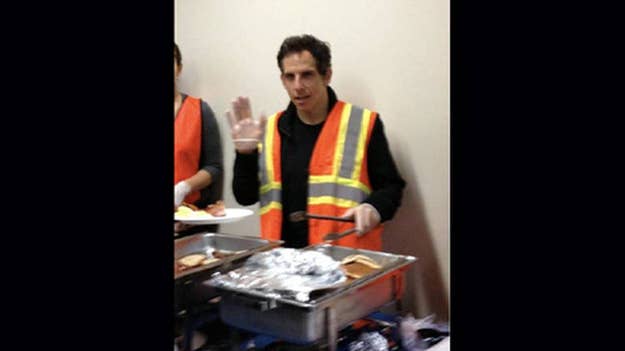 General NYC Volunteer Resources
Sign Up with the City here - They'll reach out to you.
Donate to the Mayor's Fund To Advance New York City here! It's what Bloomberg wants.
Are you a talented Techie? Sign-up here to volunteer your skillz.
Interoccupy is an amazing resource for local volunteer efforts.
Medically credentialed individuals, contact the Red Cross at HealthServices@nyredcross.org to find where you're most needed.
Food Not Bombs needs volunteers! Please call 1-800-884-1136 to find out where you're needed.
Sign up at New York Cares to join an email list of volunteer projects .
Sign up to volunteer with the NY Food Bank.
Sign up with All Hands Volunteers to be notified if their crew needs assistance.
Sign up with the New York Public Advocate's Office to be notified of volunteer needs.
Donate blood at the New York Blood Center.
Use Yoink to post your availability, or supplies you have to donate tagged with your location.
Follow Occupy's offers/needs of help in this live doc.
THE BRONX
Join the crew on November 10 as they plant 500 trees and shrubs along the river's banks in Bronx Park aka Shoelace Park, to help replace the many trees damaged in this catastrophic storm. Contact Joseph Sanchez at joseph.sanchez@parks.nyc.gov or 718-430-4636.
BROOKLYN
King's county got hit hard. Start by donating to the Brooklyn Recovery Fund (if you can), then check out the neighborhoods below to see where your superpowers are most needed:
BRIGHTON BEACH & CONEY ISLAND
Volunteers who can access Brighton Beach: the Shorefront JCC has become a center for recovery efforts for Jewish communities in the area. Call 718-743-0575 to help.
JASA is looking for able-bodied volunteers to carry food and supplies up 7+ flights of stairs to homebound seniors who've been trapped by the loss of elevator service. Email jstolar@jasa.org or call 212-991-6572
DUMBO
Galapagos Art Space (16 Main St at Water St, Dumbo, Brooklyn) is looking for volunteers to help clean up its Dumbo venue. They're hoping to reopen this weekend, and will need people to help with general cleaning projects.
FORT GREENE
Brooklyn Technical High School is looking for volunteers to help prepare and serve meals - 29 Fort Greene Place, Brooklyn, NY 11217 - Call (718) 804-6400
PARK SLOPE
Congregation Beth Elohim at 274 Garfield Place needs volunteers to help with their shelter. Sign up here!
The Park Slope Armory needs volunteers. Call 212-630-9600.
John Jay High School also needs volunteers (7th Avenue between 4th and 5th streets). It's number is 914- 763-7201.
The Park Slope Women's Shelter needs volunteers to help keep the shelter running, especially with laundry and meal preparation. It's located on 8th Avenue between 14th and 15th Street.
PROSPECT PARK
Help Prospect Park! Sign up for the November 3rd Walkathon or attend the Prospect Park Anniversary Ball on November 10.
Volunteer with The Prospect Park Alliance. Sign up here.
RED HOOK
Check out Red Hook Recovers for updated initiatives, call (347) 770-1528 or email redhookrecovers@gmail.com.
Call The Red Hook Initiative at 767 Hicks Street Brooklyn, NY 11231 - 718-858-6782 . They're spearheading relief efforts in the Hook.
The Brooklyn Waterfront Artists Coalition will be cleaning up on November 3rd & 4th starting at 10am. Extra hands are welcome, especially if those hands are holding portable generators, long extension cords, or work lights. As many people as possible are needed for this effort, RSVP and/or send questions to bwacinfo@aol.com.
For those who want to help provide sustenance but have limited cooking bilities, hands will be needed to distribute free packaged meals and drinking water at Coffey Park at 85 Richards Street in Red Hook Saturday and Sunday 9am-1pm. Bring your own bag to carry food and water.
American Legion Post 1404 at 209 Cross Bay Blvd is running out of food VERY quickly, and neither FEMA nor the Red Cross have arrived. If anyone can bring water, pre-cooked, quick heat,etc. food PLEASE do. (No electricity or running water.) If you can help, please come. They also need extra hands to sort clothes.
Volunteers are needed in the Miccio Community Center (Red Hook at 110 W 9th S) to distribute supplies in 3 hour shifts all throughout the weekend. To sign up , visit this Google Doc and add your name to a shift. If you have specific questions, contact the leaders here: Sarah Roorda: 646-520-9523 - Kristen Ball - 917-805-8191
SHEEPSHEAD BAY
Join the Sheepshead Bay cleanup committee here.
SUNSET PARK
St. Jacobi Church is our main distribution center. Bring a vehicle and gas if you can! - 5406 4th Ave - Contact: Ronnie 646-353-5194
WILLIAMSBURG
El Puente, a community initiative dedicated to the power of self-determination, will be collecting donations today and tomorrow at their CHE headquarters in Williamsburg. Drop food and supplies off Saturday 9:30am-11am at 211 South 4th St. Bring non-perishable food, soap, shampoo, lotion, toothpaste/toothbrushes, diapers, formula, baby wipes, warm clothing for people of all ages, and cleaning supplies (shovels, garbage bags, gloves, etc). If you'd like to help sort and box the donations, email stbernadetteconvent@gmail.com.
MANHATTAN
Volunteer at a Manhattan Park this Saturday or Sunday.
Then find the neighborhood you can help below:
CHINATOWN
CAAAV is really swamped with people seeking aid. Many are elderly and non-English speakers who are having a hard time. Volunteers are requested to come to the location to help. There is a special need for volunteers who can speak Mandarin. It's located at 46 Hester St Frnt A. Contact: (212) 473-6485, justice@caaav.org.
LOWER EAST SIDE
Follow updated recovery needs here.
Volunteers with GOLES are needed for teams going into neighborhoods to check on and supply disabled, elderly and those who cannot get aid on their own. Contact: GOLES office 212-358-1223. or call Goldi at 917-382-9868.
Arcane - restaurant on AVE C that was flooded and still needs a generator. Denise Posnak, contact deniseposnak@gmail.com Phone: 760-415-6543
Nazareth Housing at 206 E. 4th street still needs help. Contact: Michael Callaghan at 212 477-7017 to see what you can do.
The Bowery Mission needs volunteers to help feed those in need. Call 1-800-871-6347 for its volunteer hotline.
STUY-TOWN
Volunteer this weekend in a community clean-up effort to join with your neighbors to help remove debris from Stuy Cove Park. They'll be cleaning on Friday 11/2 and Saturday 11/3 from 10am – 4pm each day. Please RSVP to dina@solar1.org to confirm.
UPPER WEST SIDE
Brandeis High School is in need of overnight volunteers. - It's at 145 W 84th St. New York, NY 10024. Call (917) 441-5600.
WEST VILLAGE
55 Bethune St is in need of help ASAP. The building residents who remain, approximately 40 people, are mostly elderly, in need of water, batteries, flashlights, candles. Carolina Merelo is coordinating. You can reach her by email at cmerelo77@gmail.com
QUEENS
ASTORIA
Astoria Recovers is the hub for updated recovery efforts.
THE ROCKAWAYS
Check the Rockaway Relief Facebook Page for updates.
Email HurricaneHelp@thebrooklynkitchen.com to see how you can help.
Yana at B113 and Rockaway Blvd and Veggie Island at 96th Street and Rockaway Beach Blvd are both in need of volunteers. (please do not drop off supplies at Veggie Island, only come to volunteer).
Union Pool is looking for musicians, artists, and generally creatively-minded people to help put together a benefit for those in the Rockaways. Contact them with ideas at info@union-pool.com as soon as possible.
STATEN ISLAND
Follow an updated list of relief projects here.
St. Clare's at 151 Lindenwood Road needs volunteers and donations.
TOMORROW (Saturday) - Gather at the end of New Dorp Lane and Cedar Grove Avenue at 9 a.m. From there, workers will be dispatched. Volunteers should bring what tools they can -- rakes, shovels, push brooms -- and work gloves.