So Beyoncé told fans she had a big announcement to make on Good Morning America. What was it!?
Basically that Queen Bey is vegan, it really works as a diet and she thinks you should adopt that lifestyle too.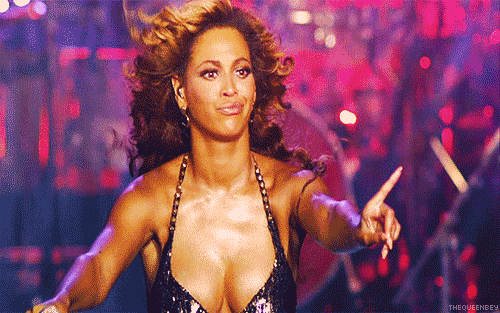 81 Things The Beyhive probably thought about the Beyoncé announcement.
1. I woke up for this?
2. Srsly?
3. She didn't wake up ***Flawless today.
4. She woke up having lost her damn mind.
5. Vegan?
6. Really bitch?
7. Really?
8. How you gonna do me like that?
9. Get me up at the crack of dawn for some dietary announcements.
10. Excuse Queen Beyoncé
11. Waking everybody up like she about to drop an album.
12. When really she's just dropping some dusty ass diet tips.
13. That she already gave out anyway.
14. On IG.
15. Not waking everybody up.
16. When she was talking about her damn vegan cupcakes like she hadn't just dropped an album on everybody.
17. Sitting there with her damn vegan cupcakes.
18. SMH.
19. But really, she got me up for this?
20. I was expecting her to raise Jesus from the dead.
21. I was expecting her to announce Blue as the Messiah.
22. Wonder if the rest of the hive are feeling like this?
23. Am I the only one?
24. Omg am I a member of the Beyhive still?
25. I should probably stop thinking like this.
26. Bey got some mad telepathy skills.
27. What with her being Jesus and all.
28. She know everything.
29. Don't revoke my Beyhive card pls.
30. I didn't mean it.
31. But you could've at least waited until midday.
32. Damn I didn't get any sleep last night.
33. Definitely thought Bey was dropping an album and 92 videos again.
34. I hate her.
35. Messing my sleeping pattern up like that.
36. Wonder if she woke Jay-Z up to tell him.
37. Bet he was mad as hell.
38. If they divorce, this was the reason.
39. This bitch though.
40. Who's even vegan anyway?
41. What is vegan?
42. Is that a character from GoT?
43. Do you think GMA are hella mad?
44. She just gone and made a big hoo-ha bout nothing.
45. Bet they're livid.
46. I'm still livid.
47. How she expect me to wake up ***Flawless at this time?
48. She lying anyway.
49. She got that body from being vegan?
50. Did I just see her nose grow?
51. Definitely saw her nose grow.
52. Pinocchio who?
53. What do vegan's even eat?
54. Like lettuce?
55. Nah.
56. Not today.
57. Wake me up and talk about rabbit food?
58. Where's the steak?
59. Ima show this bitch.
60. Hey Beyoncé, want some chicken?
61. Hell yeah you do.
62. Eating those leafs done turned you mad as a hatter.
63. Bet she just went back to bed giggling.
64. Like 'hahahahahahaha them bitches'
65. Some of us got work.
66. She done gone and tested my last nerve.
67. I ain't having this no more.
68. Ima go to a Keyshia Cole concert.
69. Beyoncé who?
70. Wait.
71. Bey gonna end my career for this, isn't she?
72. Remember Keyshia Cole?
73. Exactly.
74. Who?
75. Ima be quiet.
76. Tina best talk to her.
77. She didn't raise a child like that.
78. How you gonna be Beyoncé and act like Michelle?
79. #PoorBeyoncé
80. Tut.
81. Love you Bey.
This post was created by a member of BuzzFeed Community, where anyone can post awesome lists and creations.
Learn more
or
post your buzz!