Graphic designer Lauren Hom has a knack for hand-written lettering that is precise, modern and just a tad whimsical. While walking through the streets of NYC, "I noticed that it's common for a restaurant to have a menu board that's written by, like, a hung-over hostess", says the 23-year-old.
She decided to take things in her own hands quite literally and begun a project, Will Letter For Lunch, in September to offer her creative services in exchange for free food from the local establishments. Not just any free meal - but the exact specials that she was tasked to illustrate.
1. Crown Heights, Brooklyn - Mountain
In exchange for: "An ice cold glass of organic, cold-pressed beet, apple & Siberian ginseng juice and a slice of potato, kale & bel cielo cheese frittata with a side of roasted tumeric and cilantro potatoes."
2. Crown Heights, Brooklyn - iTAL Kitchen
In exchange for: "A homemade veggie burger with sun-dried tomatoes, mushrooms, chickpeas, and lettuce on a soft whole wheat bun with a tangy side salad of mixed greens, grape tomatoes, and carrots."
3. Crown Heights, Brooklyn - Docklands
In exchange for: "Grilled whole fish with lemon and kale. Salmon on a bed of polenta topped with jumbo shrimp and shallots." (Pictured)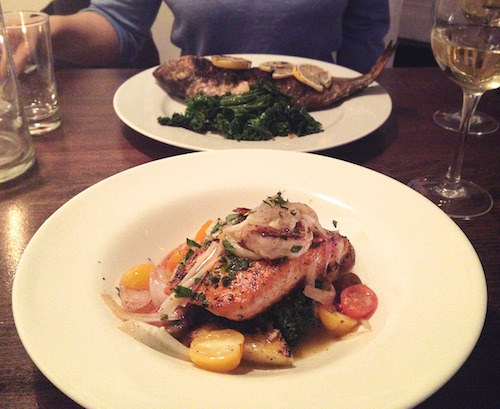 In exchange for: "An egg sandwich, roasted pork sandwich, kale salad, sesame-soba noodle salad, roasted carrots, wheatberry salad, goat cheese & sundried tomato scone, slice of caramelized apple-honey cake, and two Morning Green juices!"
In exchange for: "Two delicious jars of Ghostly Pepper mayo and Red Chili mayo."
Here's Lauren working on her latest piece of work.
This post was created by a member of BuzzFeed Community, where anyone can post awesome lists and creations.
Learn more
or
post your buzz!